I did not mean to leave this one out of the early post. Especially as representation is important. This took a lot of courage and that should be recognized and supported.
A flag with the words "trans people deserve to live" was displayed during the fifth inning of Game 5 of the 2018 World Series before the police removed it. #TransLivesMatter #LGBT #worldseries2018 #WorldSeries #TransRightsAreHumanRights #Resist ?✊? pic.twitter.com/Pr75cFdhtH

— LGBT Puerto Rico (@lgbtpr) October 29, 2018
From CBS LA:
The statement was emblazoned on the Transgender Pride Flag, colored blue, pink and white. (The flag, designed by an Arizona trans woman, made its debut in 2000 at a pride parade in Phoenix.)

One report indicated the protest was planned by members of the [email protected] Coalition, a Los Angeles-based activist organization that advocates for the rights of transgender Latinx people. It's unclear whether the flag was removed by the activists who brought it or by stadium security, and FOX's television broadcast did not show either the flag or its removal.
It does us no good to combat anti-semitism, Islamophobia and the spillover on Sikhs, Hindus, and Buddhists from the subcontinent and Southeast Asia because bigoted Americans who discriminate can't do it properly (morans!!!), anti-African American racism, anti-Latinx/Hispanic racism, anti-Native American racism, anti-immigrant xenophobia and nativism, and homophobia if we don't make sure we support and lift up and, if necessary, intercede on behalf of all of people that fit within the LGBTQ community. Never again has to mean something. And has to mean something beyond just combatting anti-Semitism. We are, indeed, stronger together. And there are more of us without the herrenvolk coalition of the President's supporters and the Republican Party and conservative movement they are remaking in an ugly, retrograde, revanchist image. They have picked this time and this place to try to make a last stand. I say we ensure they fail! Also, we've got folks like her in the fight: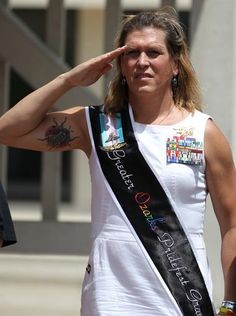 If Senior Chief Beck's still fighting, the least we can do is back her up cause I sure as hell don't want to be in her way! And I'd pay good money to see the Vice President or the Attorney General tell her she can't use the Lady's Room!
Updated at 11:45 PM EDT
From Sister Golden Bear in the comments:
Trans Lifeline, an organization that runs a crisis hotline for transgender people and staffed by transgender people, said that calls to their suicide hotline have quadrupled since the story broke that the Trump administration is trying to legally erase transgender identity.

In an Instagram post, Trans Lifeline reported that calls increased by four times last week, and first-time callers doubled.

https://www.lgbtqnation.com/2018/10/suicide-hotline-calls-quadrupled-trumps-latest-attack-transgender-people/

BTW, I know people are (appropriately) focused on donating to political campaigns at the moment, but if you can spare any extra, please consider giving to Trans Lifeline. They're a shoe-string operation run for, and by, trans people.
You all know what to do!!!!
Vote like your life and America's depends on it! Get everyone you know to vote like their lives and America's depends on it! And remember you're not alone!
Open thread!