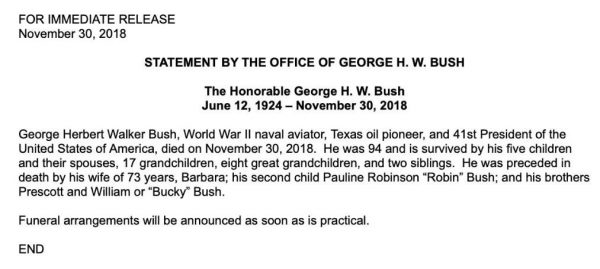 President Bush was, among many other things, a naval aviator in World War II.
Naval Aviation mourns the passing of our 41st President, George H.W. Bush, a Naval Aviator, statesman, and humble public servant. His legacy lives on in those who don the cloth of our great nation and in the mighty warship which bears his name, @CVN77_GHWB. May he Rest In Peace. pic.twitter.com/0COuk6veDV

— flynavy (@flynavy) December 1, 2018
The two different aviators' verses:
Lord, guard and guide the men who fly
Through the great spaces in the sky.
Be with them always in the air,
In darkening storms or sunlight fair;
Oh, hear us when we lift our prayer,
For those in peril in the air!
Mary C. D. Hamilton (1915)

Oh, Watchful Father who dost keep
Eternal vigil while we sleep
Guide those who navigate on high
Who through grave unknown perils fly,
Receive our oft-repeated prayer
For those in peril in the air.
Emma Mayhew Whiting (1943)
Fair winds and following seas, Sir. We have the watch. pic.twitter.com/GdGoBmvKKx

— U.S. Navy (@USNavy) December 1, 2018
Rest in Peace.
Open thread!