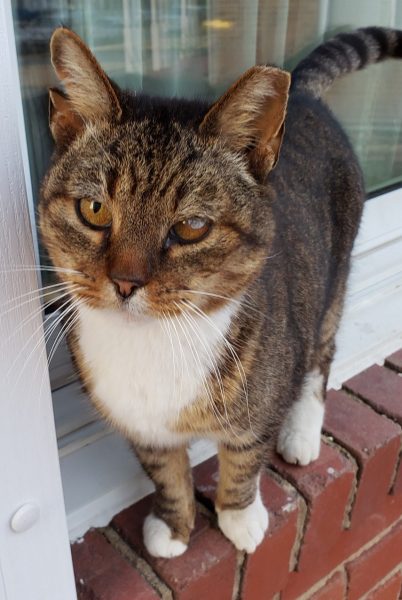 Reposting Adam's bleg from last night, for the daytime readers.
From commenter CliosFanboy:
If you missed the previous post a few weeks ago, my wife and I take care of a small feral cat colony that lives on our front porch. There are only two now: Mom Cat and Gray Mom. We follow Alley Cat Allies' guidelines, so they have both been fixed and vaccinated. My wife and I have been house hunting for a new home as we've really outgrown this one. We need to find someone who can adopt the cats as I refuse to abandon then (not that my wife would either)

A few weeks ago I saw Mom Cat left eye was really, really runny. I took her to our vet with the help of a cat friend. (I have never picked up an adult cat in my life). The vet treated Mom Cat's eye, but she lost the sight in it. She also got her updated shots, and I now have the monthly flea treatment I put on her back. The vet said other than the eye she was in good health, especially for a feral.
My wife and I found a house. Unless something awful happens we will close March 5 and move March 11. We can't take the cats! Feral colonies are very hard to move or I would. My wife is very allergic so we can't adopt Mom Cat, although she is very friendly and affectionate. Plus our little wiener dog Spud (yes he's on the BJ calendar) is NOT cat friendly. We need help with adoption.

Mom Cat is a good cat and I think a candidate for adoption to a patient cat person. Gray Mom would make a decent barn cat (she does not let people touch her). We also have three insulated feral cat houses which are available for anyone in the Northern VA/DC area.

Any BJers in this area available to help? I am talking Mom Cat to the vet this afternoon for booster shots and hope to talk to the cat rescue person there.

I will REALLY miss Mom Cat. If my wife were not so allergic I'd be working to gets the dogs adjusted to her and Mom Cat to new life inside…
Look at that face! Who could say no to that face?
Any suggestions, leave a comment, or send me an email at annelaurie [dot] bj [at] gmail [dot] com.