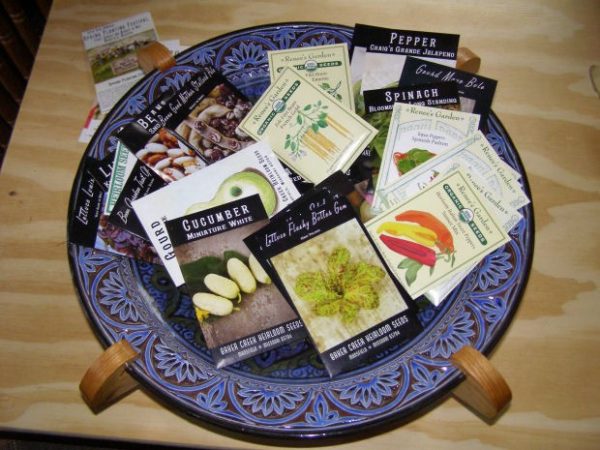 .
Once again, commentor Ozark Hillbilly comes through, giving us a springboard for dreams of spring growth and summer bounty:
I got seeds!

Tomatoes: I have Pink Brandywine, German Johnson, Amana Orange and Amish Paste seeds left over from last year but I gots to have my Green Zebra. My wife loves big red beefsteak types so I got the Brimmer and Mushroom Basket for her. I have to have Yellow Pear every year to go with all my other grape and cherry tomatoes. The Mallorcan Winter Tomatoes I have been looking for ever since my wife first told me about them. Baker Creek says,

The rambling vines about 24 inches in height produce an abundance of round, pinkish-yellow fruit with rose-pink centers. The fruits are generally about 2 to 2 ½ inches in diameter and are not full-flavored when they appear vine-ripe. They attain their most intense flavor thorough aging. The tomato should be treated as determinate because at the end of summer, the fruit production peaks and then stops. The plants defoliate and at this point the Mallorcans either harvest the fruit for sun drying (which improves their flavor), or the vines are pulled up whole and hung upside down in a protected place (such as a barn) so that the tomatoes can ripen slowly over the course of the winter. The tomatoes are then pulled off the vines as needed. They will keep this way for several months.

I am excited.

Melons: Every year i grow a nice crop of melons for the groundhogs. The Golden Jennies I am going to try and grow in containers so I can get some. I am hoping the Groundhogs enjoy the Honeymoons so much I can get a taste of Sweet Passion because who doesn't like passion?

Cucumbers: My wife does not like cucumbers but she loves dill pickles. Seeing as I recently purchased a 10L pickling crock I had to try these. The Dar cukes grow well in containers and the Miniature Whites are supposed to do well in them too.

Eggplants: I love eggplant and have grown Rosita and Diamond before and done OK with them. I have tried the Rosa Bianca before and utterly failed but they are so beautiful and so highly recommended that I've decided it's all my fault and I'm going to try again. The Mtoyo is a Japanese variety and is new to me. That alone is worth giving it a shot.

Peppers: Several years ago I grew the Heirloom Sunset Mix from Renee's They were very productive and very sweet. After trying several other types, I am going back to them. I have so many dried and smoked hot peppers from last year that the only ones I'm growing this year are Jalapenos because I have to have stuffed jalapenos. The Magyar Paprika is new to me (I usually grow the Leutschauer) so I thought I'd give it a try even tho I have plenty of the L's dried and smoked. The Padron Peppers, what is a half Spanish household with out tapas?

Beans: Last year was a dismal failure with beans for me. First time I ever had a problem, not sure what went wrong. This year will be different. The two Filet beans from Renee's are my "go to's" for fresh beans. Good Mother Stollard, Greasy Grits, and Cherokee ToT's are all old standby pole beans for drying but the Haricot is new. The Snowcap and Hidatsa are half runners I thought I'd try along the fences. The Ojo de Tigre I tried for the first time last year so I gotta try again.

Bonus from last years shade garden. I forget their name, "Tri-something" or other (can you guess why?) I bought them at Lowes, and am pretty sure they came as roots. A stunningly beautiful surprise.
***********
Last year was a total rout in what passes for my garden — two patio-block raised beds, a couple of badly overgrown patches next to the doorway, a welter of mismatched planters and containers, plus the annual collection of mail-order tomatoes in rootpouches. Well, I've ordered this year's tomatoes, and one impetus to keeping the batch (relatively) small was so that I could haul enough 30gal bags of planting mix from the local garden center to fill fresh new pouches and still have some strength left to cope with digging up and reviving the rest of the beds. Fingers crossed for a clement spring, so I can start tearing out the Spousal Unit's overexuberant vinca transplants without damaging the daffodils and creeping phlox, and separate the failing daylilies and Siberian irises before the tomatoes and annuals take up all the time I can bear to spend outside…
What's going on in your garden plans (dreams), this week?