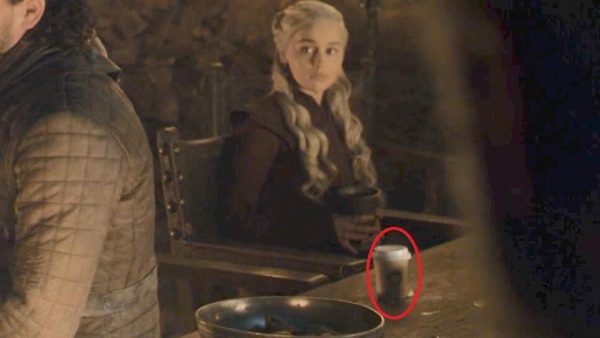 I'm not going to try a hidden thread this time – the backend setup makes it hard to access, and the main thread will inevitably contain spoilers anyway. So, if you haven't seen episode four and are trying to avoid spoilers, keep on scrolling past this post — with my apologies. Otherwise, see below the fold…
The Hound captured my reaction to this episode perfectly when he spotted Arya while riding away from Winterfell: "For fuck's sake!" I'm nervous about Arya's fate. She's heading to King's Landing to kill Cersei, I assume (perhaps wrongly). Will she kill Jaime and steal his face to do it? The face-stealing thing has to come back into play at some point, right?
But there's no way the writers will let Arya end the Knight King and Cersei. My fear is she'll steal Jaimie's face to kill Cersei, but be killed in the attempt by the Mountain, who will in turn be killed by the Hound, who will get revenge not only for his own mistreatment by the Mountain but to avenge Arya.
That would wrap up those characters in a tidy bow. Hopefully that scenario is too tidy for the writers, who will find a way to surprise us. Speaking of surprises, the ones in last night's episode were vile.
Goddamn it, not Missandei! Hasn't Grey Worm suffered enough? I've got to think Missandei's brave last word wasn't in vain, though, which signals Cersei, the Mountain or both get roasted by the remaining dragon. Maybe. Someone does, for sure.
Another thing that pissed me off: Ser Brienne shown ugly-crying because her no-good boyfriend went back south. I don't object to Jaimie's leaving. I've never entirely trusted his transformation. It appears he has accepted his role as Cersei's fool. Or maybe since Ser Bronn revealed Cersei's plot on his and Tyrion's lives, he's going back to confront her?
Maybe Jaimie plans to kill Euron, if Arya doesn't kill him (Jaimie) first. Somebody has to kill Euron! I would prefer it be Yara who takes out that smirking shit heel.
It would be cool if Ser Brienne, Yara and Arya survive and form an invincible all-woman pirate group. But the Iron Islanders have given up pirating, and Ser Brienne doesn't strike me as a plunderer, not even to get over a broken heart.
Arya says she's not going back to Winterfell. So, if she lives, where will she go?
If you go with the theory that the names of the dire wolves predict their humans' fates, maybe Arya becomes a warrior queen like the legendary Nymeria, leading refugees to safety out of King's Landing during the roasting. Maybe she connects with Nymeria the dire wolf again? I don't know, but it seems unlikely we've heard the last of Arya's dire wolf or the Nymeria legend.
Speaking of dire wolves, oh why did Jon Snow not even give poor Ghost an ear-scritch before lighting out for King's Landing? And what was up with Jon's and Tormund's conversation about Jon belonging in the REAL north? It didn't sound like small talk. It almost sounded as if that's where he'll ultimately land, reunited with Ghost. Will he give up the Iron Throne to be the new Mance Rayder? Seems like a demotion.
And what's up with Sansa? I don't blame her for being suspicious of Dany, but was she smart to blab about Jon's true identity to Tyrion? And WTF is up with Varys? And Ser Bronn of the Blackwater/Highgarden?
Also, the Starbucks cup — funny mistake, or a sign that "Game of Thrones" was actually a bored barista's daydream all along? What if the final scene of the last episode dissolves to…Dany as a barista in a green apron taking an order from an unpleasant and condescending high-powered executive, Cersei? Good God, I'll throw a fucking brick through my screen if that happens!
Anyhoo, clearly I don't have a fucking clue what's coming next. Looking forward to hearing your thoughts!