Newly unsealed Manafort documents show thousands of his messages with Sean Hannity.

At one point, Hannity tells Manafort: "I'll be in the cell next to u." pic.twitter.com/aRC93IwEVX

— Andrew Desiderio (@AndrewDesiderio) June 21, 2019
Earlier today new documents were unsealed from the Manafort case. They are chat logs from 2017 and include text messages between Hannity and Manafort during the investigation into and prosecution of Manafort. They can be found at this link or below.
? Chat logs from 2017 between Paul Manafort and a Trump ally named SEAN, who appears to present an evening television show, were just unsealed in Manafort's case in D.C.

— Jon Swaine (@jonswaine) June 21, 2019
Among other interesting, not so interesting, and explosive information in them, it appears that Manafort was using Hannity and his Fox News show to launder information into his legal filings with the court. This was done through Sara Carter, who claims to be a national security specialist (she isn't), but who is a protege of the execrable John Solomon who has been laundering right wing conspiracy theories since the late 1980s/early 1990s.
Fox News is a nutshell:

Manafort's representative briefed @SaraCarterDC on his arguments. @seanhannity was aware of this and featured her so she could make those arguments. Then Manafort's attorney used her statements in his legal filing to help his case. https://t.co/060XT8Ev7u

— Renato Mariotti (@renato_mariotti) June 21, 2019
Here's the specific section that was tweeted by Brad Heath and that Mariotti is referring to:

Here's another one tweeted by Heath where Manafort is complaining about former Attorney General Jeff Sessions with an empathetic Hannity.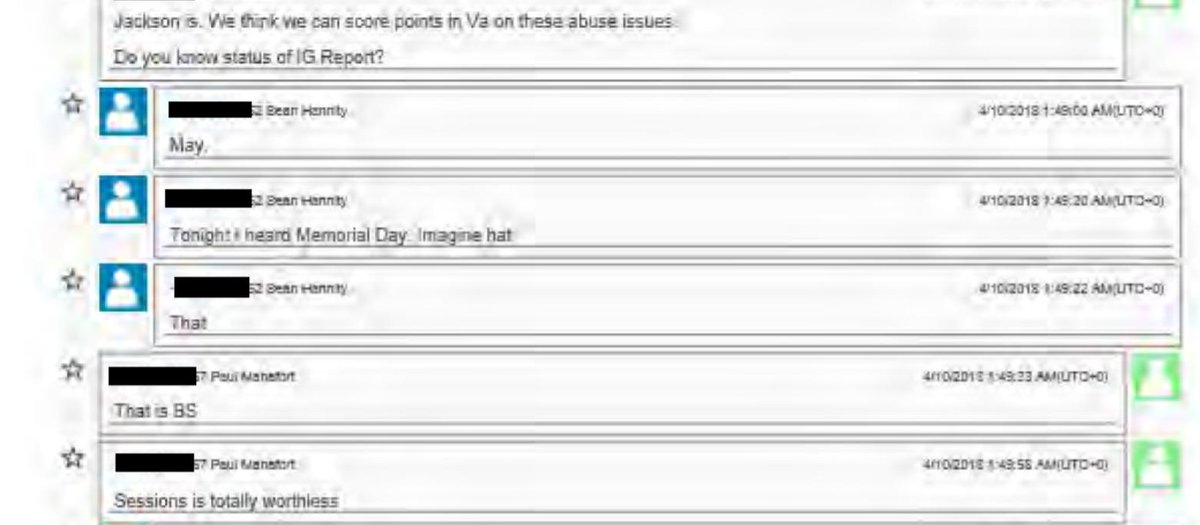 I haven't had a chance to read through all 56 pages yet, but it is very interesting that Hannity is Client 3, in touch with Julian Assange in an attempt to get information to broadcast, and is in touch with Manafort in an attempt to get information to broadcast that is then laundered back into Manafort's court filings.
Just one more bit of evidence about how Fox News coordinates the information that it broadcasts with Republican and conservative movement elites and notables. Makes you wonder who else Hannity regularly texts with and what about?
Open thread!