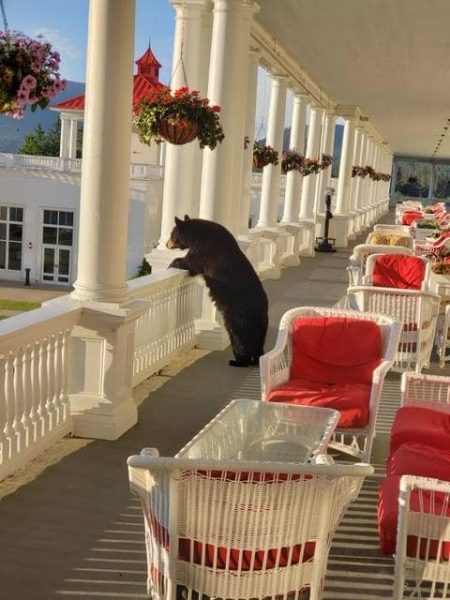 Photo by Deborah Roberston at Mount Washington Hotel NH
Bear just waiting for his party to arrive for tea and honey on the balcony.
Here's video of what happens at my house when I'm late letting the ducks out in the morning:
And this made my afternoon – Manta Ray asking for help
I am taking a serious break, but did want to offer you some respite. I have started an anger journal – it has been so cathartic. Y'all can have your gratitude journals, I need somewhere to put all this anger so I'm not dumping it on some innocent bystander. It's surprising how well it actually works. LOL
I hope everyone in the path of Barry is safe and hunkered down.
I'm off to mow the lawn and make sure everything is good and watered before the heat today. Cute Penelope Pearl story – I was outside in the lounge chair reading and she came over and settled down next to me so I could pet her while I read. So freakin' adorable. I've had quite a few ducks, none so puppy like.
What's everyone else up to today?
Respite open thread