Spent a few hours and put up some more stuff from the garden (and the July apples I got at the farmer's market):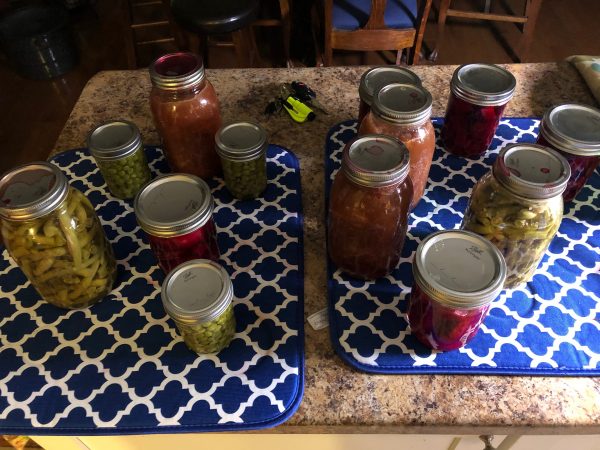 Three quarts of applesauce, two quarts of beans, five pints of just regular beets, and three half pints of peas. Like I said, shit year for peas, but I also ate about probably six half pint containers worth the last week or so.
If you are wondering why I am doing all this, it's several fold. First, I got sick and tired of wasting stuff that I grew in the garden and then buying inferior products at the store six months later. I spend all this time nurturing seeds, planting them, watering the plants, dealing with insects, picking them, and then I either give it away or it goes bad. Didn't make sense. So I made an initial capital investment of about 60 bucks to get a bunch of mason jars to compliment the ones I had around the house and could find at flea markets and the like, and now I am just going to do this more often.
Second, I think it tastes better, I know exactly what is in it.
Third, it's a useful skill, and one I had let get away from me. Dad used to can everything when we were kids, and I always remember doing it. I'm getting the crock back from my sister and going to make some sauerkraut this summer, too. Homemade sauerkraut is always superior to anything you can get from the store.
Fourth, I like it. It's fun to me. I like the whole aspect of going from start to finish- when I get the seeds in the mail in January to growing the seedlings to planting them in the garden to peeling and preparing them to finishing them off. Also, company is much more appreciative when you make dinner- it's like a big deal for people to eat something that was grown in your own back yard.
Several years ago when I quit drinking I was worried what I was going to do with all the new free time I had. What I have discovered is I don't have a ton of free time because I am doing all sorts of new and fun things. Like canning!
I also have realized that I am really at my most relaxed when I am doing something as simply or mundane as peeling apples, or shelling peas, or cleaning and cooking down berries. I just zone out and really only think about the task at hand. It's nice. I mean, my mind still wanders- like, for example, while shelling my nine bazillionth pea I thought "anyone who has ever had to prep their own food would definitely pay a quarter more a can so that farmers and migrant workers can get paid more."
The final thing I like is that this is something I can do for the rest of my life. I sometimes worry what I am going to do when I get older and more infirm. Need a bunch of hobbies I can do forever. This is one of them.
So that is that.