This is a stunning piece of reporting in the Washington Post:
America's largest drug companies saturated the country with 76 billion oxycodone and hydrocodone pain pills from 2006 through 2012 as the nation's deadliest drug epidemic spun out of control, according to previously undisclosed company data released as part of the largest civil action in U.S. history.

The information comes from a database maintained by the Drug Enforcement Administration that tracks the path of every single pain pill sold in the United States — from manufacturers and distributors to pharmacies in every town and city. The data provides an unprecedented look at the surge of legal pain pills that fueled the prescription opioid epidemic, which has resulted in nearly 100,000 deaths from 2006 through 2012.

Just six companies distributed 75 percent of the pills during this period: McKesson Corp., Walgreens, Cardinal Health, AmerisourceBergen, CVS and Walmart, according to an analysis of the database by The Washington Post. Three companies manufactured 88 percent of the opioids: SpecGx, a subsidiary of Mallinckrodt; ­Actavis Pharma; and Par Pharmaceutical, a subsidiary of Endo Pharmaceuticals.
I'm assuming most people are like me, who have used pain pills like these, but mostly after a major incident or surgery. I have not been prescribed a pain pill since my shoulder accident and surgery, and that was in 2009-2010. Prior to that, I don't remember anything for at least a decade. So over the course of a 20 year period, I was probably prescribed 100 pills, if that. And again, I am assuming that most people are like me or have had even fewer scripts. Then you have chronic pain sufferers, who obviously need the meds. But again, I would suspect that while there are probably more people you know who have consistent chronic pain, it is nowhere near accounting for this number of pills.
You also have to take into account how people deal with pain. My shoulder hurts every single day. At least 2-3 times every night I wake up with it locked in place, causing sharp stabbing feelings until I can slowly move it and loosen it up and fall back asleep. I'm eventually going to have another surgery to deal with it. But there are a number of reasons why I don't ask for or take anything for it, not even otc stuff. I have an addictive personality, I am already an alcoholic, so I just don't think it is wise for me to introduce a powerful narcotic into my daily life. Second, I don't like how they make me feel. I feel groggy and cloudy (I remember brushing my teeth with soft soap a couple of times confusing it with toothpaste), I get a horrible histamine effect after a couple days and am itchy and sweaty, they make me constipated, and I found after surgery years ago they don't actually make the pain go away so much as just get me stoned so that I am not focusing on it. Third, I don't NEED to be pain free. I'm not digging ditches or lifting boxes for a living- were I exposing myself to that sort of labor every day, like, say, a coal miner with a bad back or an auto worker with bad knees, I might think differently. Fourth, I have found that other things help more- a hot shower, stretching, etc. Finally, and I guess this is just me, but life isn't pain free. I'm almost 50. I've fallen off roofs, been through windshields twice, fallen off of tanks, slipped on ice, beaten up in street brawls, hit over the head with a bottle, played contact sports for two decades, etc. Some things are just going to fucking hurt no matter what I do.
Having said all that, I still find the number of pills to be MIND BOGGLING. The geographic distribution is interesting, too: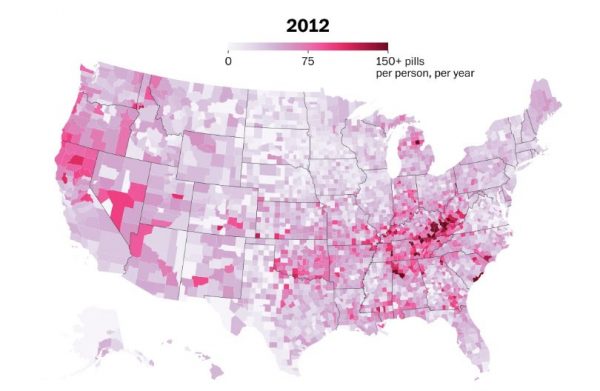 Again, that is pain pills PER YEAR. That can not all be explained away by manual labor and populations that have higher numbers of dangerous vocations. It appears (and I am just making shit up here- I have nothing to back this up) that pain pills were dumped in places in lieu of social policies. Again, just amazing.