Again, I am writing this basically for me so I have a refresher what I did for next year. If you see something I am doing wrong, correct me!
Easy day today- pickles and sun dried tomatoes. Sun dried tomatoes first. I actually started drying yesterday, and that was a mistake. I thought six hours would be enough, and it was not, so next year I am going to start first thing in the morning. I have a Nesco dehydrator I bought a few years back to make jerky and I never used it and it just languished in the basement, so I brought it up and used it. First step was to select big round beefsteak tomatoes so I could have thick, wide slices. I washed the tomatoes, and cut them in about 3/4 inch strips (and next time I may even do wider!) and placed them on the dehydrator- I set it at 135 degrees, let it go six hours, and it was not done, but I was ready for bed, so I put them in the fridge. Took them out first thing this morning, and let them go. I checked every hour or so near the end, and felt for any moisture, and on slices that had none, I took them out. Continue this until finished.
The next step is a quick vinegar bath.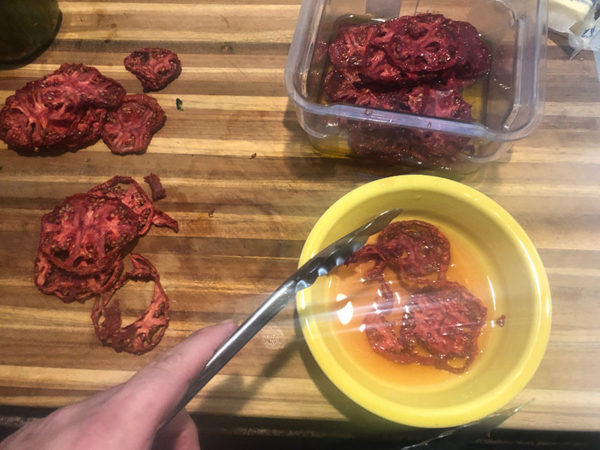 Throw one in the red wine vinegar, flip it so both sides get wet, shake it off, and throw it into a container with olive oil on the bottom. As you add tomatoes, add oil to keep them covered until you are done. I threw in a little basil from the garden: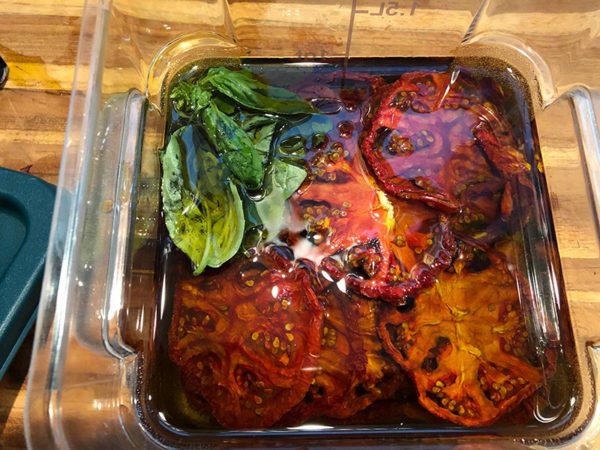 I'll transfer these to glass containers when I am done making them this year. I should note that a lot of people get rid of the seeds and I do not know why. I don't have diverticulitis so YOLO.
Pickles were easy, too.
Sterilize your jars in the canner with a splash of vinegar to keep from getting hard water spots. Dump all your cukes into the sink, and wash them thoroughly. While they are soaking, start making your pickling juice. I used a couple cups of distilled white vinegar, water, some pickling spices, some black peppercorns, some dried chilis, salt, and brought it to a boil on the stove.
While that was coming to a boil, I cut a tiny sliver off the ends of the pickles after washing them. I stuffed them into all the jars, poured the hot brine in, threw in a sprig of dill in each, put my lids and rings on, and gave them a 20 minute process. I did that for six of them. For two of them, I let the pickling brine cool to room temp, and then poured the juice in, put lids on them, and just put them in the fridge. I'll eat those and they will stay crisper without cooking them. Pickles keep forever uncooked, but I just don't have room in my fridge for eight quarts of pickles. The finished product: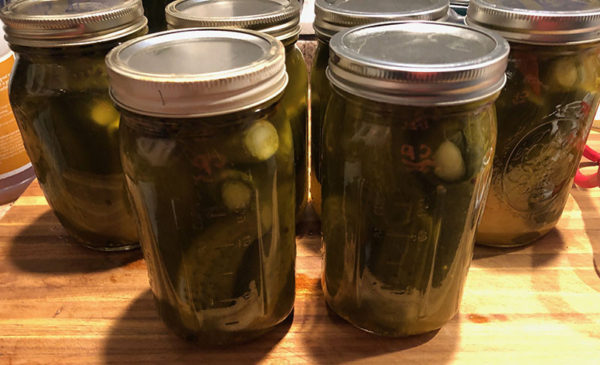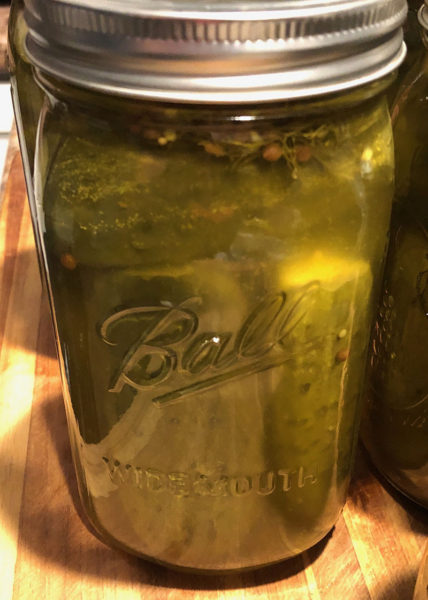 I hadn't planned to do more than 2 quarts, but I was at the farmers market at closing time and the lady just wanted to get rid of them so she gave me a peck for five bucks. Also, this is the first year I have had any success growing dill- it always flowers on me- the trick is to just keep it in the shade, so mine is growing in a planter on the front porch on a portion that gets only a couple hours of morning sun every day.
Easy day today- only about 90 minutes in the kitchen total.