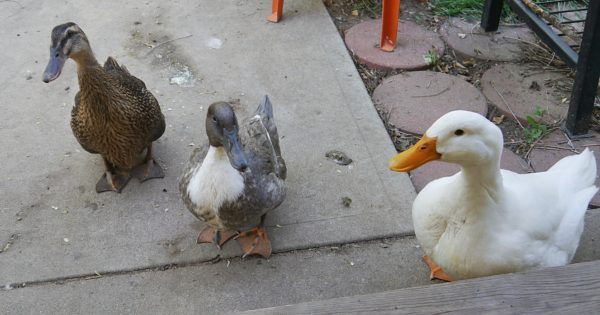 So the ducks LOVE dog food. I'm assuming whoever raised and abandoned Mabel (l) and Maddie (c) fed it to them. I've had little luck moving them to duck crumbles. I finally resorted to very expensive duck seed, so it's not processed into a pellet. They will eat that, but not until after their dog food is gone.
After discovering Bixby is sensitive to chicken (of all things) I had to change the pups food to a different type and brand. Over the summer the duck eggshells have become thinner and thinner and the only change I could think of was the dog food. So I've stopped giving it to them.  Monday.
What you see above is the result. They stand outside my patio door and bitch at me because I have not provided them with the proper nutrition for the day. In protest, I have not gotten an egg from either of them in two days.
Penelope has not been as picky, but in solidarity, she has joined the picket line.
(And there, Cole, are your ducks for the day)
Open thread…
(oh, and I just finished the first cookbook (of 4) over the weekend and should have it up on Kindle by the end of the week. I know I've promised many people I'd do it…so finally)