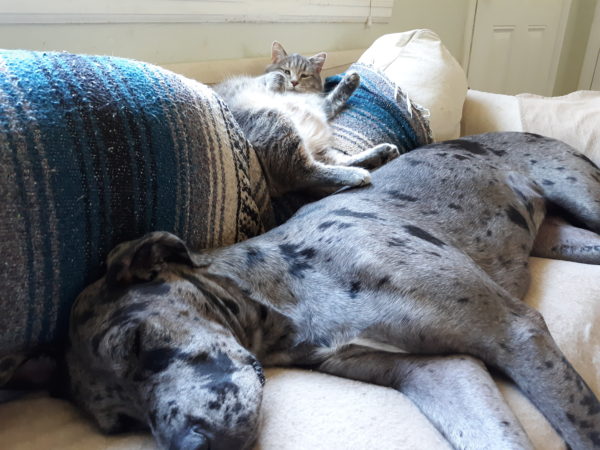 Last time I updated you on Gabe, I think I was still wondering if he was happy here. He's erased all doubts about that. One day it was like a switch flipped, and he just relaxed into living here. He snuggles when he needs attention, sleeps on my feet at night, spends time outside and comes back when I call him, accepts the ducks as just part of the general craziness here and seems genuinely happy. Oh, and he very often sleeps on top of one of the dogs. Just 'cause.
He has put on a few pounds. But we don't talk about that here. I'm sure it had a lot to do with being put on such a restrictive diet at the shelter to heal up his UTI. And the stress of the whole upheaval in his life.  As recommended by our very own WereBear, I've moved the cats to a mostly wet food diet. He may un-chonk. He may not. He's still a handsome devil.
Scout is adorable as always.
Respite open thread…