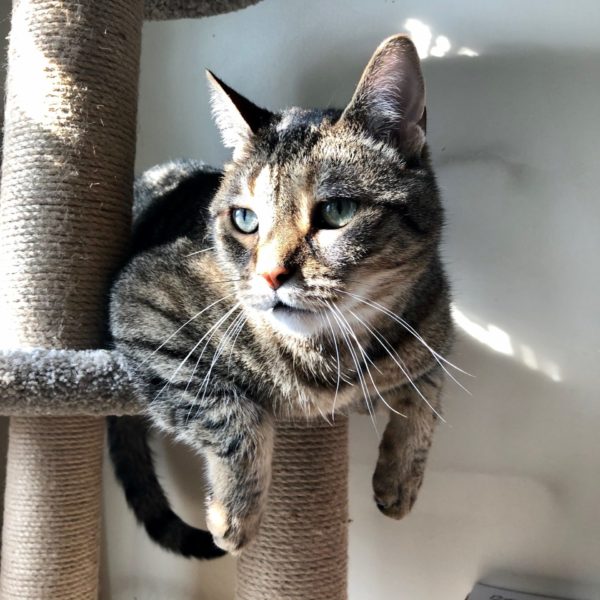 Sir Tristan
It's finally stopped snowing. Boulder got two feet, luckily we got a little less, but it still took me most of the day to get the driveway and sidewalks shoveled. I miss my old neighbor who would surprise me by shoveling the sidewalks, "so Bixby had a safe place to walk." I still have to email his photos of the pups since he moved away.
On to the main attraction. WereBear has been sweet enough to share her new kittens with us once again. And at her suggestion, my cats are probably getting a ceramic water fountain for the holiday.
Take it away WereBear
==============================
We have been blessed with a couple of extraordinary kittens. I know I'm biased as a proud Pet Parent, but it's true. Bud Abbott and Lou Costello were approximately 3.5 months old when we adopted them from a feral colony rescue operation.
They are six months old now, moving into teenager territory right on schedule. For a couple of cats who are Alpha Cat Type, that is. They always put the pedal to the metal.
My system of three cat types, Alpha, Beta, and Gamma, was inspired by the classic science fiction novel Brave New World. But I'm not programming people from birth to "fit" into their designated social stratum. I'm recognizing the genetic inheritance of cats from three main branches of of the different breeds. Alpha = Siamese, and all the delightful Asian continent cats who followed.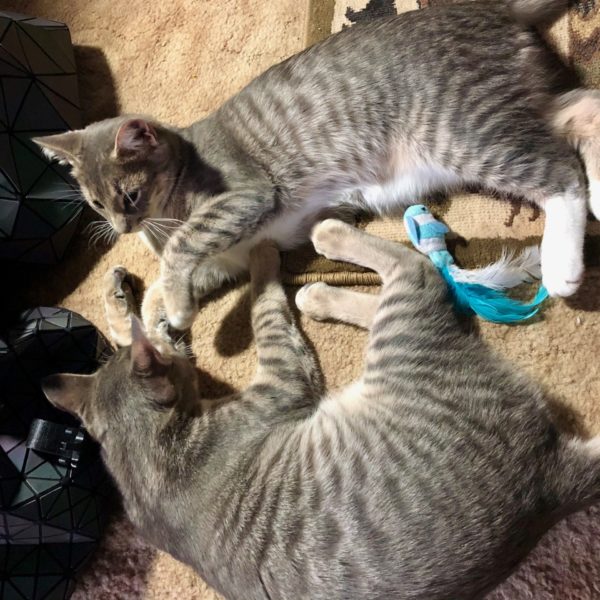 Bud and Lou
As I learned to my chagrin, Siamese and their mixes mature early. They are long, lean, high energy cats. As kittens they are pot-belled, bat-eared, gazelle hybrids. As seen in my nickname Monkey Cats, they are also paws-on. They like to act on the environment directly, and are serenely confident in their ability to do so.
We already had an Alpha Cat Type, the nine year old "failed foster," Sir Tristan, Lord of Pickledish, Duke of Gherkin. From above, teen cat Tristan looked like a dill pickle spear, and the nicknames flowed from there. He is one wild cat, and I'm not talking about only his personality. He has stripes, spots, and ticking (the white tips) which can come and go like frost on a windowpane as fur grows out and starts over. I think Alpha Cat Types are the original issue, since they often so closely resemble their African wildcat ancestors.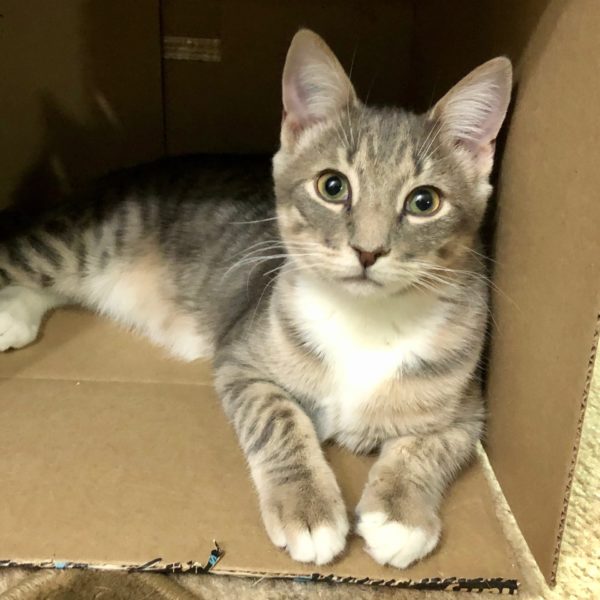 Lou Costello
Bud and Lou already love to play his favorite Cat Tree Games. This will only ramp up as the kittens grow in power. They have already made Mr WayofCats charge up his cordless drill to fix the cat tree they tipped over. The others are already screwed into the sub-flooring, through the carpet. Because Tristan grew up here, too.
I have a weakness for teen cats. They are so often misunderstood. To the casual glance, they look like already grown cats. But inside, they have the delicate feelings and mental goofiness of the babies they still are. There's one more thing about teen cats that I wish more people knew. This is the age where they start playing Cat Poker.
Cat Poker is what I call the independence game cats play as their brains mature. As kittens, affection usually comes easily. But as adulthood starts calling, they want an egalitarian relationship. Which means they aren't always going to come to us. They now want to take turns initiating affection.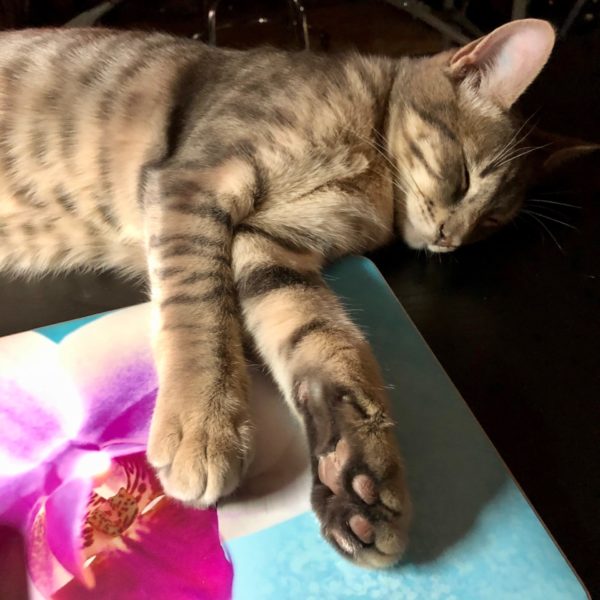 Bud Abbot
This is often when people give up on them. As epitomized by the infamous saying, "You know the problem with kittens? They grow up to be cats." I bristle at this. There's nothing wrong with cats. That's a relationship of equals, with depth and continued development. If, that is, we know how to play The Game right back.
Right now, Lou, the one with the most white, will charge at me and demand extravagant affection, with both hands petting him and mutual forehead rubbing. While he kneads and drools and makes delightful chirping and chirring noises. Bud, as the straight man, is subtle. He will insinuate himself nearer and nearer, until he gets into my lap and melts. Then I scoop up stray legs and keep him from sliding to the floor.
The next step in this most important game will likely be Bud taking even more time to drift by. He might wait for an invitation instead of leaping into my lap with such abandon he bangs his head on the bottom of the desk. (I pick him up first, now.) Lou is such a mosh pit of a kitten his Game is going to be one where he "can't stand the suspense," and quickly feel hurt if I don't notice him.
If we don't see the growing kitten as much as we used to, it might be our fault. I call this Cat Poker because we "see" their loving gestures, and then our teen cat will expect us to "raise the stakes" by seeking them out and being even more affectionate. Then, they will "see and raise" us in return.
Have we not seen our teen cat lately? It might be our turn. If we need to seek out the cat, seek out the cat.
This is the Game of Cat Love.
Discover the Way of Cats.  Get my book:  The Way of Cats.  Get the latest kitten pics on Twitter.
==============================
TaMara again. Hit the comments with your own cat questions, photos and pet brags.