This description of Team Trump's reaction to the Harris pick from Vanity Fair sounds about right:
Donald Trump didn't expect Joe Biden to pick Kamala Harris as his running mate. "He thought Biden would choose Karen Bass," a Republican briefed on Trump's thinking said. Trump's view, according to sources close to the White House, was that Biden would prefer a candidate with Bass's low national profile and one who wouldn't outshine him.
Project much?
As I mentioned yesterday in comments, I happened to turn CNN on at the exact moment when a reporter asked Trump about Harris, and his response was pro forma racism/sexism ("nastier even than Pocahontas") delivered with an oddly flat affect. He's skeered.
Overnight, Trump's dumb, racist, sexist advisors coached their dumb, racist, sexist boss…
Other Trumpworld insiders are thrilled at the opportunity to define Harris as a radical leftist, a portrayal echoed Tuesday night on Fox News. "She's going to help with the base, and that's where it ends," a Trump adviser predicted. "She'll scare the shit out of suburban women. How great is this?"
…with this dumb, racist, sexist result: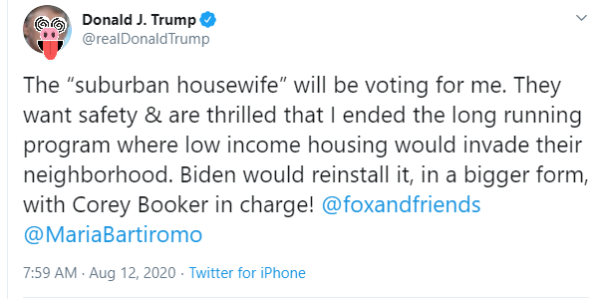 Yeah, Harris (and Booker!) would be scary to white "suburban housewives" circa 1955 if this campaign was happening 65 years ago and they weren't mostly dead? Maybe there's some galaxy-brain strategy here, but I'm not seeing it.
Open thread.