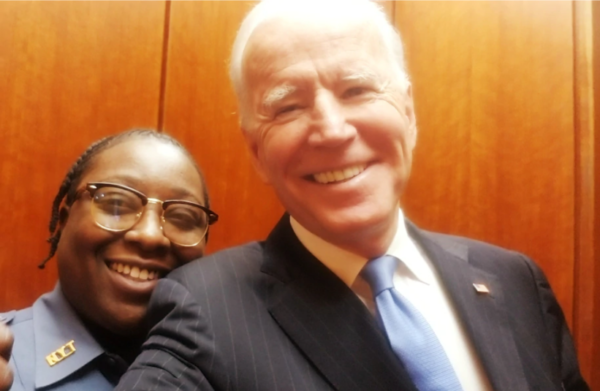 The was last seen blurting "I love you" to Joe Biden as she escorted him in an elevator to an editorial board meeting at the New York Times last December, part of an exchange that went viral as the Biden campaign cast her adulation as a bigger deal than the news organization's endorsement, which he lost.

On Tuesday night, Jacquelyn Brittany, a 31-year-old African American security guard, will do something else for Biden — be the first person to put his name into nomination for president. Her role has not previously been disclosed.

Jacquelyn — she declined to publicize her last name; Brittany is her middle name — epitomized for the Biden campaign the dynamics of the primaries: Spurned by others, Biden's hopes rested on Black women and working class voters, who would eventually resurrect his campaign.

In an interview with The Washington Post, Jacquelyn said she has followed Biden since he became Barack Obama's running mate. "I just like Joe. I've always liked him," she said.

She said she finds inspiration in his life story and the tragedies he has endured — the deaths of his first wife and daughter in a December 1972 car accident and of his son to brain cancer in May 2015.

"He's been through so much. And he doesn't show it on the outside. He may feel it on the inside — and I'm that type of person," she said, adding that her outward cheer masks a difficult life, including stints in foster care as a child.
That's nice.