On the Road is a weekday feature spotlighting reader photo submissions.
From the exotic to the familiar, whether you're traveling or in your own backyard, we would love to see the world through your eyes.
Such beautiful scenery, and I feel as though I am right there with the horses.  ~WaterGirl
way2blue
I set off on my first pack trip in July, four summers ago, deep into Kings Canyon National Park. We, an odd mix of high school & grad school friends, hiked in 17 miles from the pack station to the camp site while pack mules carried our supplies. We hadn't thought, however, to carry rain jackets with us, thus were unprepared for hail at midday. Everyone, soaked & chilled, picked up the pace to generate a bit of heat. Rain returned a few days later, and continued through the night. I'd offered our groundcloth as a tarp over the kitchen area, so piled all my clothes under my sleeping bag to keep from getting soaked from water seeping into the tent as our trenching proved inadequate…
Needless to say, I'd been wanting a do-over. This pack trip, with extended family, was more posh. The pack crew brought in tents, cots, food, kitchen & a cook, plus a wrangler stayed with us. This time I rode the ~19 miles in from Kennedy Meadows to Emigrant Lake. We'd left for the Sierras the morning after a freak electrical storm in northern California, and saw a couple small wildfires on the west side of Crystal Springs Reservoir on our way north. Oblivious to the soon raging CZU wildfire close to home and a friend's efforts to remove artwork & essential documents from our home, to water the yard…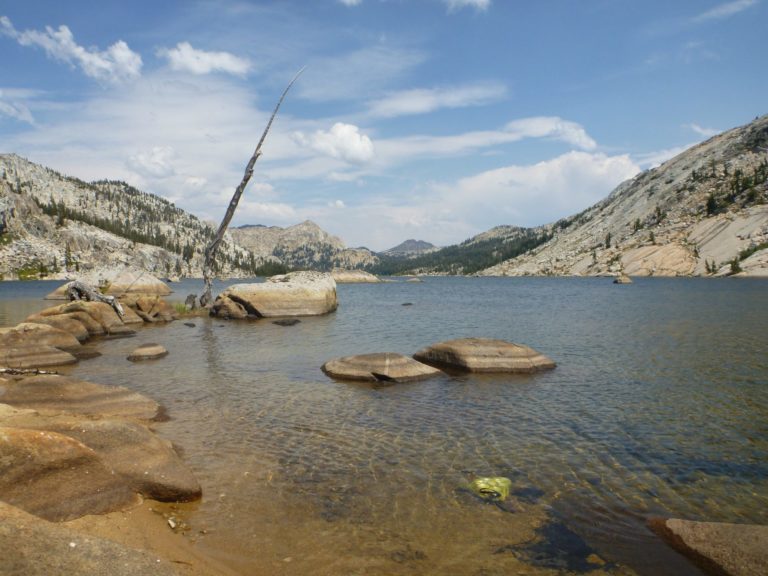 EMIGRANT LAKE, CA
View down the lake, looking to the northeast.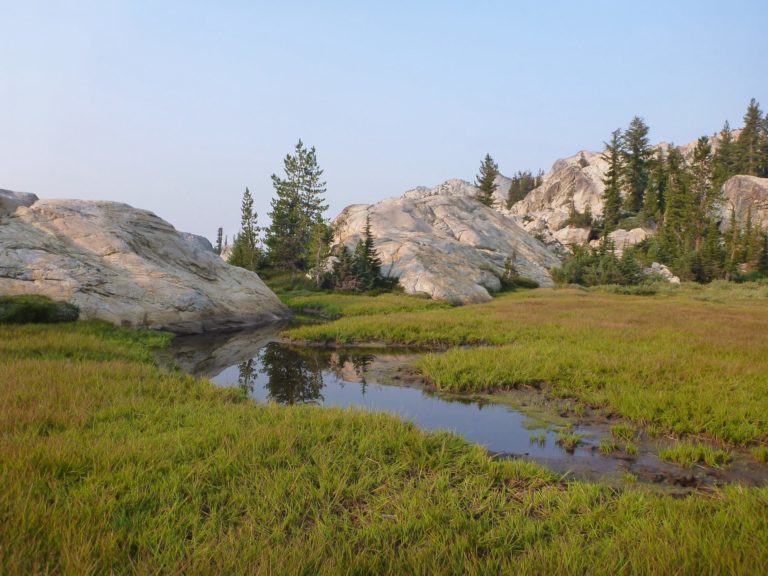 WETLAND DRAINING INTO EMIGRANT LAKE
West end of lake, just below our camp site; prime fishing spots on back side of the rocks.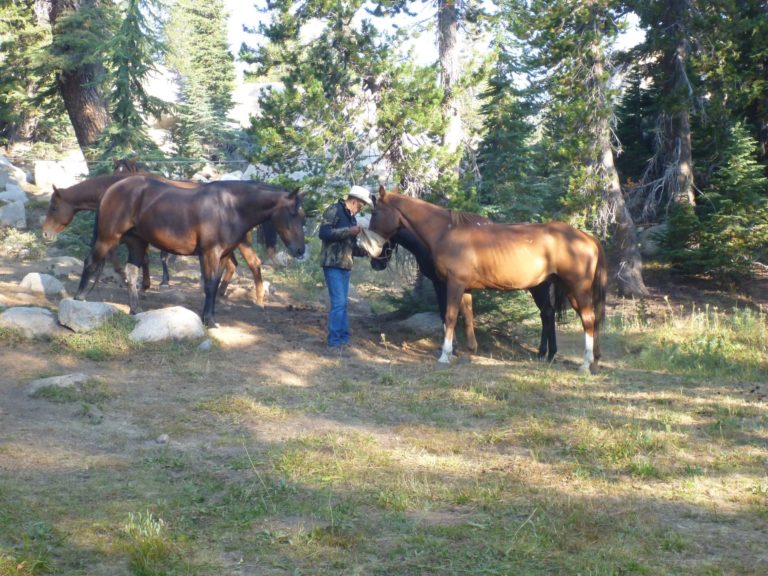 'CORRAL' AREA ABOVE OUR CAMP
Most of the horses stayed with us for the week. They were let loose each afternoon, one with a bell around his neck. The wrangler found them in the morning by hiking to a vantage point and listening for the bell. He'd lead his horse into camp, the rest would follow, and were then treated to the grain bag. That's my horse, getting his treat. (I also shared an apple with him each day, just to stay on his good side.)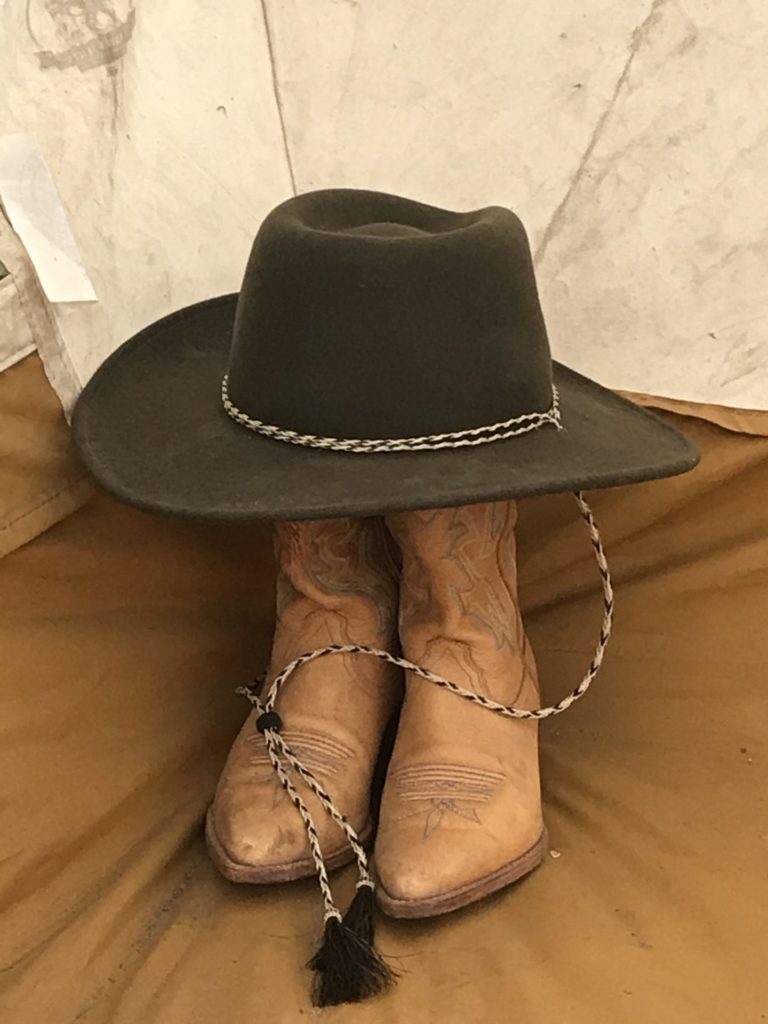 EMIGRANT LAKE
My strategy for keeping chipmunks out of my boots…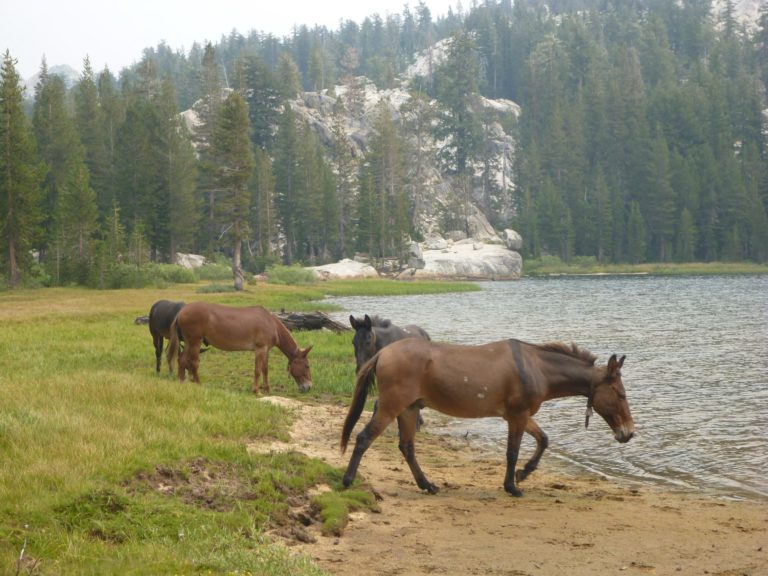 NORTH END OF BUCK LAKE
We hiked to Buck Lake one day for lunch. There was a small group camped there with a couple dogs and a passel of mules. Who were quite friendly. This stream valley was fairly smokey owing to a wildfire near Bear Lake (the one to the south).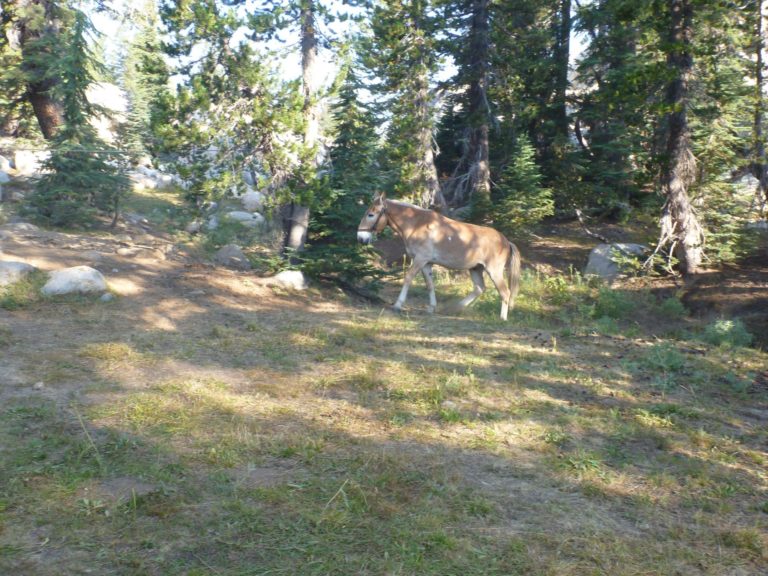 LOVESICK SHOOTER
The packers left one mule behind. Shooter. As 'he' was in love with one of the mares, and would bray whenever she wasn't nearby. Plus he kept balking on the way in, stalling the pack train when the riders lagged behind the pack.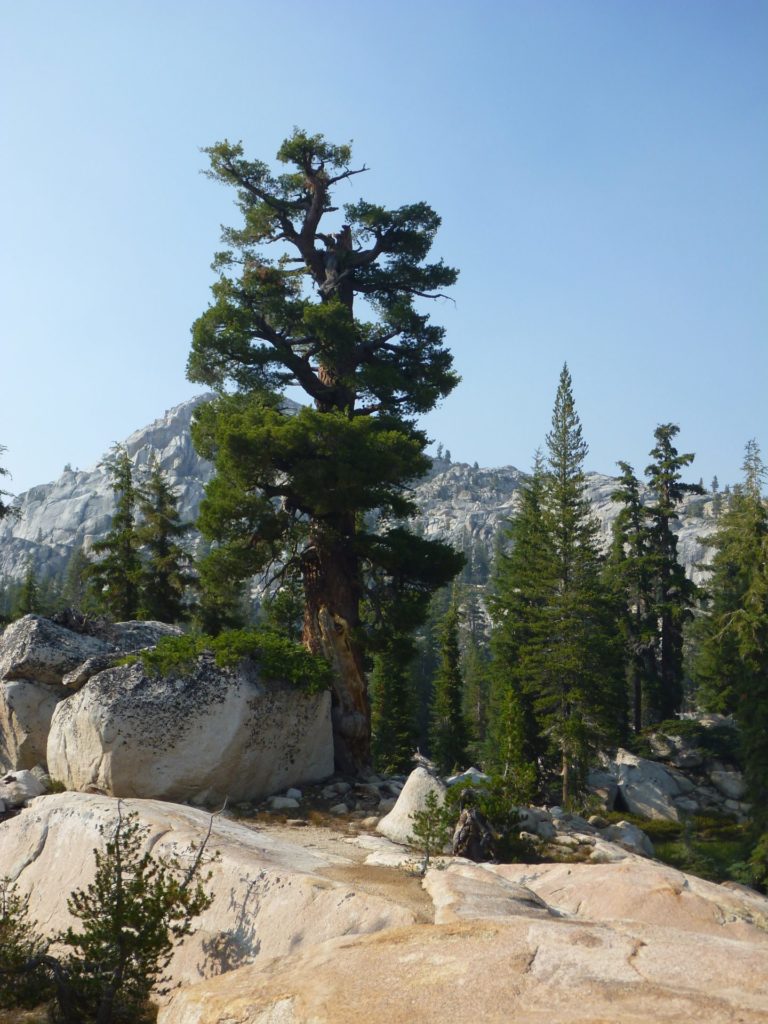 GAME OF THRONES TREE AT POND ABOVE EMIGRANT LAKE
This huge pine tree with a broken top looked like it belonged in the GOT series.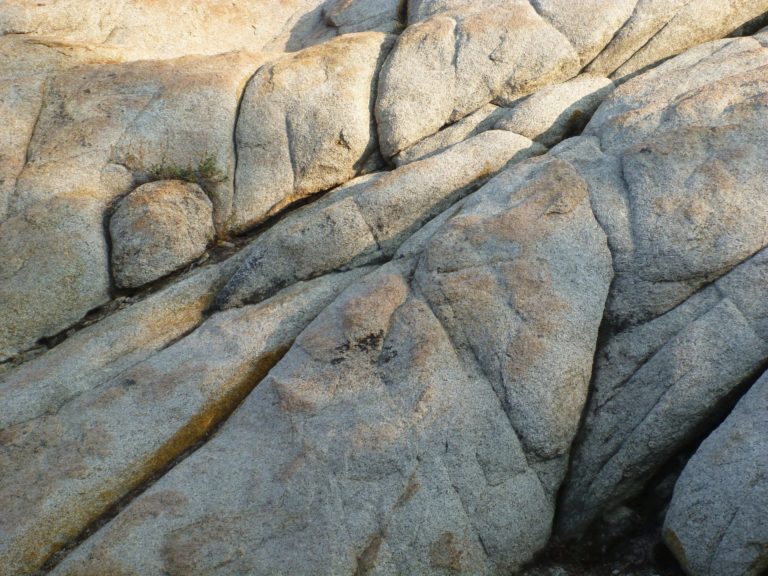 WEATHERED GRANITE NEAR CAMP
Mostly granite bedrock in this part of the Sierras; the long granite face on the far side of Emigrant Lake appears to have been polished by glaciers. Lots of pegmatites and pancake inclusions (dark blobs of more mafic minerals), and flashing feldspar crystals to add variety. This outcrop appealed to my love of nature's textures & patterns, caught in late afternoon light.