Saw this on Twitter today:
#OnThisDay November 11, 1918 WWI Ends. Listen to this recording made available by the Imperial War Museum of when all the guns of World War I fell silent. #SoundOn #VeteransDay pic.twitter.com/e0WQEtaRW7

— Buck Miller (1921-2018) (@usmc1940) November 11, 2020
And there's your microcosm of the brutal, wretched, murderous idiocy of that "Great" War whose end we remember today. One minute to go–as everyone on the line knows–and the guns of he Western Front are in full cry.
And then silence–and pity the soldiers dead in those last sixty seconds. And every minute of the previous four years.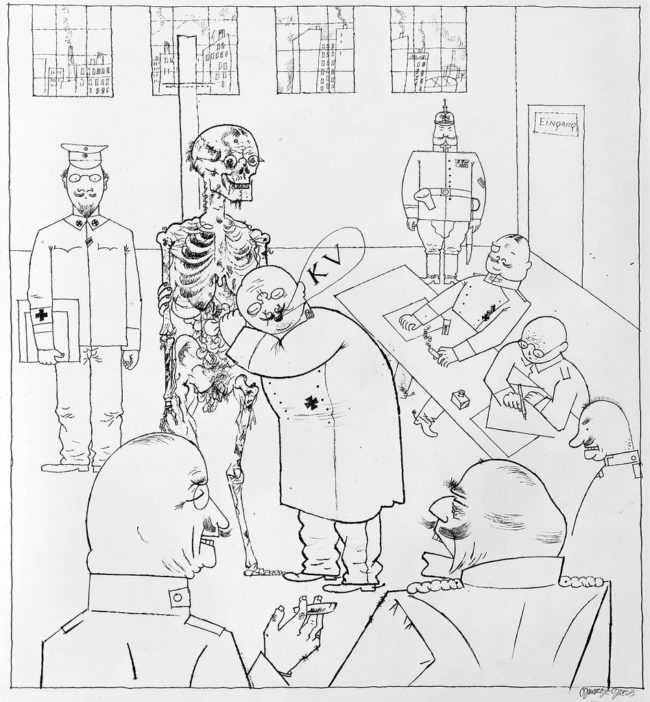 For me,  World War I is a talisman, a constant reminder that one must always deeply mistrust, perhaps loathe, anyone from the 101st Chairborne slavering to send other people's kids in harms way. I am not a pacifist in an absolute sense. But I believe that the use of military power in any circumstance, however urgent or inescapable it may seem (or be) in the moment, is the result of prior failures.
But leave such highfalutin thoughts behind for a moment, and listen into that silence. The birds can be heard again, metaphorically if not literally, for the first time in the four years before this recording could be made.
Before and together with Veteran's Day, there was/is another name for November 11th:  Remembrance Day.
Image: George Grosz, Fit For Active Service, 1918