On the Road is a weekday feature spotlighting reader photo submissions.
From the exotic to the familiar, whether you're traveling or in your own backyard, we would love to see the world through your eyes.
As a special holiday treat, we have a week in New Zealand, courtesy of Albatrossity.

Starting tonight, for this week and next week: Ghosts of Holidays Past.  Send in your photos!  You can send a full set with the On the Road form, or just send one or two that will go into a group post.  Be sure to include some text so we know what we're looking at.  If you want to send photos but not have them identified as yours, let me know that, too.
Albatrossity
I have been fortunate to visit New Zealand 5 times. The first in the early 1990's, to attend a scientific conference, and it was in August (mid-winter in the Antipodes). I remember marveling at the cold drippy weather, the American TV shows that seemed popular there (e.g., WKRP in Cincinnati, why?), and the fact that sporting events being broadcast included lots and lots of sheep dog trials. The people were incredibly friendly, the scientific conference was productive, and I wanted to go back sometime.
Several years ago my brother-in-law and his wife emigrated there, and are now permanent residents. The process of immigrating to NZ is long and arduous, but they decided (most presciently) that US politics was in a continuous down-spiral and they wanted to be in a civilized country instead. They settled in Nelson, which is at the north end of the South Island and at a latitude similar to that of Arcata CA, or Providence RI for you east-coasters. It is a lovely city, and, as the locals will tell you even without you asking, it is supposedly in the sunniest part of New Zealand.
Since they moved there we have spent four Christmases with them, and a trip to the Southern Hemisphere in late December is indeed a holiday treat in itself. We have spent time on the North Island, the South Island, and several of the other islands in the archipelago that calls itself New Zealand. Some of the place we saw were the standard tourist stops (Auckland, the Southern Alps, Wellington), others were more idiosyncratic (wildlife sanctuaries and coastal towns with interesting opportunities like birdwatching trips or penguin colonies).
Lots of folks go to NZ to see Lord of the Rings sites or trivia; others go for the adventuring venues like spelunking, fishing, or bungee jumping. We did none of those; if you were hoping to hear about that sort of thing, there are other venues. So here are five OTR posts with my photos and commentary about the parts of that beautiful country that I have visited and even re-visited. I hope you enjoy them, and I urge you all to find a way to get to New Zealand if you can, no matter what attractions you wish to visit there. Here is a map showing all the places mentioned in this post.
Today's post is about the native landbirds of NZ. You may not know this, but the landmass that would become New Zealand split off from Gondwanaland before the extinction of the dinosaurs, and mammals at that time were small and rare. None of them survived in New Zealand; the only land mammals are three species of bats. The descendants of the dinosaurs that we know as birds filled all of the available niches, and, in a land without mammalian predators, evolved in interesting ways.
Many nested on the ground. Many were flightless. Many have a detectable odor, which would be disadvantageous if olfactorily-adept predators were around. Many were huge. All of which became immediate disadvantages when the Maori arrived, only 800 years ago. So a lot of them are now extinct, either at the hands of the Maori or the later European arrivals, and many as a result of the introduction of rats, cats, stoats, and other mammalian predators. Although depleted by these extinctions, the avifauna is rich, unique, and a great attraction for birders and biologists around the world.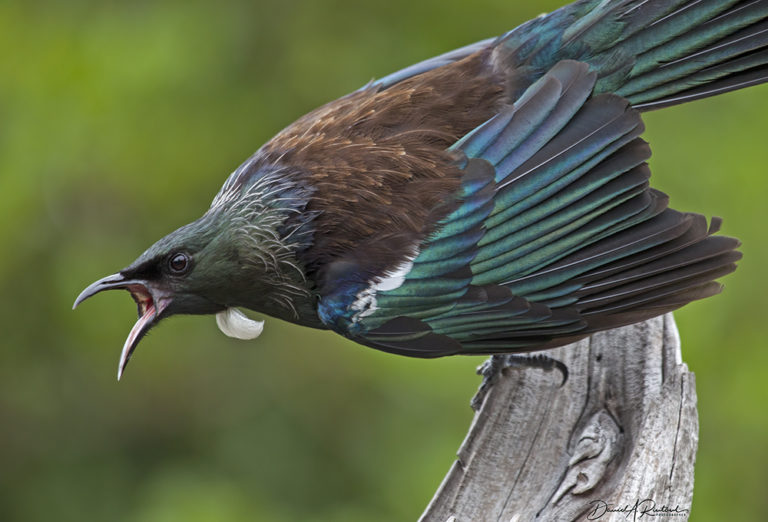 Tiritiri Matangi Island
December 28, 2013
It would be hard to pick an iconic bird for New Zealand, but this one, the Tui (Prosthemadera novaeseelandiae) might be at the top of my list. It is endemic to NZ, and the only species in the genus). It is a honeyeater, dependent on nectar from flowering plants, and is found throughout the country in areas both urban and rural. Loud and attention-getting, unlike most New Zealanders, this one was defending its territory from a juvenile interloper on Tiritiri Matangi Island, a wildlife sanctuary in the Auckland area.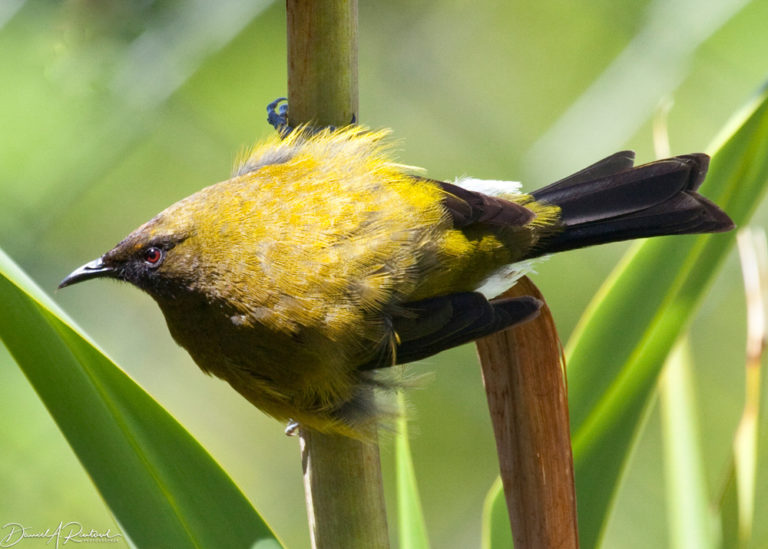 Maud Island
January 5, 2014
Another candidate for iconic NZ bird is the New Zealand Bellbird (korimako to the Maori, Anthornis melanura to taxonomists). Also found throughout the country, and a beautiful singer. It is reported that when Captain Cook's boats approached the islands, the sound of birdsong, mostly bellbirds, was noticeable from a great distance. This one was on Maud Island, another sanctuary island in Marlborough Sound at the northern end of the South Island.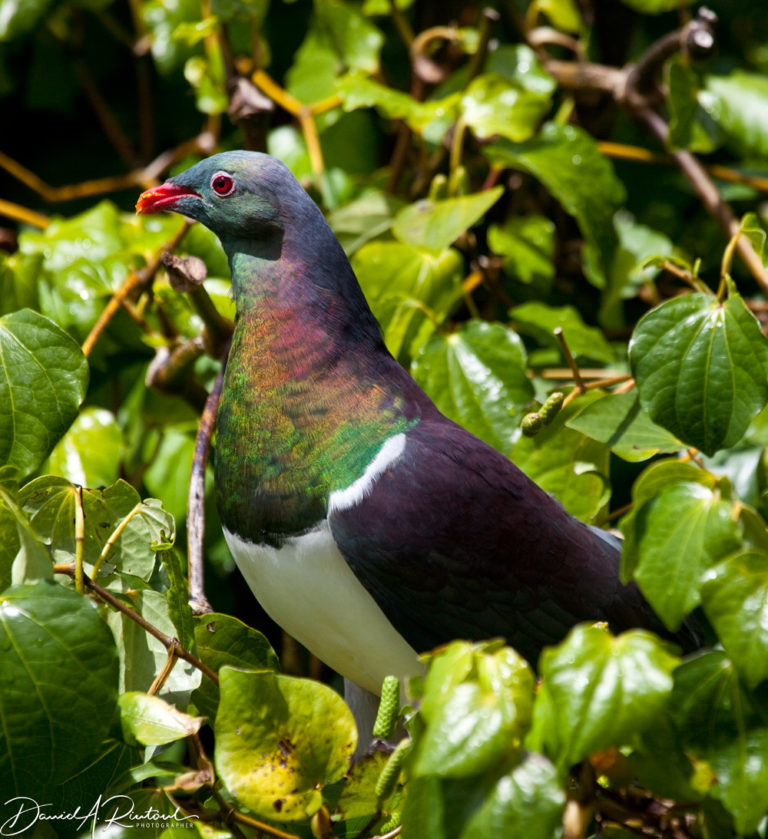 Maud Island
January 5, 2014
The New Zealand Pigeon (keruru, Hemiphaga novaeseelandiae) is an impressive beast. On my first vist to NZ I was wandering through a rainy forest when one of these flew quite close over my head. It is the size of a duck, makes a lot of wing noise, and it really startled me. This one is eating a kakawa (Piper excelsum) fruit, and was also on Maud Island. After it left I sampled one of these fruits; as might be expected from the genus name, it was very peppery and spicy!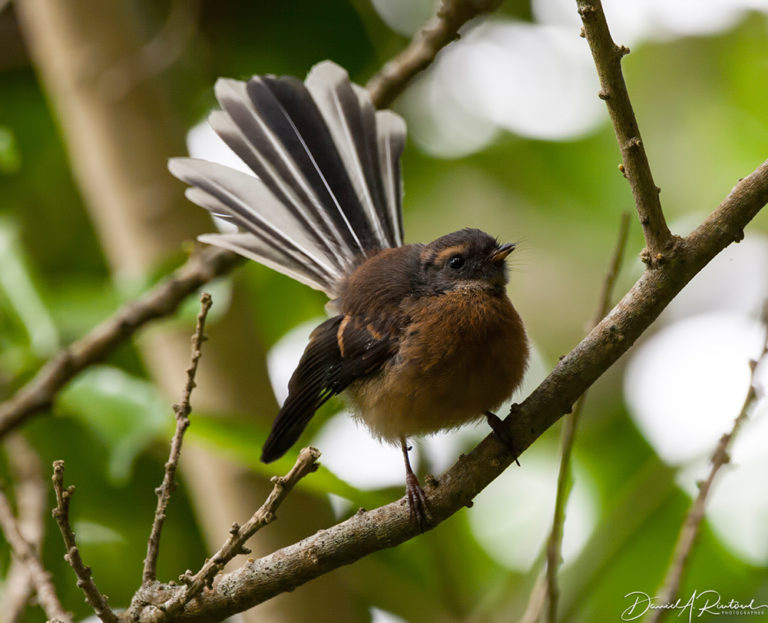 Auckland
January 7, 2016
The Piwakawaka, or NZ Fantail (Rhipidura fuliginosa) is a beloved bird in towns and countryside throughout New Zealand. It is the only species of fantail in the country, and is named for its habit of flicking its tail open and closed to startle the insects that it feeds on. This one was in a park near Auckland.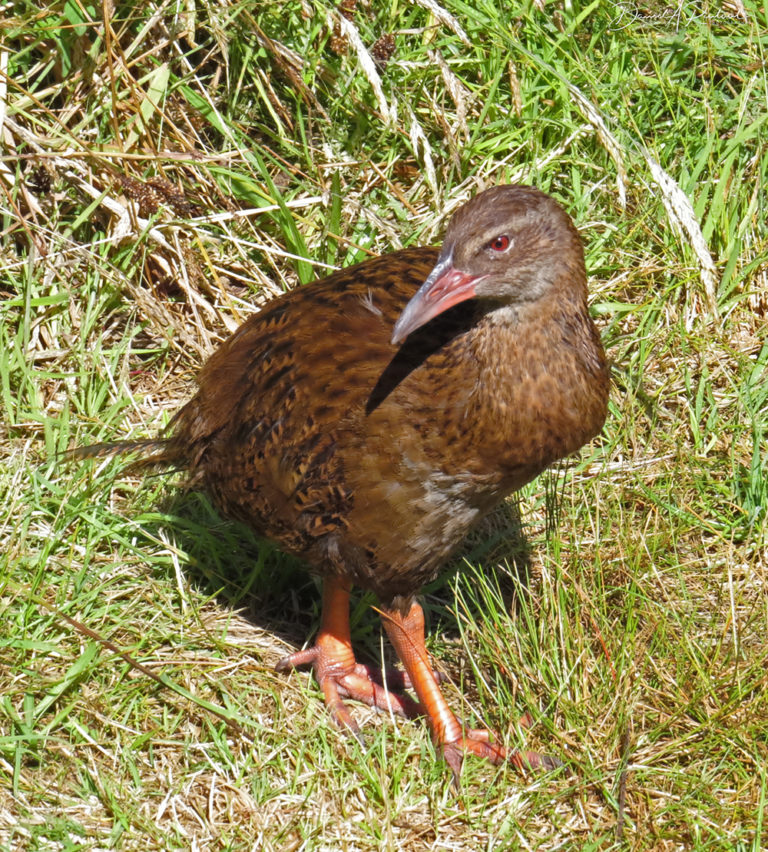 Abel Tasman National Park
January 1, 2015
The Weka (Gallirallus australis) is a sturdy species of flightless rail endemic to New Zealand. Unlike many rails, it is a landlubber, and wanders the forests and gardens feeding on just about anything animal or vegetable. There are at least two subspecies (northern and southern); this one was in the Abel Tasman National Park on the South Island.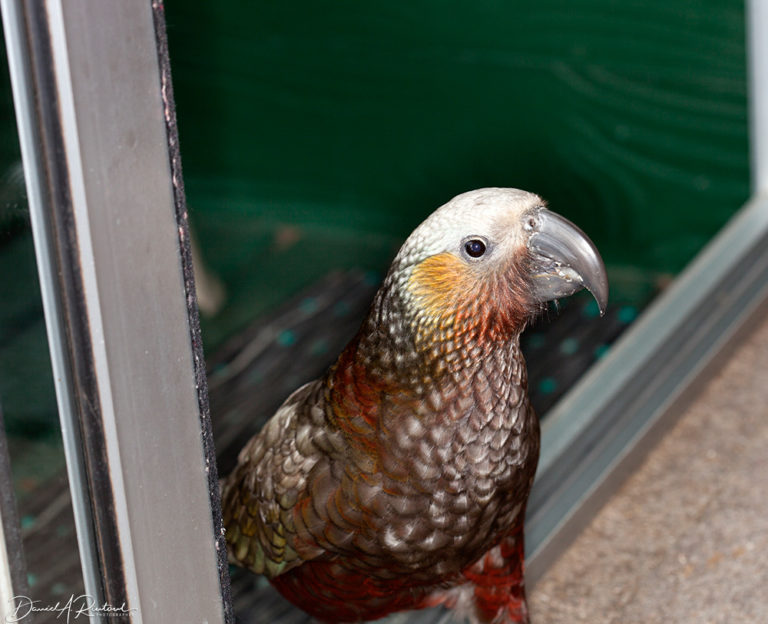 Stewart Island
December 25, 2015
There are several species of parrots in NZ, and all of them are much diminished in numbers due to habitat loss after most of the forests were cleared by the British settlers. This one, making itself at home on Christmas Day 2015 in our rented cottage on Stewart Island, is a Kaka (Nestor meridionalis). It is common in wilder parts of the country, and is making a recovery in some of the urban areas where wildlife sanctuaries (e.g. Zealandia in Wellington) have provided nesting habitat in predator-free enclosures.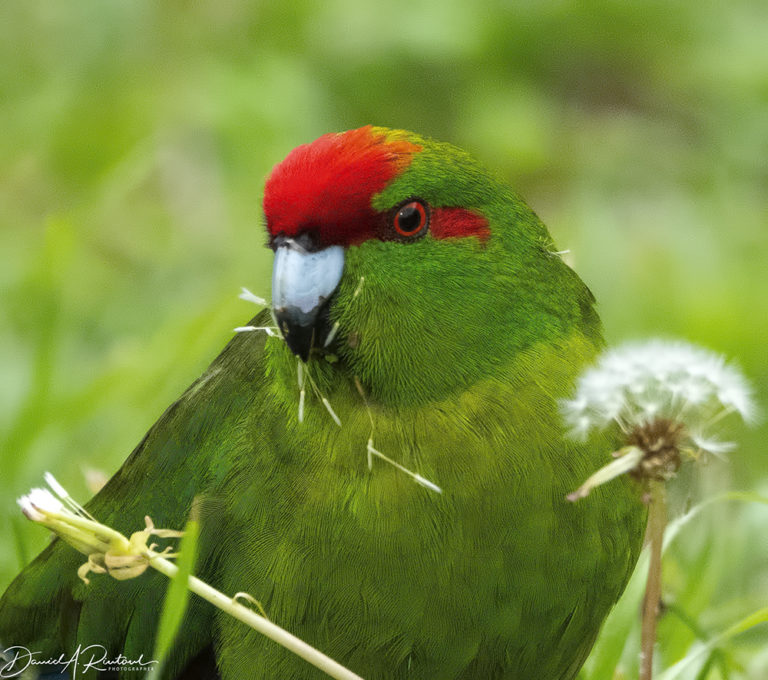 Kapiti Island
January 6, 2019
Another threatened species of parrot is the Kakariki (aka Red-crowned Parakeet, Cyanoramphus novaezelandiae). Formerly widespread across the archipelago, it is versatile in its eating habits and thus has been able to adapt somewhat to human infestation of its homeland. As you can see here, it even eats the seeds of a European invasive plant, the dandelion. Photographed on Kapiti Island, another sanctuary island on the west coast of the North Island, near Wellington.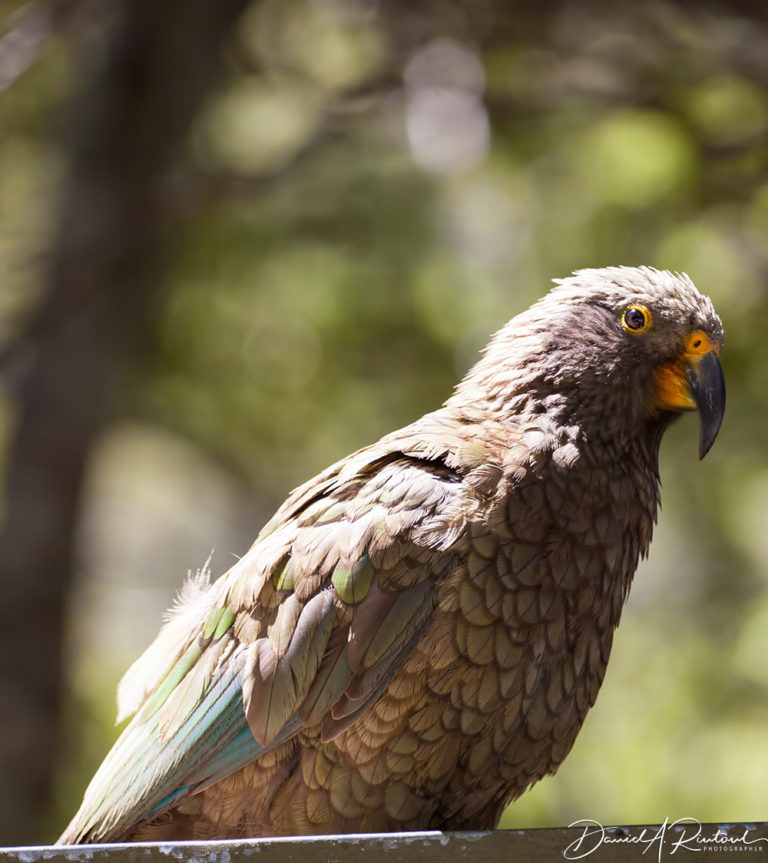 Arthur's Pass
December 31, 2015
The third parrot in this series is the Kea (Nestor notabilis), photographed in the alpine village of Arthur's Pass on the South Island. This is the only truly alpine parrot in the world, and is known for its audacity around people, This one was stealing pats of butter from an outdoor dining area, and one of its co-conspirators took a sip from Elizabeth's chocolate milkshake. It is an endangered species these days, and habitat loss associated with climate change is not doing it any favors.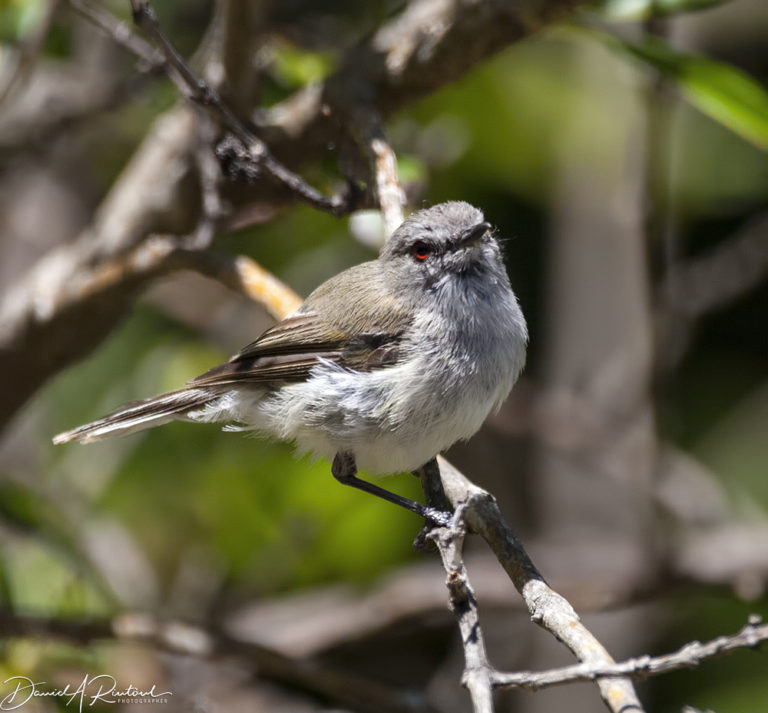 Nelson
January 5, 2016
A widespread passerine, the Grey Warbler (riroriro, Gerygone igata) is one of the country's smallest birds, weighing in at about 6 grams. It is heard more than it is seen, and I considered myself fortunate to get a good shot of this one, in a cemetery in Nelson.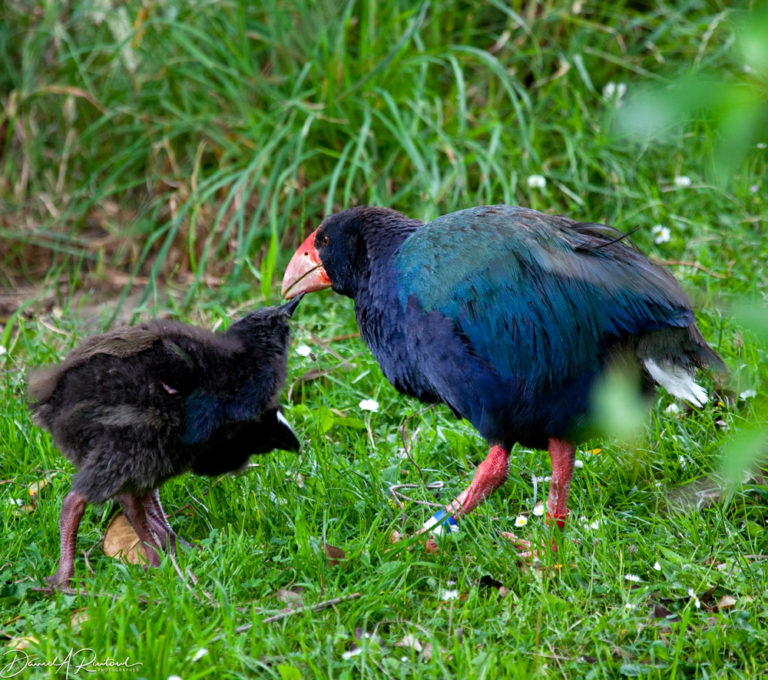 Maud Island
January 4, 2014
One of the most endangered species of birds in the world, the South Island Takahe (Porphyrio hochstetteri) is a rare survivor of the large flightless vegetarian avifauna that characterized NZ before the arrival of humans. It is the largest living rail in the world. It was thought to be extinct in the early 20th century, but was rediscovered in the dense forests of the Southern Alps in 1948. On my first visit to NZ in 1991 I saw one, in a cage at the Mt Bruce sanctuary. There were probably none in the wild at that time. These three, photographed in 2014 on Maud Island, represented over 1% of the population at that time. Today, thanks to aggressive breeding programs and habitat restoration, there are approximately 400 Takahe in the world.