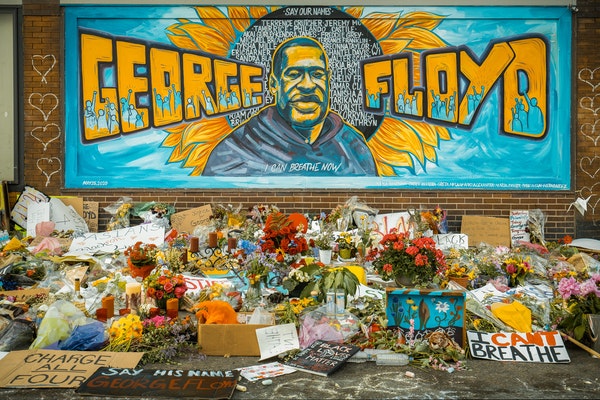 Eugene Robinson at the Washington Post tells it like it is.
Evidence presented this week in Derek Chauvin's trial on charges that he murdered George Floyd showed a national audience how the former Minneapolis police officer saw his alleged victim: as a dangerous, "sizable" Black man who had to be controlled, subdued and forced to submit. The message Chauvin sent with his actions wasn't intended for Floyd alone, and it's one Black Americans have heard for centuries.

Chauvin didn't see Floyd as a citizen suspected of a minor, nonviolent crime or as the gentle "mama's boy" Floyd's girlfriend, Courteney Ross, described. To Chauvin and the other officers, Floyd was guilty from the start — guilty of inhabiting an imposing Black male body, a circumstance that has always been a punishable offense in this country.

For me, McMillian's Wednesday testimony was the most heartbreaking so far — and, sadly, the least surprising. At 61, he has lived long enough to know all about the criminalization of Black manhood. He cried on the witness stand as he described feeling "helpless" while Floyd — pinned to the ground, with Chauvin's knee on his neck — cried out for his late mother. "I don't have a mama either," McMillian said. "I understand him."

After the May 25, 2020, encounter was over, and Floyd's limp and apparently lifeless body had been taken away by paramedics, McMillian is heard on bystander video bravely confronting Chauvin about his actions. Chauvin's response says everything about the lens through which he saw Floyd: "We've got to control this guy because he's a sizable guy. Looks like he's probably on something."

Think about the fact that Chauvin and the other officers thought they had to "control" Floyd in the first place. And think about how they initiated their encounter with him.

Police body-camera footage played Wednesday at the trial shows that one of the other then-officers, Thomas Lane, was the first to interact with Floyd. Lane rapped with his flashlight on the driver's-side window of Floyd's car, apparently startling Floyd, who opened the door slightly and said, "Oh, I'm sorry, I'm sorry." Lane's immediate reaction was to draw his service weapon, point it at Floyd and shout: "Get your fucking hands up right now!"

At that moment, both of Floyd's hands were near the steering wheel, clearly visible to the officers. It is obvious on the video that he was neither holding nor reaching for any kind of weapon. Yet he suddenly found himself looking down the barrel of a policeman's gun.
Laura Too just sent me a note with a link to the fundraiser for the 9-year-old girl who testified yesterday.
You may know Laura as Schlemazel's niece, and you may know from last summer that Laura lives in the neighborhood where George Floyd was murdered.  The fundraiser for Judeah Reynolds was put together by a small team of community volunteers.
Laura's note said: "It is something positive I could do and maybe there are others who feel so powerless in the face of evil that they would also like a way to help."
Judeah and her family are essentially homeless, staying with various people temporarily.  Sharing the link here in case anyone is interested.
.