Earlier today Congressman Kevin McCarthy finally got around to sort of, almost, if you squint just right calling out Marjorie Taylor Greene for her quintupling down on her anti-Semitic comments equating taking public health measures, such as masking in public spaces, getting vaccinated, and being able to provide verification of vaccination, with the treatment of Jews by the NAZIs during the Holocaust. Leaving aside for a moment that these things are not equatable, McCarthy issued a mealy mouthed statement referring to Greene solely by her first name, so it is possible he's referring to some other Marjorie, and then taking bothsiderism to a new level by blaming all of this on Speaker Pelosi. I'm sure McCarthy decided his work on this issue was done. Message delivered. Time to move on.
Unfortunately, Kevin McCarthy didn't bother to check with Marjorie Taylor Greene. As Andrew Solender reported by tweet, Greene praised while quote tweeting some chucklehead who decided to call out McCarthy for going after her.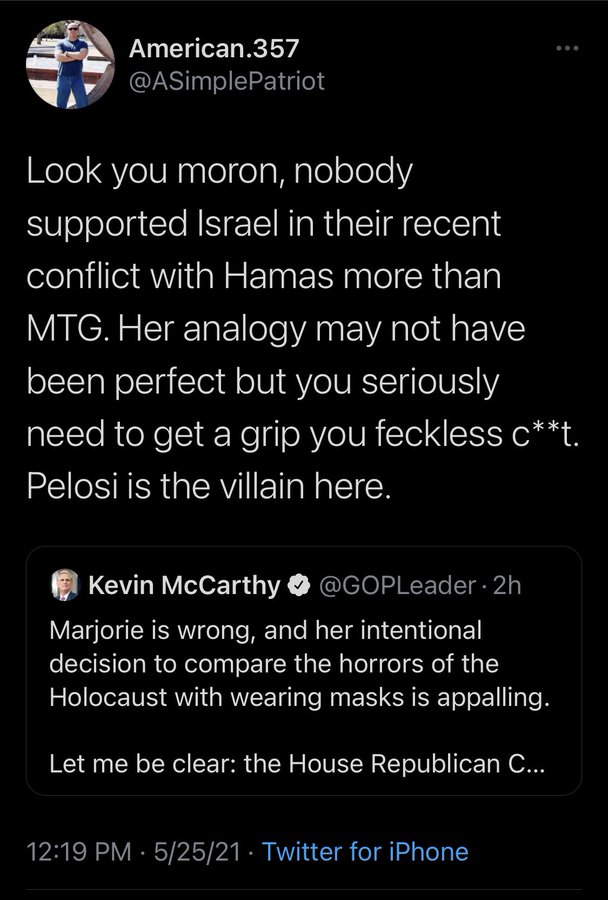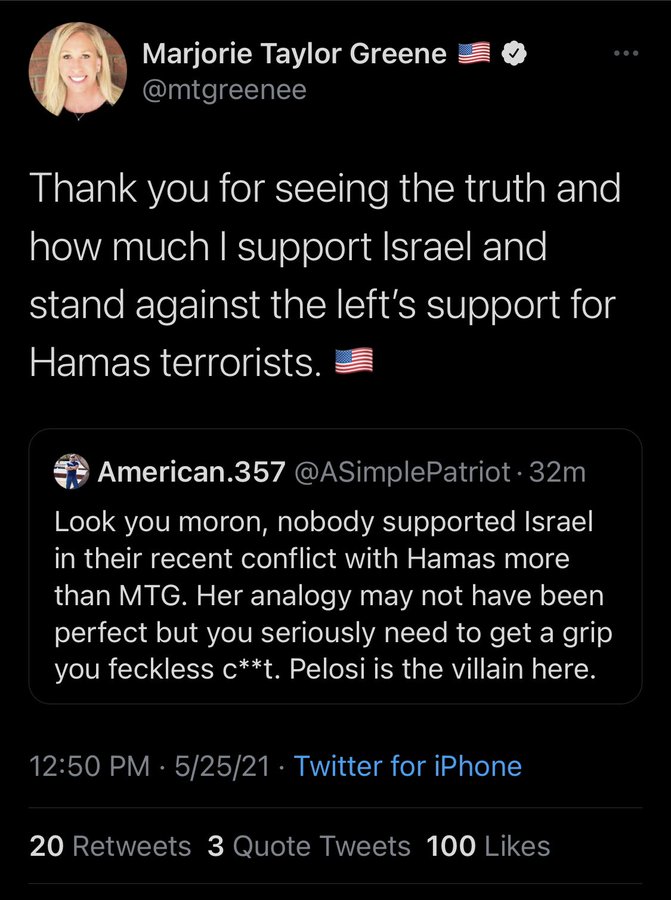 Let's leave aside the usual and inaccurate support for Israel equals can't be anti-Semitic, what we have here is that McCarthy now has to live with the monster he helped partially create. At any time beginning when she started campaigning, McCarthy and the rest of the GOP leadership could have stopped Greene. They could have endorsed and campaigned for her primary opponent. A very solidly conservative physician who is actually from the district, not a carpet bagger like Greene is. They could have also cut a deal with Pelosi involving removing Green from committees, specifically that McCarthy and Scalise wouldn't whip votes against it, thereby freeing up more members of the Republican House caucus to vote to remove Greene from her committee assignments. There are also a number of behind the scenes things that an effective caucus/party leader in Congress could do to rein her in. McCarthy, however, has done none of these things and, as a result, he is now being chased across an ice floe by a monster partially of his own making.
Greene also got into a battle of wits over her blithely, proudly ignorant anti-Semitism with Ben Shapiro. Which is kind of amazing given that both approached the fight unarmed!
I'm rooting for injuries all the way around.
Open thread!