On the Road is a weekday feature spotlighting reader photo submissions.
From the exotic to the familiar, whether you're traveling or in your own backyard, we would love to see the world through your eyes.
Our featured artist today is Betsy!  Let's give her a warm welcome.

If you would like your talent featured in the Artists in Our Midst series, send me an email message.  Don't be shy!  This is the final Artists post in the queue, so please get in touch if you would like to be featured.
Betsy
I paint landscapes in watercolor.
I have a couple of favorite subjects.
One is the sense of a  particular ecosystem or plant community. I want to be able to remember the sound of the insects buzzing in the beach dunes, or make you imagine the coolth of the air sifting down a shaded hillside in a northern forest.
My other main interest is structures in their setting — a town or rural village.  I'm especially interested in the spaces between buildings.  
I've also painted a few house portraits for friends and clients.  Right now I'd like to do more work on commission, since I just left a "real" job due to coronavirus concerns.
I hope you enjoy these paintings!
Update from Betsy:
I am is available to take commissions for art.  I specialize in house portraits, but if you would like a different subject, let me know and I may be able to do something a little different for you.  I would love to do some art for you!

Previously I have mostly done commissions for friends and neighbors, so bear with me as I start to scale up — this feels like a good moment for it.

My email for commissions is BetsyMakesArtForYou at the google email place.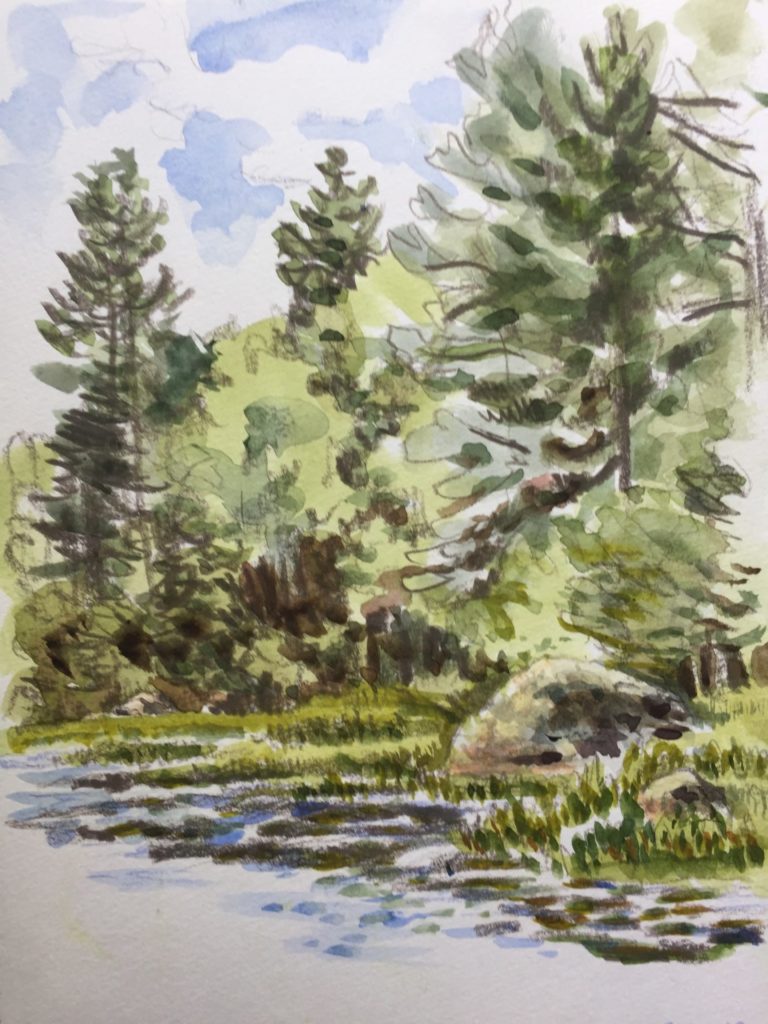 Adirondack Mountains
Mixed hardwood-conifer forest and pond edge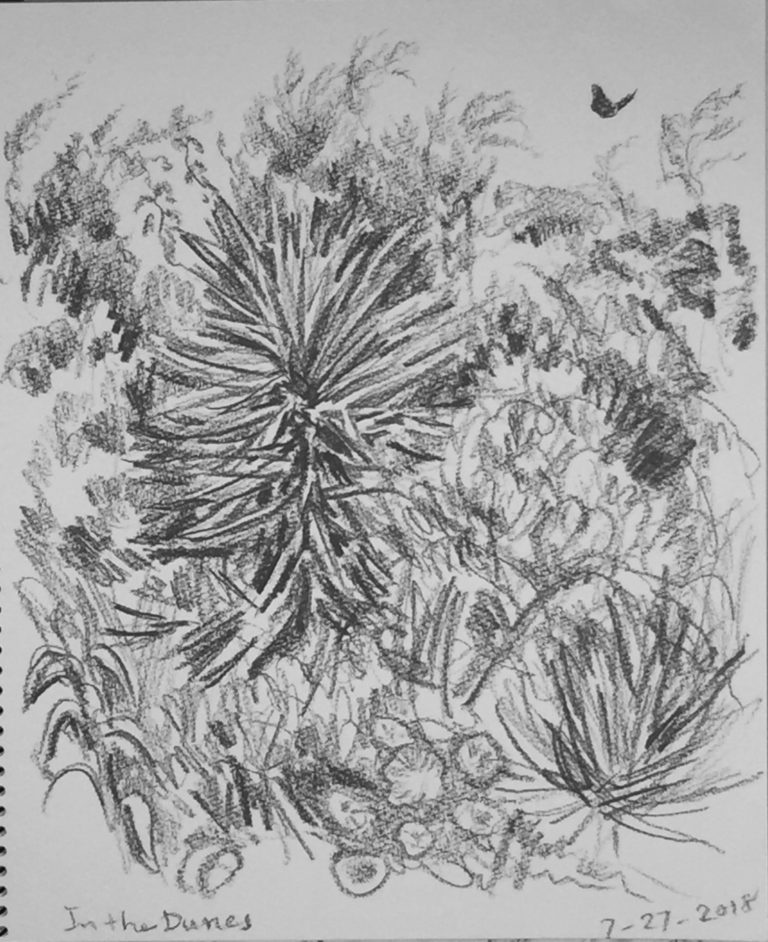 Cape Hatteras National Seashore
Maritime inter-dune scrub.
In my mind I can still hear the bugs that day, making their repetitive sand-shaker sounds in the waxy vegetation.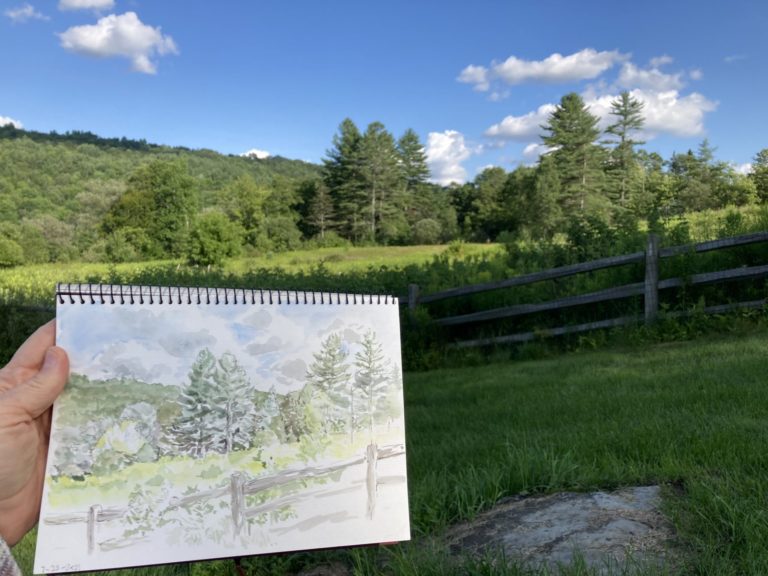 Northern New England
Human-modified meadow and early successional forest.  I was sketching with a friend's children on a perfectly beautiful New England summer day.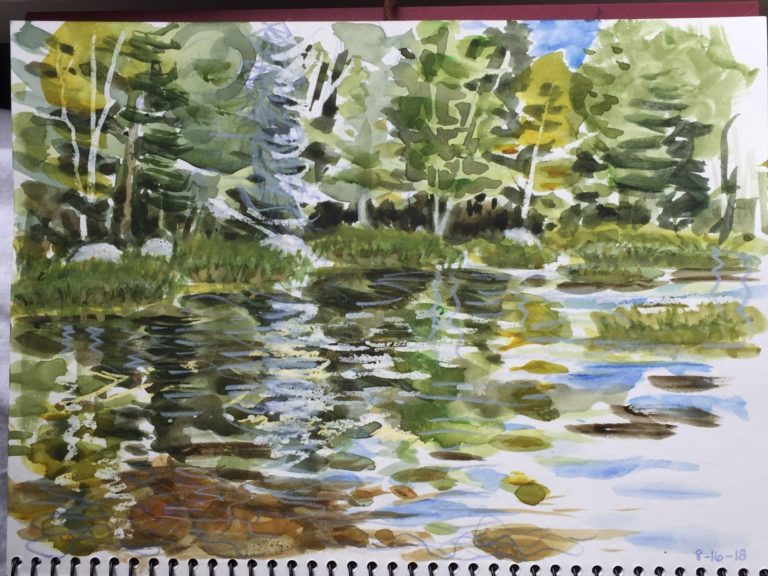 Adirondack Park
Pond landscape with birch, white pine, maple, and spruce trees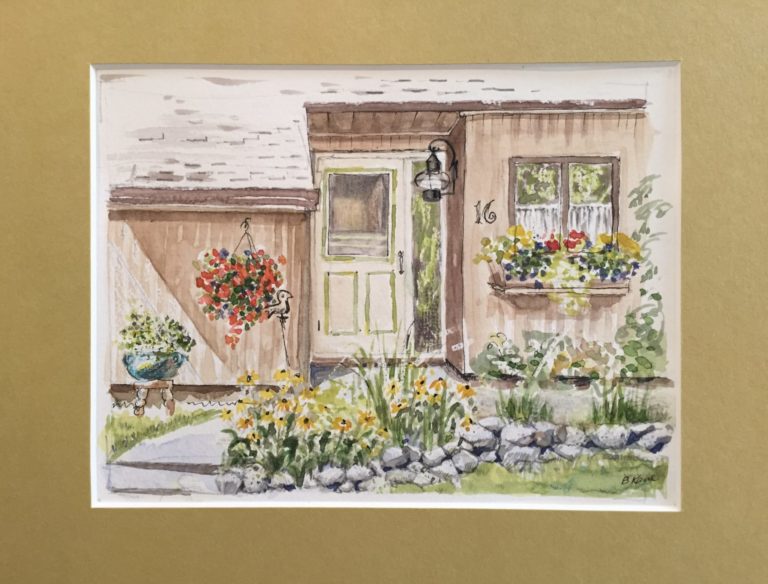 The welcoming dooryard at a friend's condo.
This was a gift for her, since I've stayed in her guest bedroom too many times to count!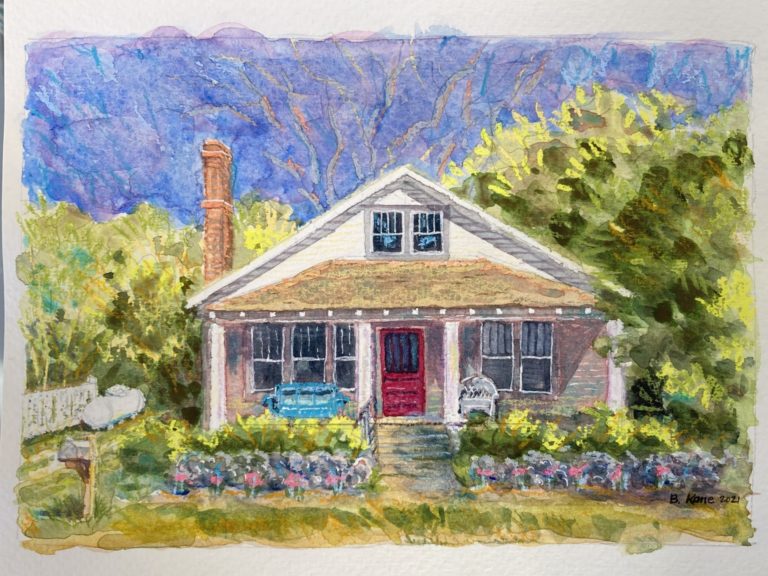 Coastal Carolinas
Bungalow with porch glider, flowers, and propane tank.
I wanted a surrealist, dreamlike color for the trees around the house and behind it, so I used intensely colored artist's crayons to create a wax resist that would repel the watercolor and create a stippled, broken color wash, with the lurid greens and pale orange of the wax showing through.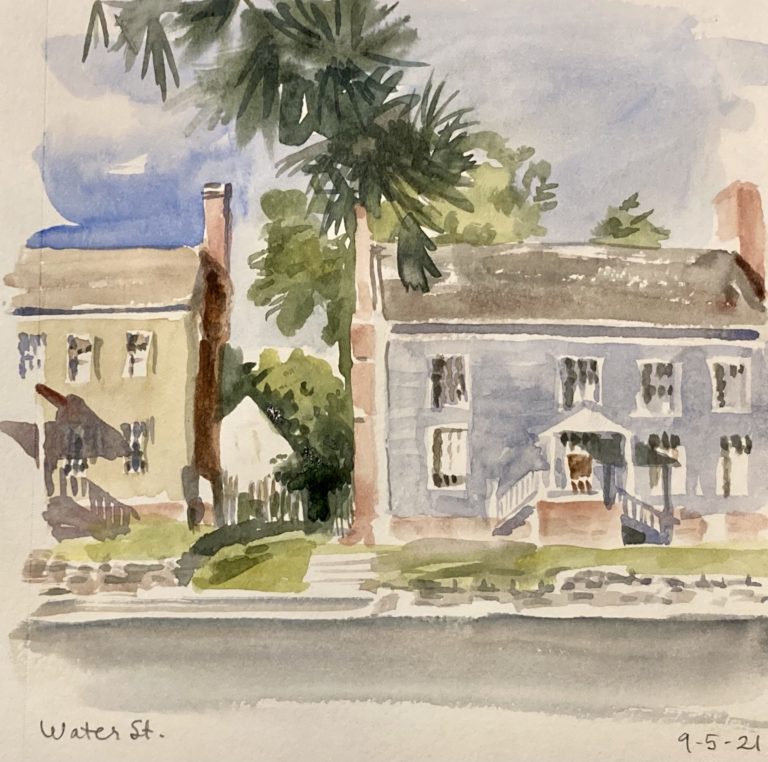 Coastal Carolinas
Colonial houses in an old port city.
This was a casual sketch done from a spot across the street.  I was trying so hard to "paint around my whites" as you do in watercolor, leaving the paper untouched where the lightest lights are meant to be.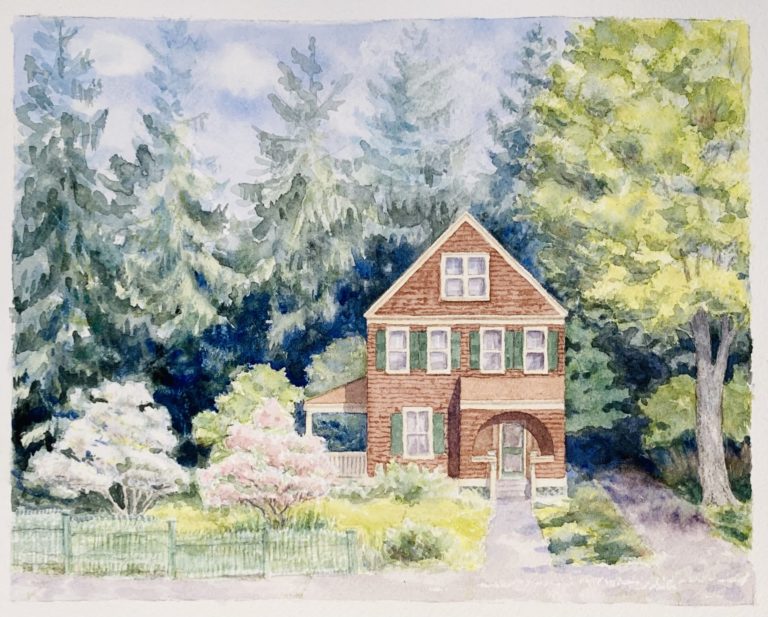 Massachusetts
Friend's childhood home. This custom house portrait was painted from several sub-optimal photographs of different parts of the house and a poorly focused google streetview image.  I had to "photostitch" it all together  using the software  in my head and sketching out a composite in pencil by hand since one good view of the entire house was not available.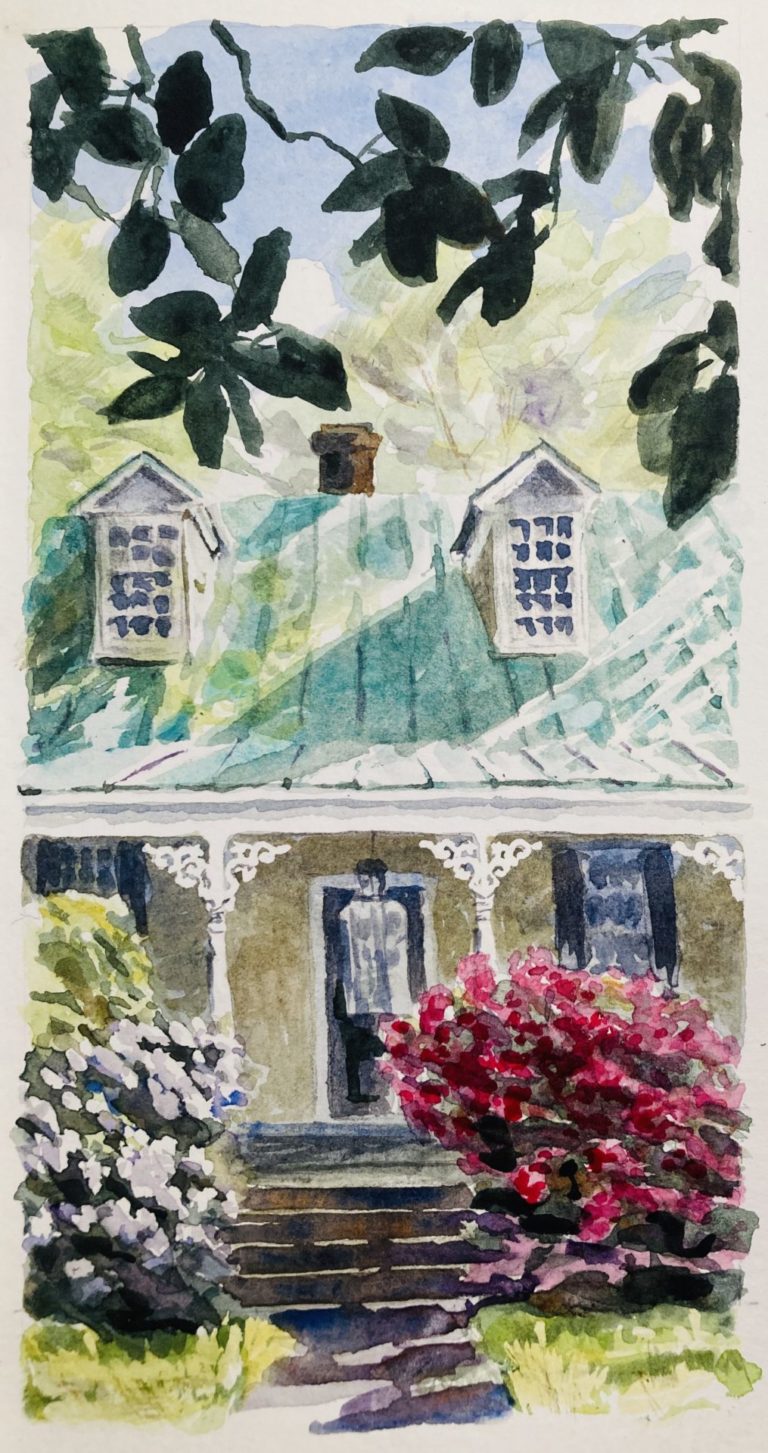 Coastal Carolina
Coastal cottage from the early 1800s.
It has a copper roof that has patinated to light turquoise.  In the yard are flamboyant azaleas, and a magnolia tree that shades the whole front walk.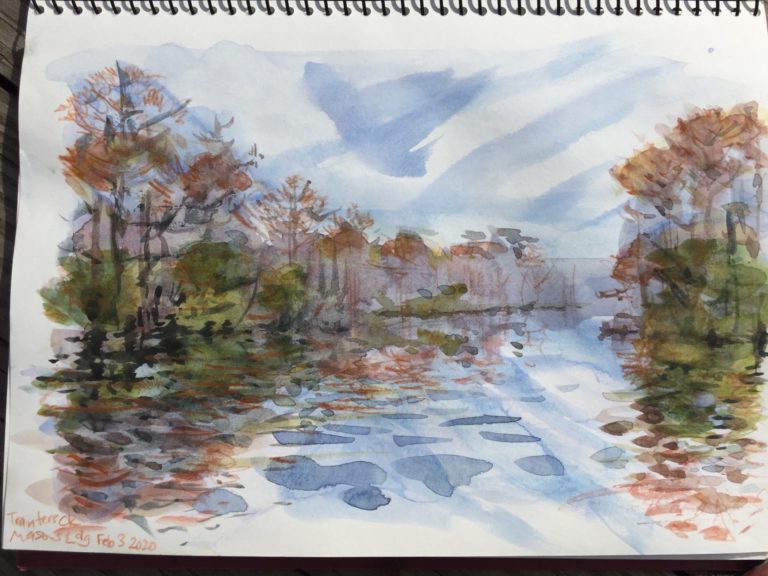 Southeastern U.S.
A cypress swamp along a blackwater creek in late winter.  It's called "blackwater" because the tannins in the cypress needles and oak leaves stain the creek and swamp water a deep, beautiful, clear red-brown, like strongly brewed tea or coca-cola.