Sick at heart about what is happening, but feeling a lot of love for Ukraine, President Zelensky, his family and his brave crew, and the people of Ukraine.
I'm in awe of this man. How can we not support him and his people when they demonstrate such grit and determination. #StandWithUkriane pic.twitter.com/ok6JOXl4KA

— Yevgeny (Eugene) Vindman (@YVindman) February 26, 2022
Zelensky honestly feels like a leader out of legend. The first great hero in this new era of democracy vs. autocracy

— Paul Massaro (@apmassaro3) February 25, 2022
The Canadian embassy after dark, lit with the colors of Ukraine.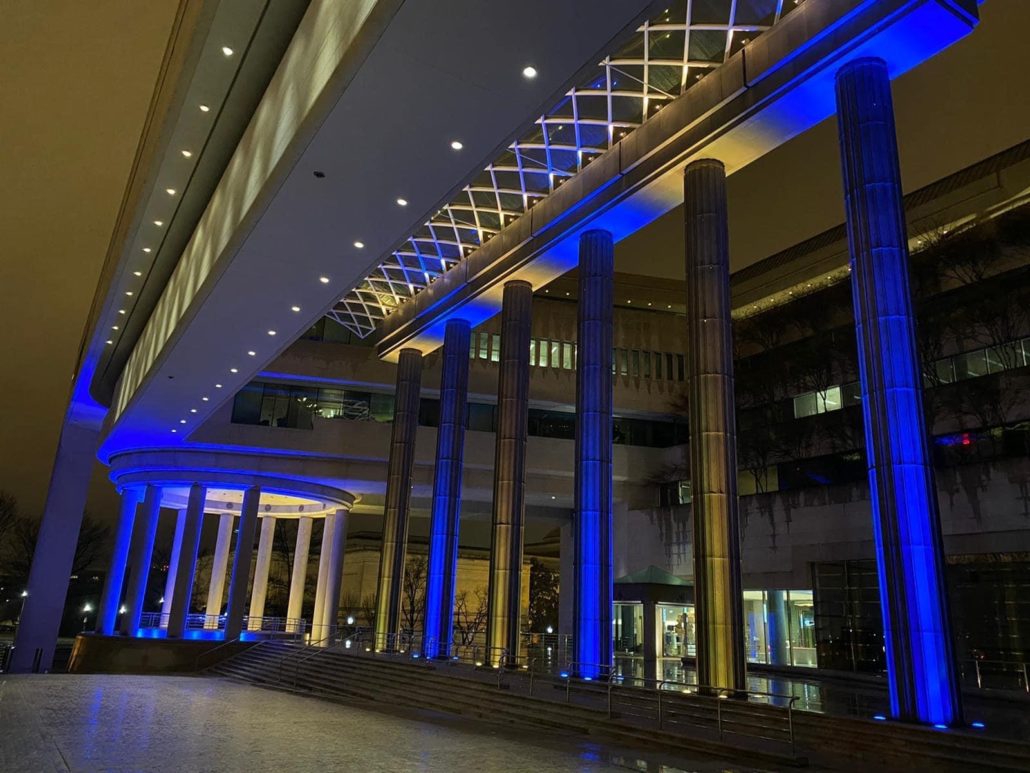 Not sure I agree with Garry Kasparov on Keystone, but everything else looked pretty good to me.
-Support Ukraine militarily, immediately, everything but boots on the ground. All weapons, intel, cyber.
-Bankrupt Putin's war machine. Freeze & seize Russia's finances & those of him and his gang.
-Kick Russia out of every intl & financial institution. PACE, Interpol, etc 2/5

— Garry Kasparov (@Kasparov63) February 24, 2022
.
-Expose and act against Putin's lackeys in the free world. If Schröder and his ilk continue to work for Putin, bring charges. Ask the owners & advertisers of networks platforming Putin propagandists like Carlson why they allow it. 4/5

— Garry Kasparov (@Kasparov63) February 24, 2022
.
Cannot ignore the political 5th column of Putinists, from the far right & left in EU to the tankies & Trump & his GOP followers in the US. They may have the right to support a brutal dictator's war in order to criticize Biden, but it's disgusting and anti-American. Do not forget.

— Garry Kasparov (@Kasparov63) February 24, 2022
Between the mostly non-functional Fourth Estate and the Fifth Column, our country is in a world of hurt.
This from the Hoarse Whisperer was also interesting.
I added War in Ukraine to the category bar up top, so just click that to go to all posts on Ukraine.  For mobile, it is the top item in the hamburger menu.
I am also putting together a list of especially good resources at that link too, so take a look at what's there and let me know if there are good ones to add.  I could add a few more especially good folks on twitter, too, if there was agreement on who that should be.
Update: US, allies to kick certain Russian banks out of SWIFT banking system
The White House on Saturday announced that the United States and allies will kick certain Russian banks out of a major international banking system, a significant step in a bid to cripple the Russian economy in response to the country's invasion of Ukraine.

The Biden administration and European allies agreed to cut Russia out of access to the Society for Worldwide Interbank Financial Telecommunication (SWIFT), a rapid shift from just days ago when it appeared such a move was unlikely in the near future.

The U.S. and European nations also committed to imposing measures to prevent the Russian Central Bank from using its reserves to undermine sanctions.

The announcement came via a joint statement from the leaders of the U.S., the European Commission, France, Germany, Italy, the United Kingdom and Canada. The leaders called Russian attacks on Ukraine "an assault on fundamental international rules and norms that have prevailed since the Second World War, which we are committed to defending."

"We stand with the Ukrainian people in this dark hour. Even beyond the measures we are announcing today, we are prepared to take further measures to hold Russia to account for its attack on Ukraine," the nations said in the statement.

Banks across the world use SWIFT to finalize transactions and transfers. Cutting Russia off from SWIFT would make it incredibly difficult for its banks to operate efficiently, but could also wreak economic havoc for European nations that depend on Russian oil and natural gas exports.