Some of you may already know this…but I'm a diehard Red Sox fan. From birth. I'm sure it's genetic. My Gram's only wish was for them to win the World Series before she died. She, unfortunately, left us 8 years too soon. But we all toasted to her when they finally did it.
My first game ever was 1974…probably as memorable for being a great father-daughter day as for my first eye-popping experience at Fenway. I still have the tickets. And the lineup: Yastremksi, Rice, Lynn, Fisk, Petrocelli, Evans, Tiant, and Lee.
So how I missed this Jim Rice story – which was revisited when he was inducted into the Hall of Fame in 2009 – is a mystery. But I ran across it a few weeks ago. Gives me chills.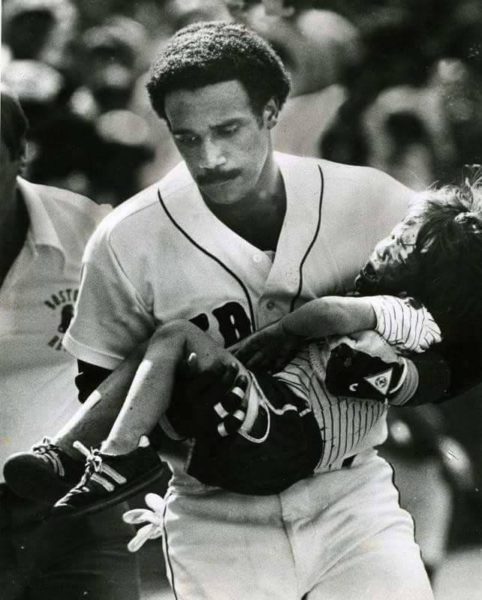 (if you can't see the FB video, here's a similar youtube video)
The Day Hall of Famer Jim Rice Saved a Little Boy's Life

The most amazing thing that Rice ever did in a Red Sox uniform wasn't even on the field

August 7, 1982. Fenway Park.
Boston Red Sox versus the Chicago White Sox.
The Red Sox were down 3–0 on their own field.

Four-year-old Jonathan Keane was sitting in the seats behind the first base dugout with his dad and two-year-old brother. In the fourth inning, Red Sox second baseman, Dave Stapleton stepped up to the plate and the pitch was launched. Stapleton's bat collided with the ball and turned into a line drive foul over the first base dugout. Suddenly, a relaxing day at the ballpark turned into a nightmare for the Keane family.

Seconds after the crack of the bat, Jonathan was down. Jonathan's father, Tom, initially assumed the ball had struck the dugout. He then looked down to see his son, slumped over, and covered in blood. Jonathan had a large laceration to his forehead and was unconscious. Onlookers began yelling for emergency medical help.

Instinctively, Red Sox player and future Hall of Famer, Jim Rice hopped out of the dugout, grabbed the little boy, and held him in his arms as he ran to the dugout. By the time Rice arrived, the team physician, Dr. Arthur Pappas, who had witnessed the incident, had also made his way to the dugout. Dr. Pappas immediately called Boston Children's Hospital as their medical team did what they could to aid the child. Within three minutes of Jonathan being struck by the ball, he was placed into an ambulance and en route to the hospital.

While Jonathan was turned over to the doctors at Boston Children's Hospital and was undergoing surgery, Rice still had a job to do. He returned to the field, still in his blood-stained uniform, and finished the game, ending 1–4 with two RBIs. After the game, the press labeled him a hero and when they asked him about the incident, he stated, "If it was your kid, what would you do?"

The photo of the moment Rice scooped up Jonathan and raced him to the dugout was captured by then Herald photographer, Ted Garland.
==================
This one just made me happy. I'm only embedding two of his photos here, but there are many, many more.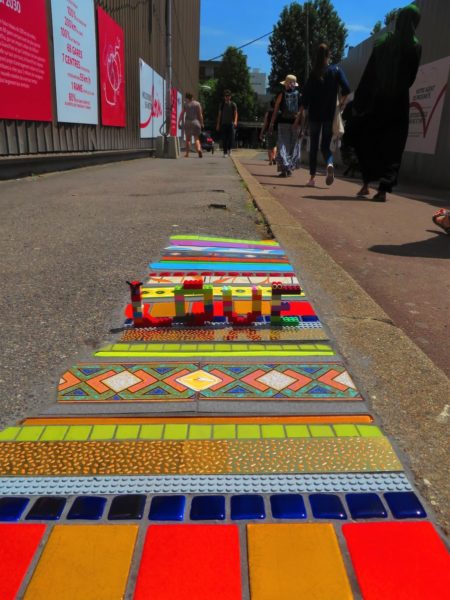 Street Artist Transforms Cracks in Pavement To Turn Eyesores Into Gorgeous Mosaics

By Arnesia Young on May 21, 2021

Potholes and cracks in the sidewalks and pavement can be eyesores that detract from an otherwise beautiful urban street. Often left untouched by the government entities charged with maintaining them, these scars may sit there for years, becoming a characteristic part of the city's landscape. Street artist Ememem—known throughout his home city of Lyon as "the pavement surgeon"—makes it his mission to heal these asphalt fractures by transforming them into colorful mosaics.

"I'm just a sidewalk poet, a son of bitumen," Ememem says of his beautiful mosaic street art. "My work is the story of the city, where cobblestones have been displaced; a truck from the vegetable market tore off a piece of asphalt. Each becomes a flack."  More here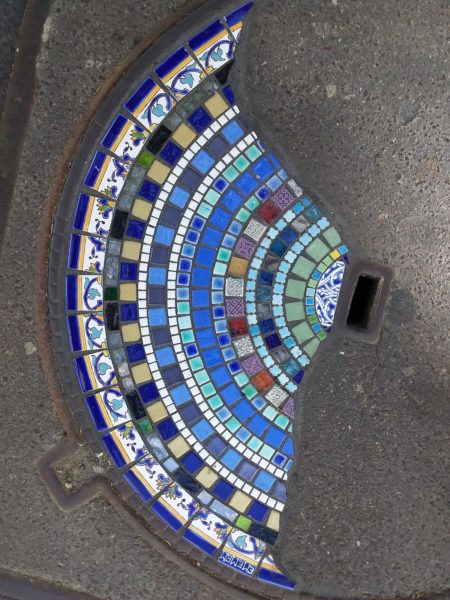 The rest of his work can be seen on Instagram (here) or his website (here).
==================
Good people, they are everywhere. This from Salt Water:
This teacher makes sure his student Heitor, who has a disability, enjoys recess like everyone else.

The smile at the end…

— GoodNewsCorrespondent (@GoodNewsCorres1) February 5, 2022
==================
And finally – here's Trixie being silly. It's amazing I get any work done.
Also, I owe Nick an apology. I've been scolding him for harassing Trixie. I thought he was protecting Nora. Then I spent our first warm morning this week outside doing cleanup, and was able to observe them more closely. There is no mistaking it, Nick is not chasing her away, he's unequivocally in love with her. I'm not sure how I'm going to break it to him. It reminds me of when Mabel and Maddie fell in love with Jake. Critters, they are a mystery.
I'm still very worried about this ending badly, but not sure what to do. So far she responds by playing with him and is careful, remembering the size difference. But she is a puppy and clumsy as hell. I am working on a video for you, I promise. The issue is every time I go outside, I disrupt the fun with my presence.
This week's dinner menu is Spaghetti with Meat Sauce (here) – I find myself pulling out my mom's recipes as a way to remember her and this one was a weekly meal during my childhood, so brings back warm thoughts.
That's it for this week. Don't forget to send me acts of kindness so we can keep this going, and of course, share any you like in the comments.