On the Road is a weekday feature spotlighting reader photo submissions.
From the exotic to the familiar, whether you're traveling or in your own backyard, we would love to see the world through your eyes.
Thanks to 1960s Saturday afternoon television, I'm a glass artist.
When I was small, back when UHFosaurs roamed the earth, Saturday morning was for cartoons. But at noon, after the cartoons were done, a kid's choices were a) monster movies or b) roller derby. Since I was reading Asimov and Clarke and Simak by the time I was 8, I was already too sophisticated an audience for what got filmed as science fiction midcentury. So roller derby it was. I never figured out how the games were scored but I liked how fast the women skated. And the fights. Even then I enjoyed watching grownups behaving badly.
Flashforward to the 1990s and the riot grrl-inspired roller derby revival. Young women and girls were organizing and teams were popping up everywhere. It was and remains entirely a homegrown sport with no big-money promotion behind it so teams are self-financing. I learned about it by driving past a fundraiser car wash by the local team. I went to a bout and was hooked. I became a passionate supporter, recalling those Saturday afternoons of my childhood except with way more genderqueer.
One time I attended an evening fundraiser for the team that included a silent auction – and now we finally get to the point of my story. One of the skaters was a glass artist and one of the silent auction items was a lesson in glass fusing. I thought that sounded interesting and so I bid on it and won. And was absolutely captivated by the process, and started taking regular lessons from her.
After emigrating in the oughties it took me awhile to find my footing in my new home but after I did I found another artist to learn from. When once-a-week studio time wasn't enough, I saved up and bought my own kiln and set up my own studio and commenced learning by doing, in the process wasting a lot of expensive art glass.
I work primarily in "warm glass", using temperatures up to about 1600F to fuse and slump flat assemblies of glass in a kiln. This is distinguished from "hot glass" where special furnaces bring glass to 2400F and a completely molten state which is then blown and shaped. I'm also learning lampwork, using a torch to form small 3D objects.
Warm glass is a slow medium. Once you have cut and assembled the glass, the firing cycle can take ten or twelve hours with long, slow heatup and cooldown periods to prevent shattering from thermal shock. Many pieces take multiple firings. You must wait to find out if the result matches your vision, or is just scrap. Or once in a while you get something unexpected but delightful.
For some reason I like the delay. I like there's always some uncertainty. Skill and experience can minimize it but you can never be quite certain how the heat will affect your efforts.
I make a lot of mezuzot, Jewish ritual objects that are affixed to doorways. They're a fun challenge because it's a very restricted size and shape but within those strict limits one can be playful.
Lately I've gotten interested in Kufic script, which is Arabic rendered on a strict grid pattern. It is a perfect subject for kilncarving, the process of using heat-resistant material to "carve" shapes into the glass.
After several years of work I opened a gallery in the local artists' quarter. In January of 2020, so that worked out well. The gallery is closed. The gallery's web page is still up.  Most everything pictured is available for sale, and I also take commissions if you have a project in mind.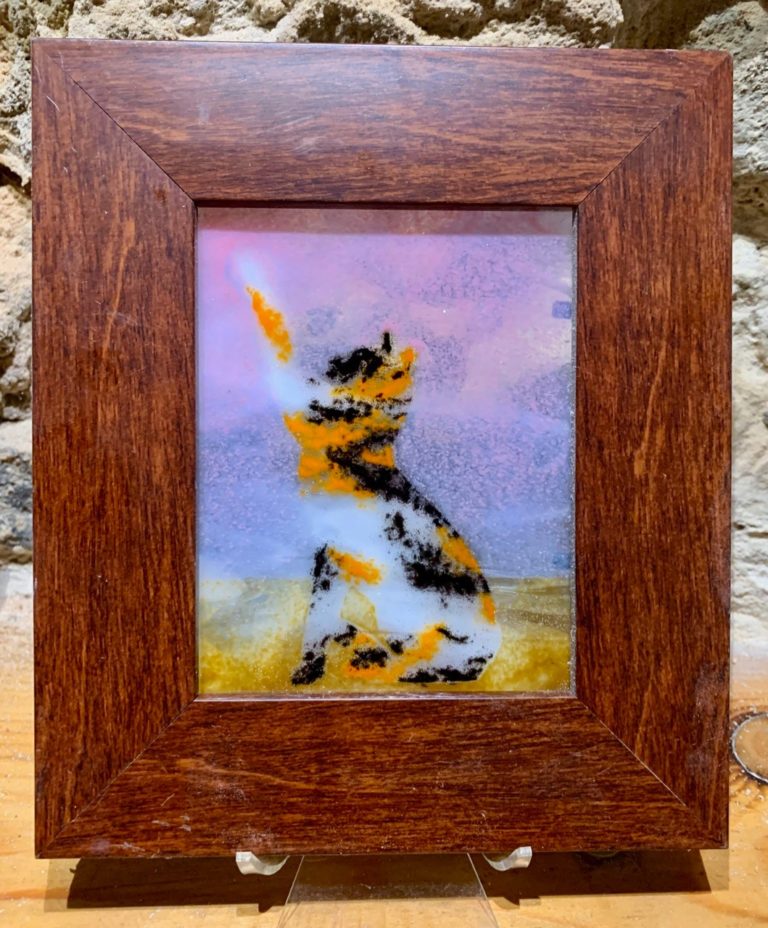 "Calico" approx. 20×17 cm including frame. In memoriam of my calico Isadore.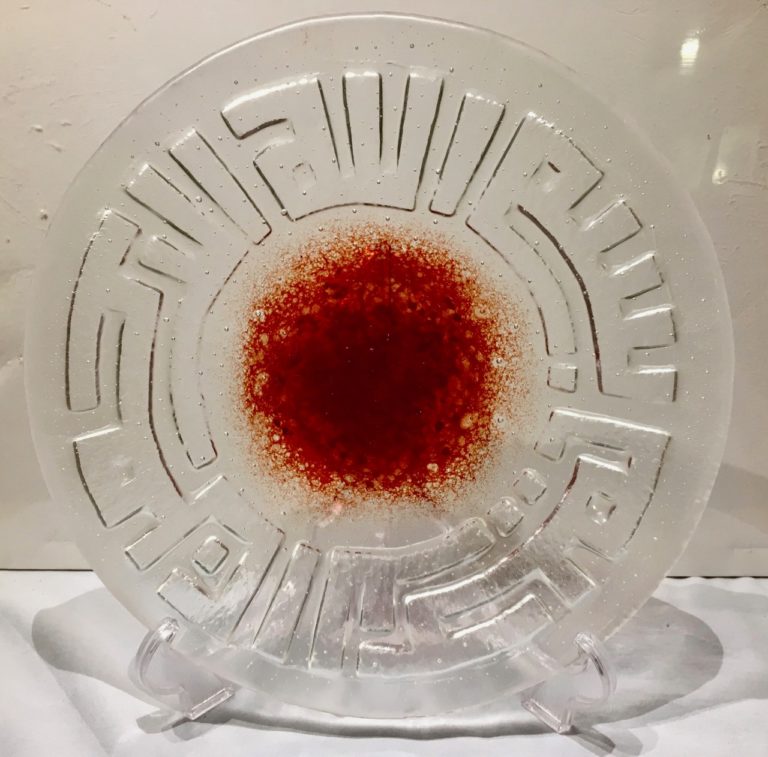 "Bismillahir rahmanir rahim", bowl about 26 cm diameter.
Kufic script seems like a natural mate with kilncarving; the squared-off stencils are easier to cut than other more flowing styles of Arabic calligraphy.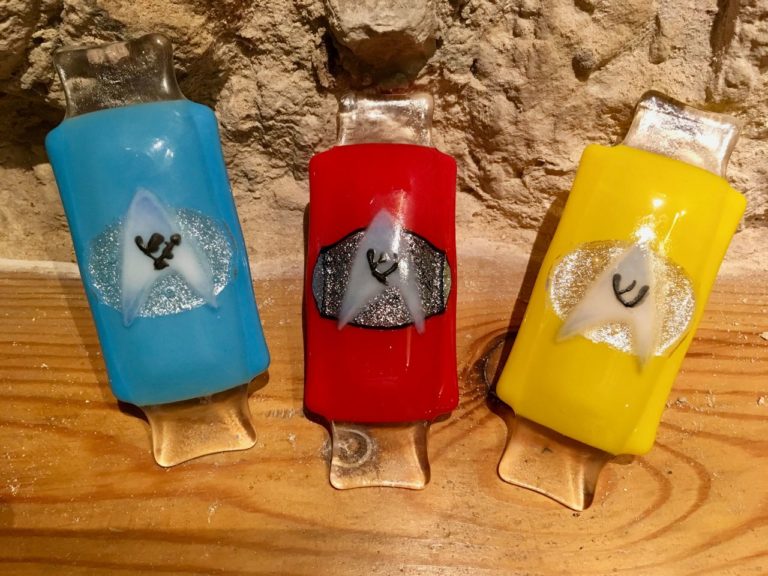 Star Trek-themed mezuzot. The Hebrew letter ש is traditional on a mezuzah.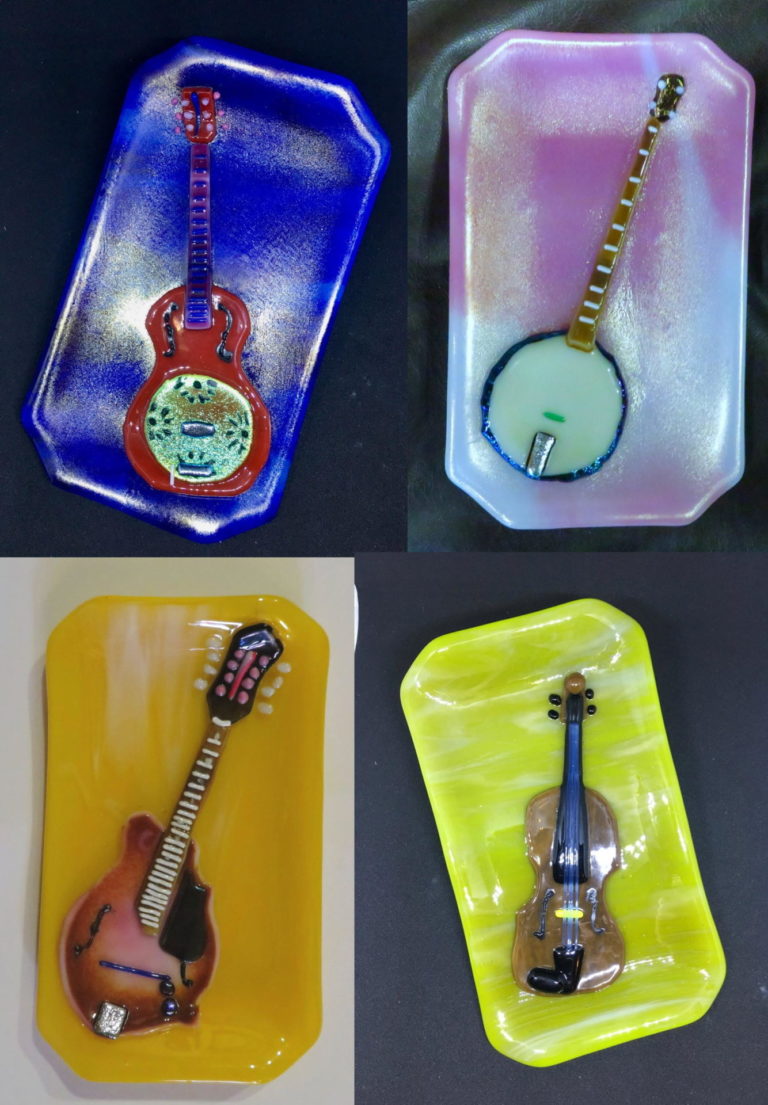 Candy dishes, part of "Bluegrass Band" series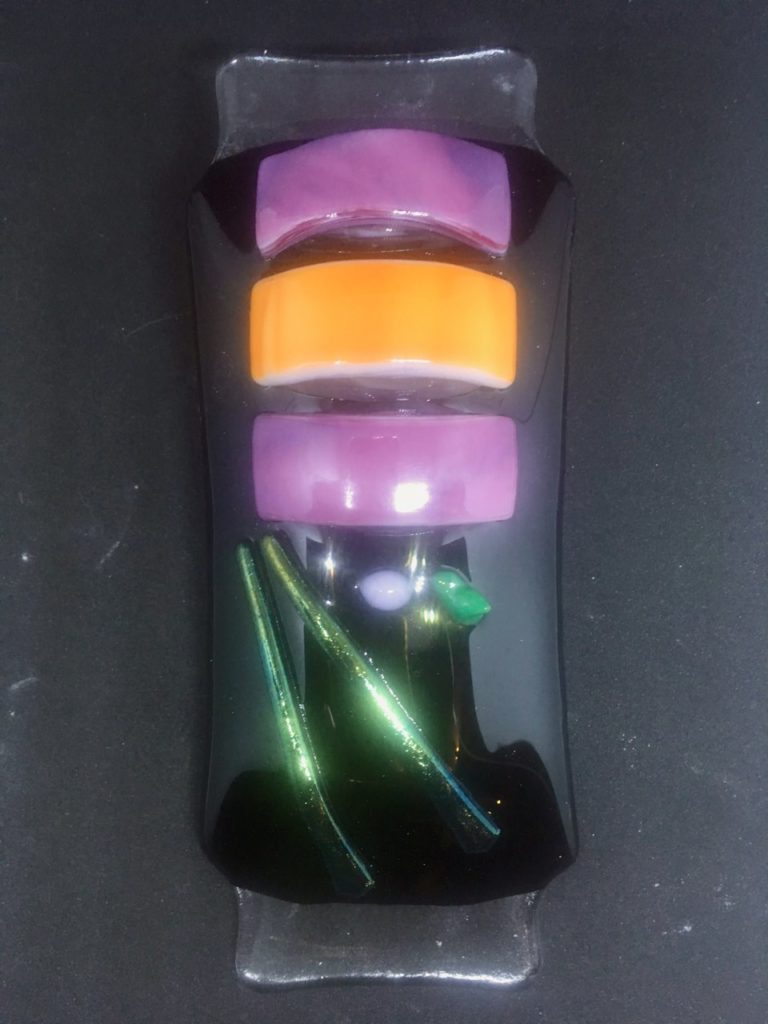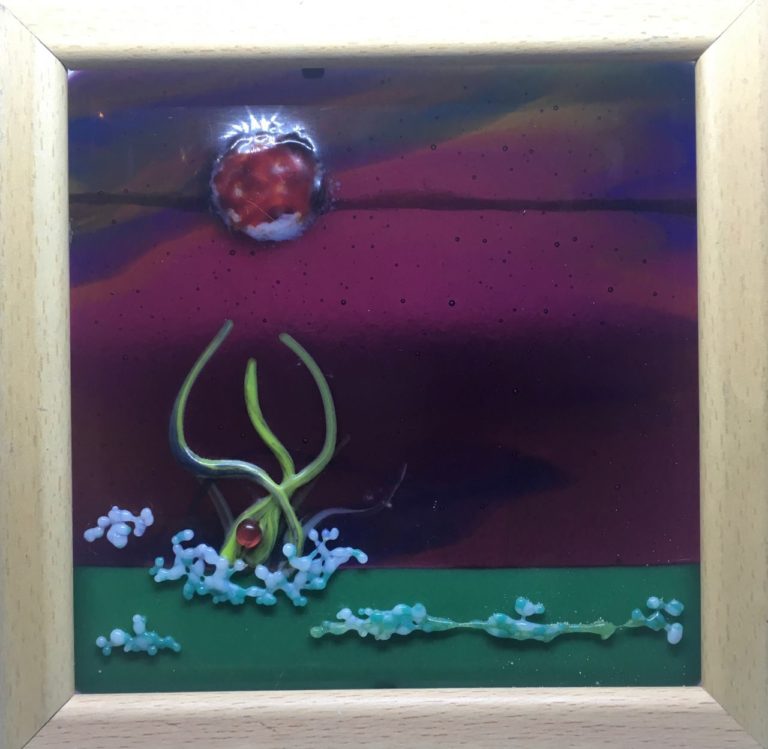 "Cthulhu calling down the moon", approx 15 cm square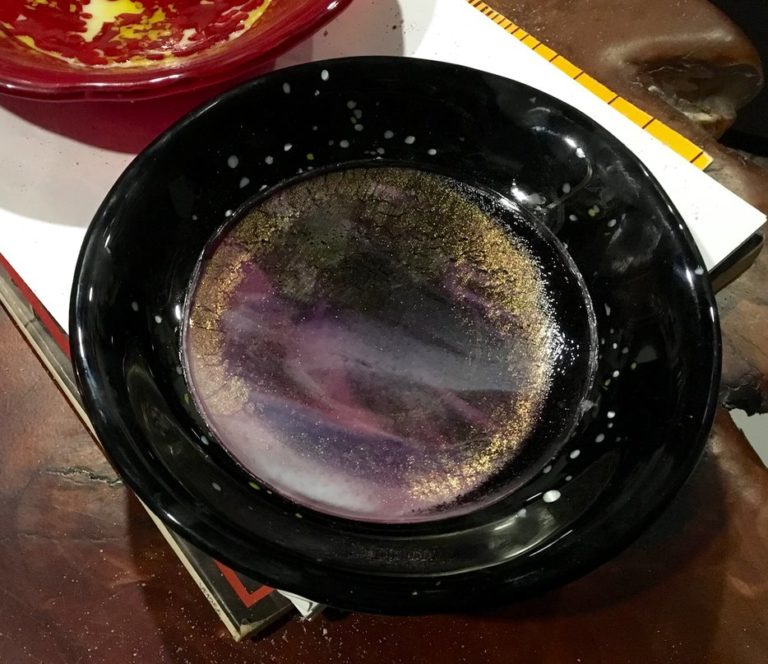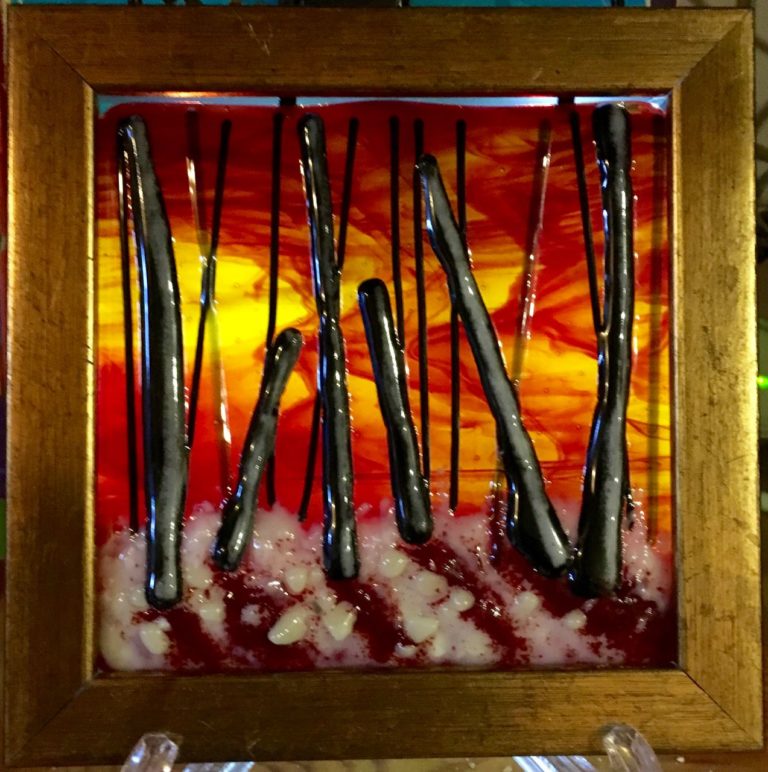 "Ruins". Framed, backlit. About 15cm square.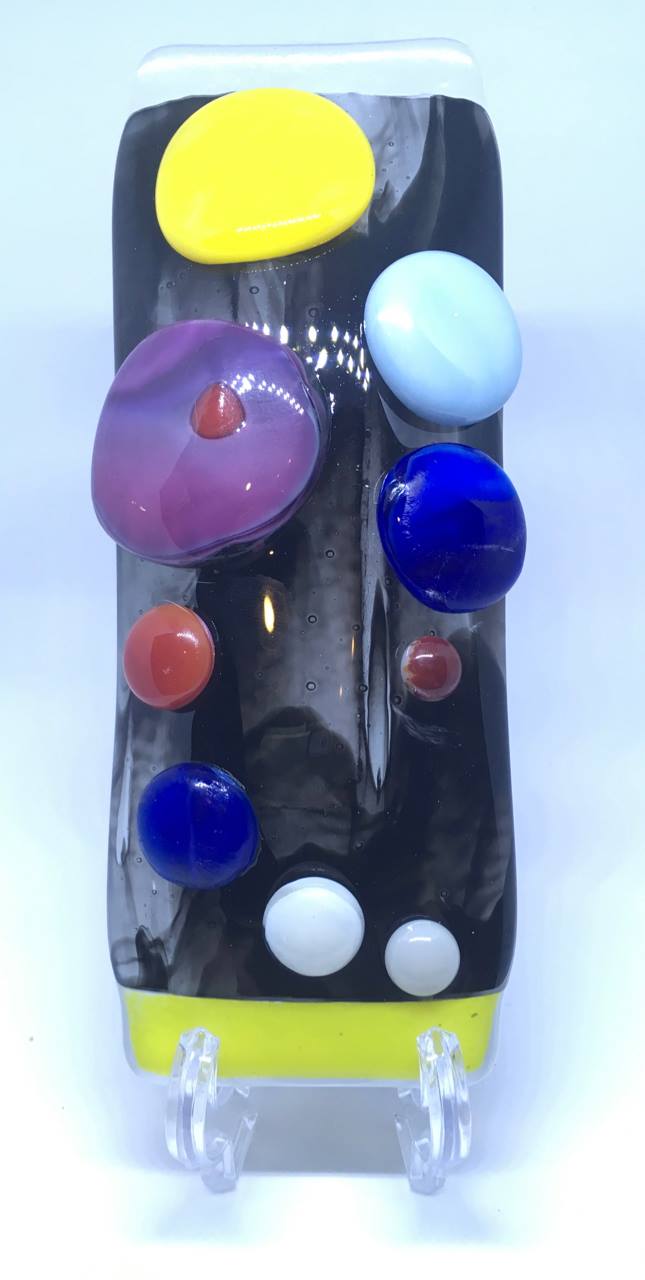 Mezuza, "9 planets" (yes, I know it's only supposed to be 8 planets now. Pluto still gets all respect from me.)