I posted this year's butter lamb in comments yesterday and on Twitter, but here it is again: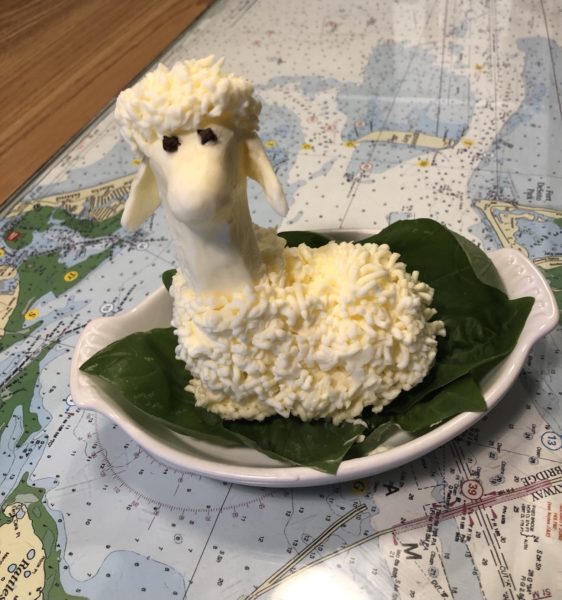 Butter lamb genesis here and tutorial here.
Can't say I'm 100% pleased with this year's edition. It's a bit too poodle-like. But I am confident it will be hacked to bits and slathered onto hot cross buns and other breads at an Easter dinner I am not attending later on today. (For the time being, we're continuing our new pandemic tradition of dining in separate bubbles. But the butter lambs, like The Show, must go on!)
Day of the Undead
I'm not a Christian except in the cultural sense of having been raised by Christians. My mom was a Christian and used to celebrate Easter by going to a sunrise service. When I was a cheeky atheist teen, I'd mock that by saying at least the sun could be counted upon to rise. (Yep, I was a sarcastic asshole. Still am!)
Anyhoo, as the years pass and my elders die off, I'm no less irreligious but becoming more sentimental, and I've converted Easter into a personal version of a holiday akin to Mexico's Day of the Dead. I privately call my holiday the Day of the Undead. That name has probably already been coopted by zombie enthusiasts, but that's okay since it's a personal holiday. In my version, I go to a nearby cemetery that contains generations of family members, tidy up their graves and leave flowers.
I'll remember the relatives I knew and pause at gravesites to wonder what the ancestors who passed through this world before I arrived were like. Day of the Undead is not a sad occasion. Much of what I remember is amusing and/or instructive of the larger human condition in some way. It's a recognition that even after they're gone, the dead live on in us when we think of them.
Today, I was thinking about my grandmother on my dad's side, a fierce woman known as Granny to her five grandchildren. She seemed to despise all men except her husband and son and my two boy cousins. And she accepted the blood-relative males into her good graces only provisionally and would contemptuously mock any macho conceits.
It would probably be fair to call her a man-hater, but I don't think she was a lesbian. She wasn't especially fond of women who weren't in her bloodline either. She just didn't much like or trust people in general, but particularly men. She was fed up with macho bullshit, which I find relatable.
Granny never shared much of her pre-marriage history, but I got the impression it was mostly traumatic. She grew up on a farm in central Georgia during the Great Depression. She met my grandfather, whom we called Papa, during WW II in Savannah. He was a soldier from Florida who had joined the army before the war broke out, so after Pearl Harbor, he trained new recruits stateside to send overseas. She fled the Georgia farm during the war for a factory job.
As my sentimental Papa later told me, they met on the landing of a stairwell in a Savannah rooming house when she was charging up the stairs with a pile of boxes and ran smack into him. She said, "Oh, HELL!" and scooped up the boxes and turned to run away. Papa, immediately smitten as he told me later by Granny's piercing blue-green eyes, said, "Don't run away, beautiful!" And she didn't. They were married within weeks.
Papa shipped out to the war in Europe eventually and participated in the D-Day landing and later in the Battle of the Bulge. He survived it all without a scratch, came home and stayed in the military as a career. He and Granny had two children.
I am their son's eldest daughter, and I was the first grandchild on either side of the family, so I got lots of grandparental attention. If you were Granny's younger female relative, you'd have her ferocious, watchful protection, whether you wanted it or not. (And you'd keep right on having it, even when you had grown children of your own.)
Granny was the rare adult who gave children her undivided attention. She also didn't patronize us with baby talk. She treated us as miniature, naïve adults who desperately needed schooling in the harsh ways of the world, for their own good.
Papa was as sweet and mild-mannered as his wife was mercurial and fierce. He taught me to drive, first on a tractor and then a car as soon as I was tall enough to see over the steering wheel. Granny's contribution was to teach me to hold the keys in my fist when exiting the car, with the blades protruding through my fingers to form a sort of Wolverine claw to repel attackers.
I loved them both very much and still do. They are in this world yet by the effect they have on their descendants. For example, I was a wife for more than a decade before it occurred to me that I married a man strikingly similar in character and habits to Papa: strong and capable, brave and kind.
And I still struggle to resist the impulse to imprint my distrustful, paranoid view of the world on the people in my life.
Happy Easter and a contemplative Day of the Undead to all who celebrate!