Tim Pool and the CEO of the Daily Wire took out a giant billboard in Times Square today in an attempt to discredit my reporting on Libs of TikTok. https://t.co/p5dNT7Li1B pic.twitter.com/JMNlRqfeH4

— Taylor Lorenz (@TaylorLorenz) April 26, 2022
In parochial school, I was taught that the Old Testament quote in the title was akin to Tony Hillerman's Coyote is always waiting, and He is always hungry. We all have a proclivity towards some variety of community-damaging chaos, and the Lord of Chaos never stops looking for lures. In modern Puritan-based American thinking, it's come to mean Whatever wrong you do, your community will discover and you will be publicly shamed. The noisy kerfuffle over Chaya Raichik's #LibsofTikTok lies at the intersection between those ideas (i.e., internal vs. performative 'morality').
Recap:
Libs of TikTok was boosted early at crucial points by online figures like Joe Rogan, Tucker Carlson, Megan McCain. The influencer Glenn Greenwald called himself the Libs of TikTok "Godfather." https://t.co/p5dNT7Li1B

— Taylor Lorenz (@TaylorLorenz) April 19, 2022
account that publishes videos of random teachers in order to get them fired, is backed by a republican lawyer, is a regular guest on America's most watched cable news show…is more like it, no-one doxxed cats with jobs here

— vocational politics stan account (@Convolutedname) April 19, 2022
https://t.co/3eGMzO1j9V pic.twitter.com/Qq9nLIQi8U

— nikki mccann ramírez (@NikkiMcR) April 20, 2022
It's stuff like this that blasts holes in the right-wing defense of the account as "just reposting videos found publicly online." The truth is that the account takes things much further than that. It's telling that the account's defenders feel like they need to obscure that https://t.co/TYrdcZNDN5

— Jared Holt (@jaredlholt) April 20, 2022
1) she's thriving, she was on tucker last night
2) an old tweet calling one of the most important anti-suicide hotlines for at-risk lgbt youth a "groomer" organization is beyond germane to the discourse. https://t.co/002OUuPnAD

— Tyler Dinucci!! (@TylerDinucci) April 20, 2022
The point of the story is that the anonymous operative behind LibsofTikTok is Chaya Raichik and we should care about that because she's calling named individuals child molesters and her content is being amplified by the biggest names in right wing media. https://t.co/xihSIgphK1

— Lindsay Beyerstein (@beyerstein) April 19, 2022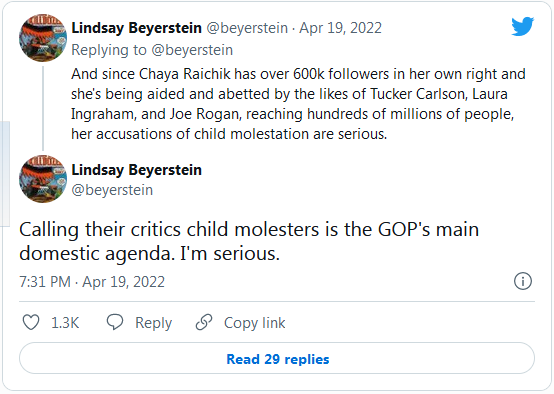 There are already cracks appearing the the facade that she's just a simple realtor with a passion for homophobia.

— Lindsay Beyerstein (@beyerstein) April 19, 2022
my opinion here is predictable: if you want to be anonymous you'd better be good at actually being anonymous (she was horrible at it) and you'd better not build your brand on cruelty to ordinary people with no power (she did), or you're toast

— kilgore trout, death to putiner (@KT_So_It_Goes) April 19, 2022
Latest update:
LibsOfTikTok is now chronicling the devious new communist-groomer practice of allowing people to take books out of the library free of charge. pic.twitter.com/9DnQxUmorg

— Ben Collins (@oneunderscore__) April 28, 2022