On the Road is a weekday feature spotlighting reader photo submissions.
From the exotic to the familiar, whether you're traveling or in your own backyard, we would love to see the world through your eyes.
We are headed back to flyover country with Albatrossity!  We will spend the rest of the week in Kenya with way2blue.  Tuesday will be a repeat of last Friday, this time with all the photos that are supposed to be there :-) and then Kenya posts 4-6 will finish out the week.

Tech note:  HEIC photos are not a file type allowed by the OTR form, which is why some of the images were missing.
Albatrossity
Spring came late to Flyover Country in 2022, and at the time of this writing, it's still dawdling. Few trees leafed out, snow showers just to keep your attention, and lots of wintertime birds still lingering here. But we'll get started on this series, and hope that the real spring is coming soon.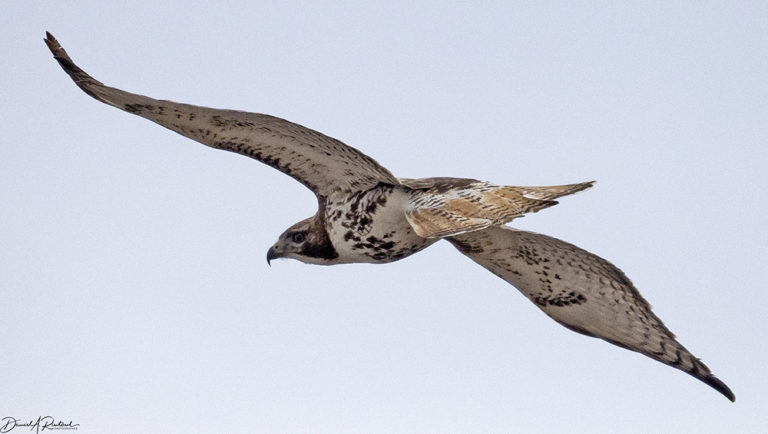 Near Manhattan KS
April 19, 2022
One of the lingerers was this Red-tailed Hawk (Buteo jamaicensis). Yeah, I know that this species spends the summers all across North America, but this one is a Bird of the North Country. It is a light-morph Harlan's Hawk (B. j. harlani). So for jackals who live in Canada or Alaska, if you see her, say hello.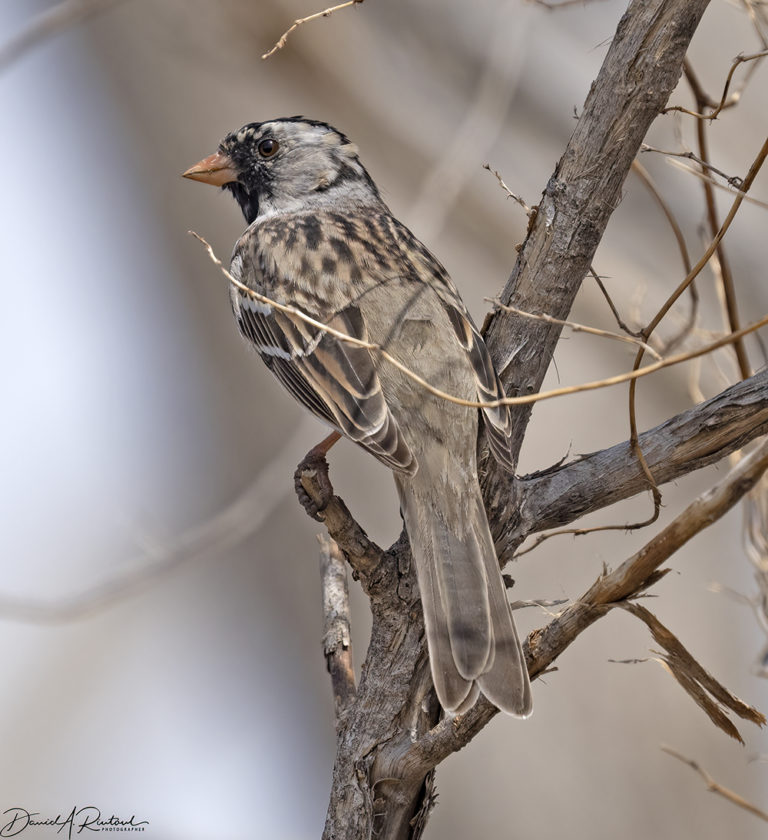 Near Manhattan KS
April 21, 2022
Another North Country bird, but one that does not usually stay for the summer anywhere in the United States, this Harris's Sparrow (Zonotrichia querula) was singing its sweet high whistle and thinking of the stunted trees at the edge of the boreal forest that will soon be its summer home. This remote breeding ground meant that the nest of this species was one of the last to be discovered in North America, in 1931. The discoverer, George M. Sutton, was not exactly understated in his description of that event: "As I knelt to examine the nest, a thrill the like of which I had never felt before passed through me. ….at my fingertips lay treasures that were beyond price".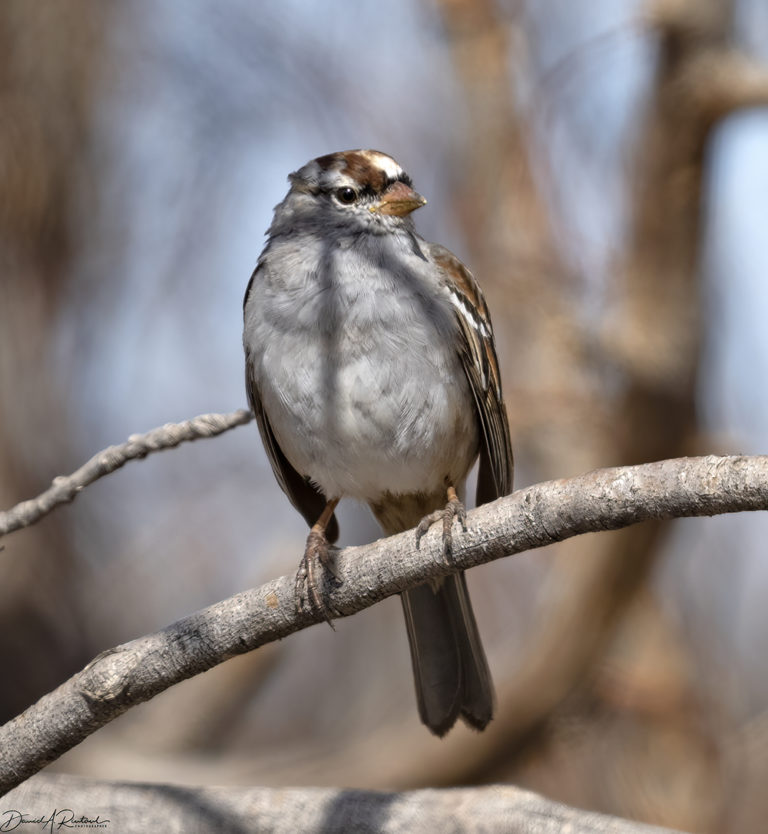 Near Manhattan KS
April 24, 2022
Although many birds complete their molting before migration in the spring, some, like this White-crowned Sparrow (Zonotrichia leucophrys) , sport plumages that are pretty unique. First-year birds of this species have brown lateral crown stripes and golden/buffy central crown stripes, while the adults show the eponymous white crown stripe. This first-year bird has the brown laterals, but is starting to display a white central crown. A very bold fashion statement.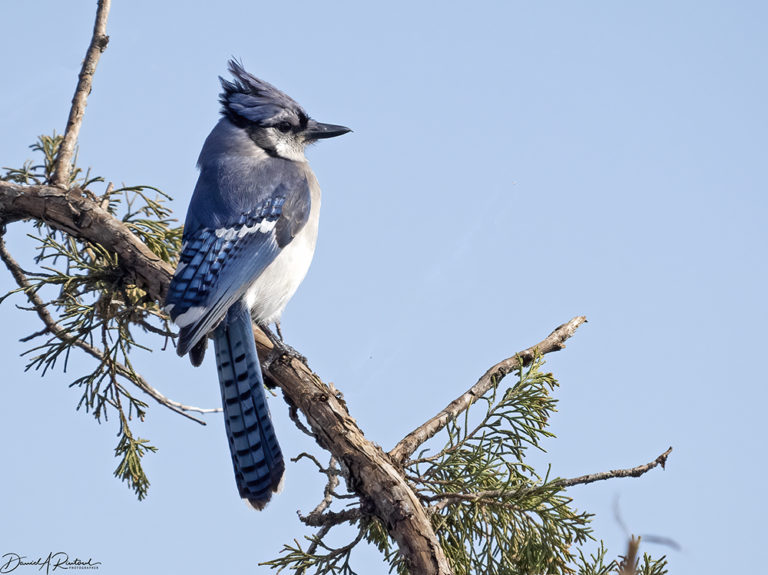 Near Manhattan KS
April 24, 2022
Here's a bird that is familiar to all birders west east of the Rockies, the Blue Jay (Cyanocitta cristata). But even though it is an obvious and common bird, we don't know much about migration in this species. We do know that it is the only New World jay that has latitudinal migration. We also know that in most regions outside of Florida and the Gulf Coast, some Blue Jays migrate and some stay year-round. As far as can be determined, age is not the sole determinant of migration vs not-migration, but some studies found that a significant majority of migrants were second-year birds like this one. The Kansas wind ruffling its crest might soon push it north. Or not.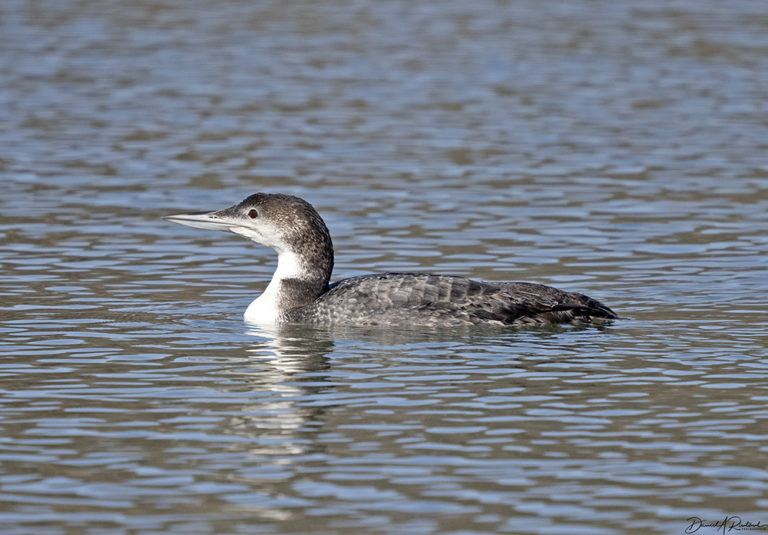 Near Manhattan KS
April 16, 2022
Here's a bird we know is a migrant, since this species does not breed or winter in Kansas. Common Loon (Gavia immer), also known as the Great Northern Diver in Europe. This one still needs to molt into summer plumage, and it was not yodeling, but it is a welcome sight during the spring and fall migrations here.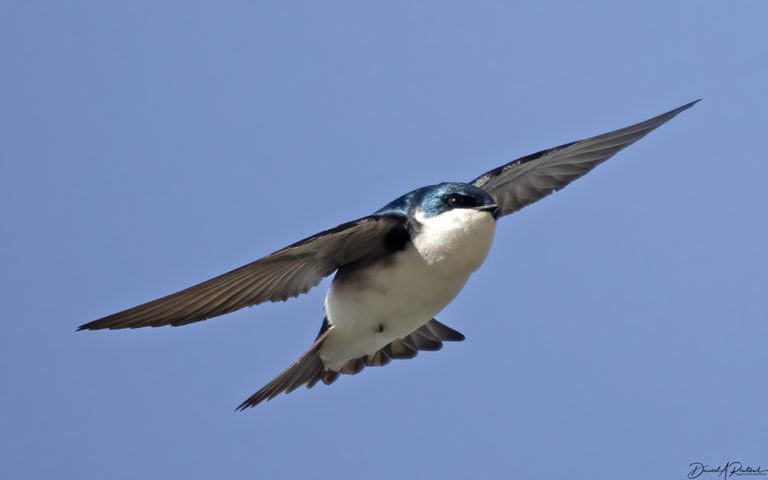 Near Manhattan KS
April 16, 2022
Tree Swallows (Tachycineta bicolor) are another welcome sight in spring. One of the first swallows to return to the state each year, they nest in tree cavities excavated by other birds. Competition for such breeding sites might be one of the reasons they head north so early. But they also use nest boxes, so if you want to see some of these guys, but up some nest boxes near your local pond or stream.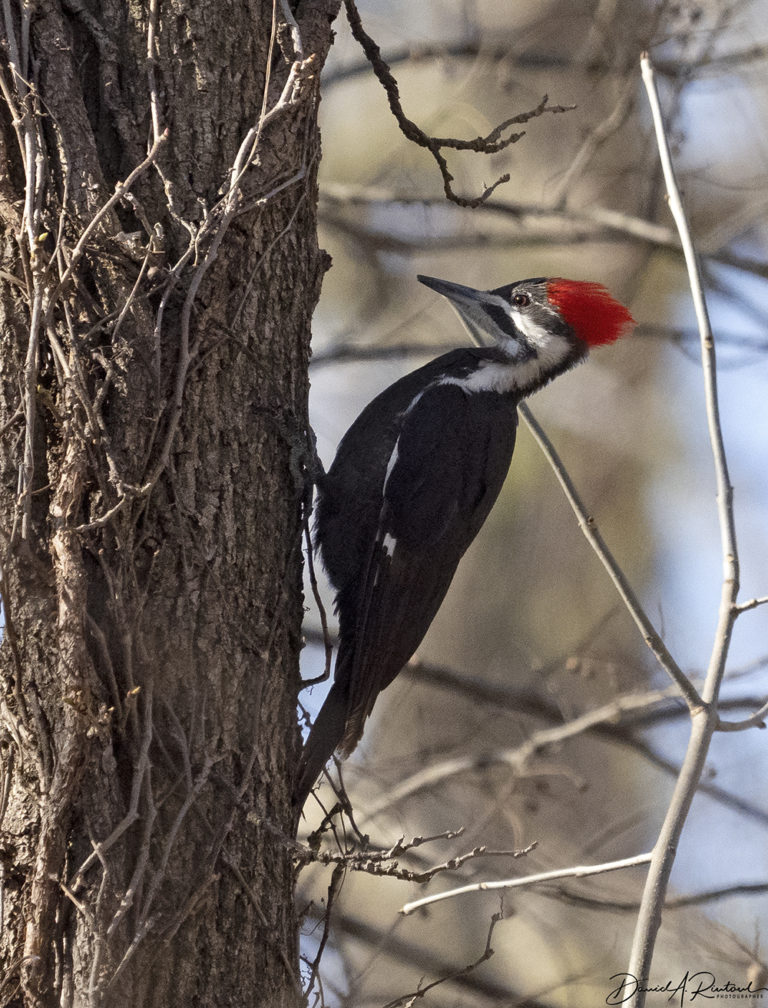 Near Manhattan KS
April 18, 2022
Another cavity nester, but this one probably makes holes that are too large for swallows to use. Pileated Woodpecker (Dryocopus pileatus) is not a migrant, but is a permanent resident wherever it is found in North America. This stunning bird has slowly been increasing in my part of Flyover Country, but still rare enough to elicit a gasp from me whenever I come across one.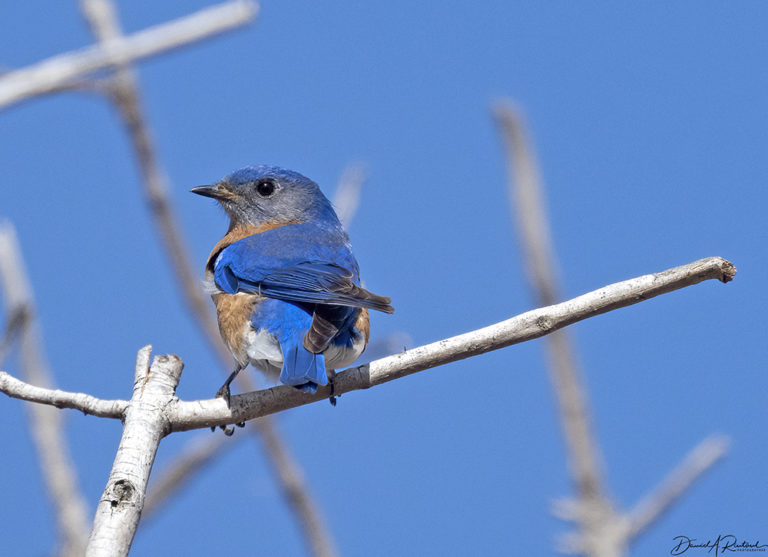 Near Manhattan KS
April 24, 2022
Still another cavity nester, Eastern Bluebirds (Sialia sialis) were pretty scarce in these parts last spring; our deep freeze February probably eliminated many of them from the gene pool. This male was courting a female, another sign of a late spring, because in many years these birds would have eggs or nestlings by now.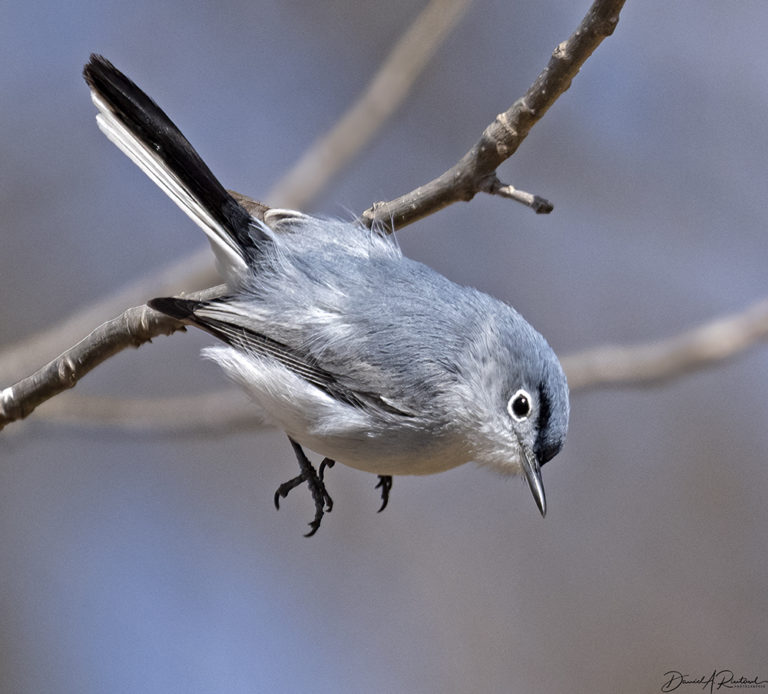 Near Manhattan KS
April 18, 2022
A noisy announcement that spring is nigh in these parts is the Blue-gray Gnatcatchers (Polioptila caerulea). The dark eyebrow of this male bird helps give it a stern demeanor as it leaps from one perch to a closer perch in order to bitch at the photographer more effectively.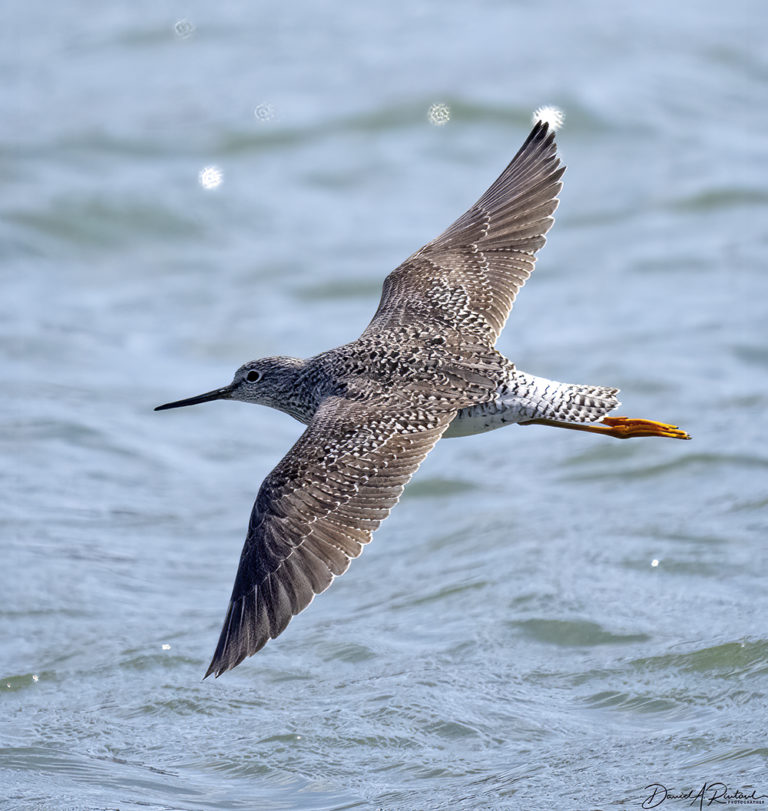 Near Manhattan KS
April 18, 2022
Shorebirds are another sign of spring in Flyover Country, as these long-distance migrants give us ID challenges all season long. This is a Greater Yellowlegs (Tringa melanoleuca), which also has some common names like telltale and yelper, based on the penetrating alarm calls that they give when they flush. This one was no exception.