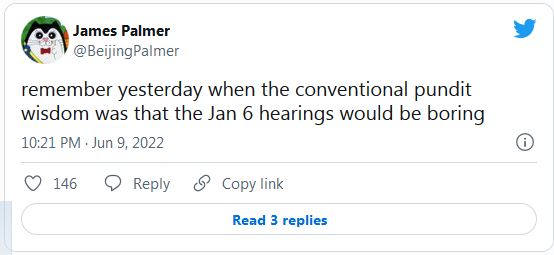 ? Here's a recap of some key moments from the public congressional hearing into the U.S. Capitol attack https://t.co/XJqK2sTeFR

— Reuters (@Reuters) June 10, 2022
"It was carnage. It was chaos. … Never in my wildest dreams did I think that as a police officer, as a law enforcement officer, I would find myself in the middle of a battle."

U.S. Capitol Police Officer Caroline Edwards describes "absolute war zone" outside of the Capitol. pic.twitter.com/Rs4FU3CqKW

— The Associated Press (@AP) June 10, 2022
Goddess bless her with a full recovery and a long prosperous life (it was hard enough to watch her testimony, I can't imagine the strength it took to give it) Caroline Edwards was an inspired choice as the first eyewitness. The disloyal opposition has been yipping non-stop about their 'martyr' Ashli Babbitt, and Ms. Edwards is very much the anti-Ashli. An attractive blond woman, but one who almost died defending the Capital and the rule of law, run over by a mob of howling thugs in military gear carrying clubs and bear spray. I'm sure her countertops and her entire life history are currently being scrutinized for evidence of wrongthink, but it's going to be hard for anyone outside the RWNJ sphere to demonize a police officer who suffered a TBI, then got up & continued to support her fellow officers.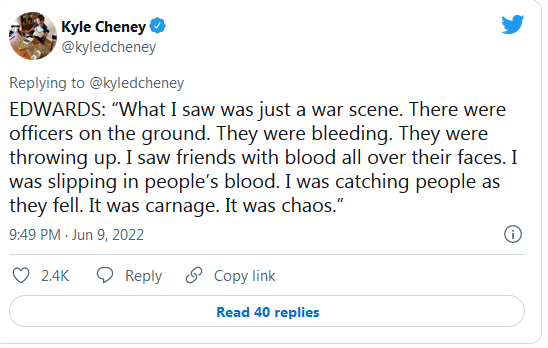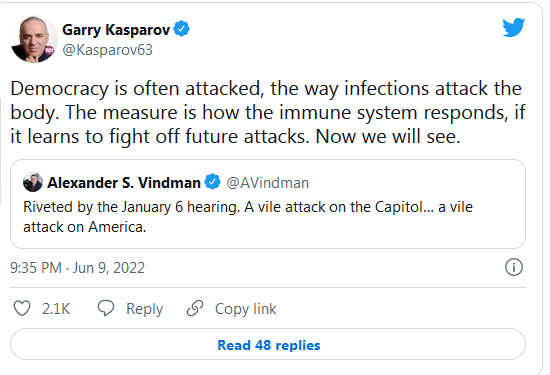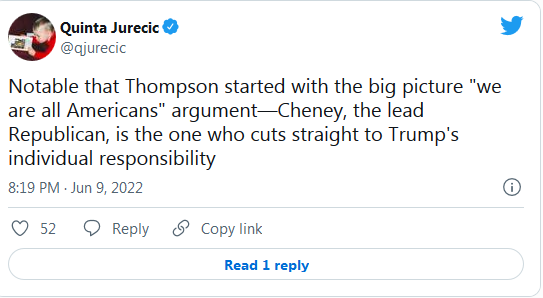 'Tonight, I say this to my Republican colleagues who are defending the indefensible. There will come a day when Donald Trump is gone, but your dishonor will remain,' said Republican Rep. Liz Cheney during congressional hearings into the U.S. Capitol attack https://t.co/5yJhQrNCVT pic.twitter.com/DYvhYXFM5I

— Reuters (@Reuters) June 10, 2022
Liz Cheney considers the Republican Party as her family's business, a business which has been very good to them. Way she sees it, the reality-show carny and his never-ending klown parade have done irreparable harm to the GOP brand. And if she can't retrieve the assets, she can at least make Cheney-sure that every one of these morons pays for the trouble they've caused her team.
She has a very particular set of skills... I don't necessarily trust her, but right now, much better to have her using the stiletto against our mutual enemies!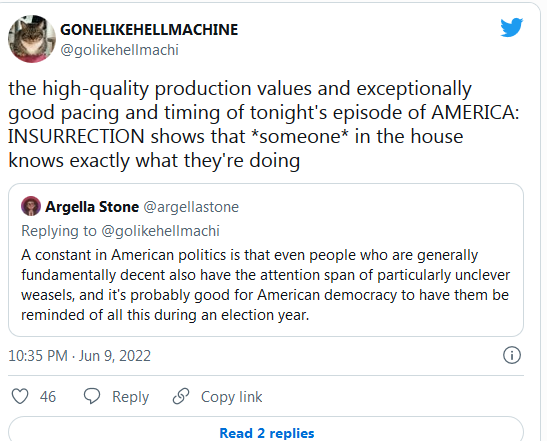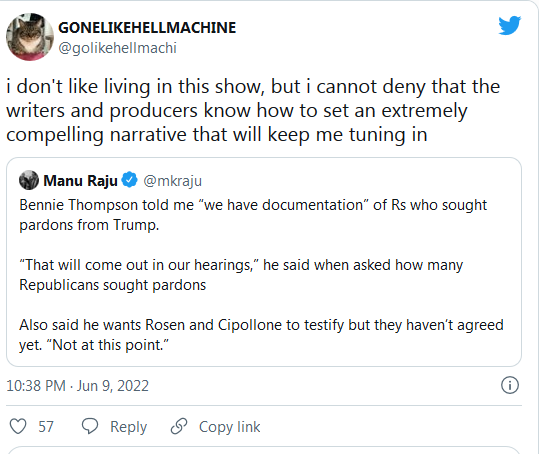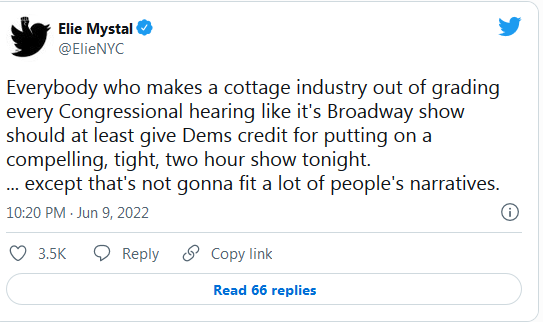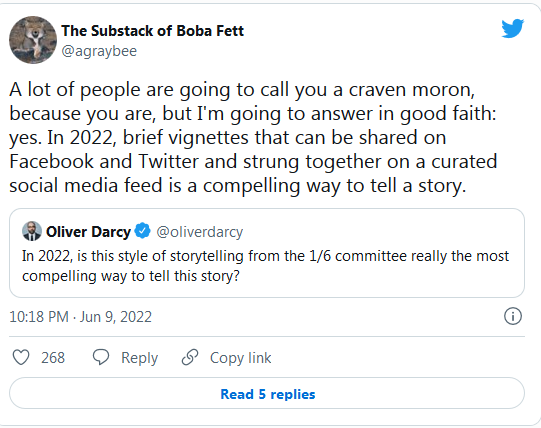 Speaking of the Klown Parade — maybe I'm a cynic, but it seems to me that Princess Ivanka has decided her soon-to-be-former consort has become acceptable collateral damage on her reputational rehabilitation tour. Miss (Who Me?) Complicit goes under oath, on video, to explain she knew all along that Daddy the gropy dude was a capital-L LOSER. Meanwhile, Jared puts on his Wrestlemania mask & trunks, to get slammed around under the kliegs…
2/2

Act 1: NYT rehab on Jared, "oh, he was so concerned about Jan 6, sources close to him say." As mentioned here. https://t.co/0js7COCTUa

Act 2: Video tonight from Jan 6 committee, Jared saying on camera that WH counsel complaints about Trump were "just whining."

— James Fallows (@JamesFallows) June 10, 2022