Several members of the Coeur d'Alene Police Department have received death threats after the arrest of white nationalists called the Patriot Front this weekend. https://t.co/IPz9xyLY5e

— NPR (@NPR) June 13, 2022
After the arrest of over two dozen members of a white supremacist group near a northern Idaho pride event, including one identified as its founder, LGBTQ advocates say polarization and political upheaval are putting their community increasingly at risk. https://t.co/O3SZisAjGX

— The Associated Press (@AP) June 12, 2022
Good backgrounder:
… Patriot Front is a white supremacist neo-Nazi group whose members perceive Black Americans, Jews and LGBTQ people as enemies, said Jon Lewis, a George Washington University researcher who specializes in homegrown violent extremism.

Their playbook, Lewis said, involves identifying local grievances to exploit, organizing on platforms like the messaging app Telegram and ultimately showing up to events marching in neat columns, in blue- or white-collared-shirt uniforms, in a display of strength.

Though Pride celebrations have long been picketed by counterprotesters citing religious objections, they haven't historically been a major focus for armed extremist groups. Still, it isn't surprising, given how anti-LGBTQ rhetoric has increasingly become a potent rallying cry in the far-right online ecosystem, Lewis said…
In Coeur d'Alene on Saturday, police found riot gear, one smoke grenade, shin guards and shields inside the van after pulling it over near a park where the North Idaho Pride Alliance was holding a Pride in the Park event, Coeur d'Alene Police Chief Lee White said.

The group came to riot around the small northern Idaho city wearing Patriot Front patches and logos on their hats and some T-shirts reading "Reclaim America" according to police and videos of the arrests posted on social media.

Those arrested came from at least 11 states, including Washington, Oregon, Texas, Utah, Colorado, South Dakota, Illinois, Wyoming, Virginia, and Arkansas.

Though there is a history of far-right extremism dating back decades in northern Idaho, White said only one of those arrested Saturday was from the state.

The six-hour Pride event generally went on as scheduled, including booths, food, live music, a drag show and a march of more than 50 people, the Idaho Statesman reported…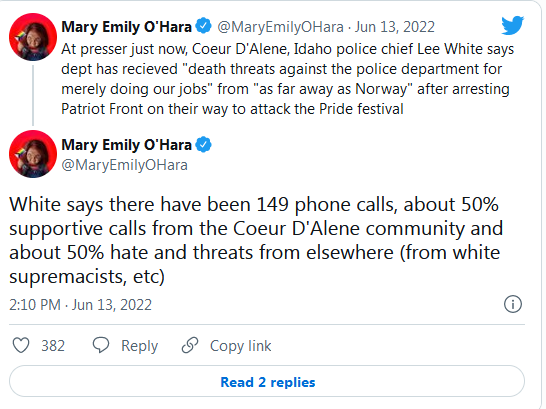 Exemplary specimens of supremacist manhood, every one…
White supremacy is a stain on our nation and the greatest domestic terrorism threat we face.

We must fight back by standing up to hatred and racism wherever we see it.https://t.co/PnLn06BKJF

— Rep. Pramila Jayapal (@RepJayapal) June 13, 2022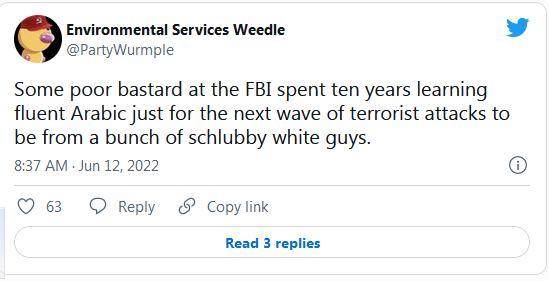 You'd think after 5 years people would wise up to the fact that Thomas Rousseau is in this for merch sales and beyond that the guy doesn't care if you get doxxed and hasn't a clue what he's doing.

He's not a fed, but he might as well be, for all the people he gets jammed up.

— Chad Loder (@chadloder) June 13, 2022
Timothy McVeigh callback: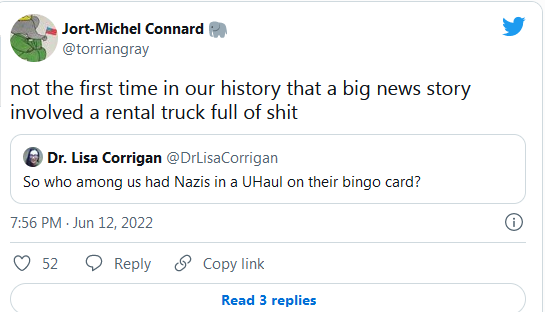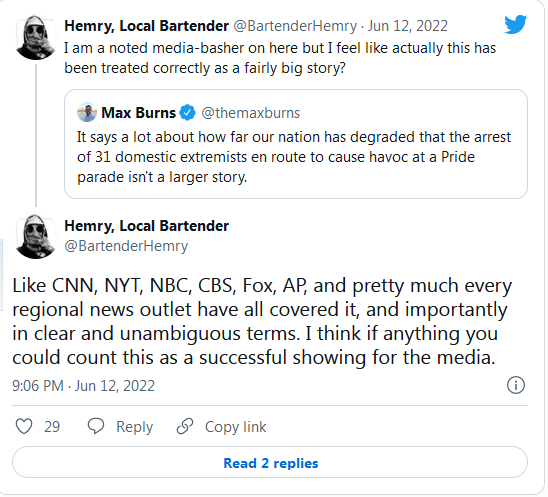 Interesting comments from a (former) Coeur d'Alene dweller: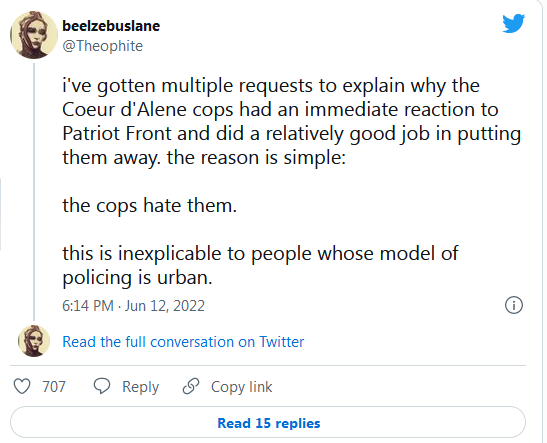 when fascists show up in urban areas, they show up, typically, to defend the interests of local law enforcement. they travel in, generally from the exurbs and often from further away, commit crimes cops tacitly aprove of, and leave.

but they don't stop committing crimes when they're at home. they make fake license plates and slap them on their cars. they open carry. they threaten cops. they make a scene in restaurants. they piss off what the cops regard as respectable white people.

cops react accordingly.

and so, in the places where they live, they're not treated as being a pro-cop force, because they aren't: people who commit violent crimes don't stop committing violent crimes just because there aren't any minorities or leftists to take out their violence on.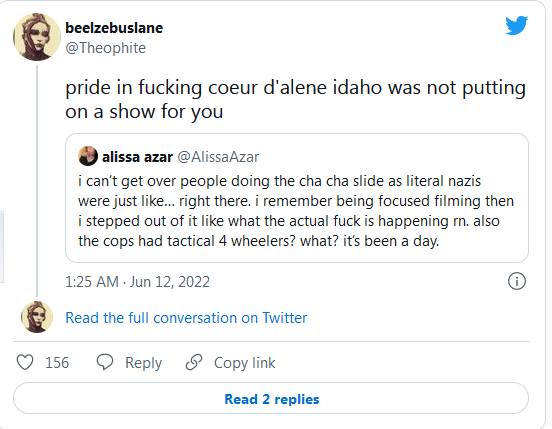 people were doing the cha cha bcause you should have the right to ignore nazis and getting the living shit beat out of you while minding your own business on camera is a radical act.

if you live in north idaho, as i did, you live around armed right-wing thugs 24/7. tourists do not get to judge how we react to that.

i have had a knife pulled on me more than once and an open-carrier put his hand on his gun with me twice.

i have lived away from there for eight years, because i have had to do that because my wife got sick. but this is my home. this is where all my friends live, and this is the shit they still have to deal with.

in the cities, you are invaded. we are occupied.

another fun fact is that if you come from the city and then pick a fight with them in their hometown, they won't know who the fuck you are, but they will take their revenge. on us.