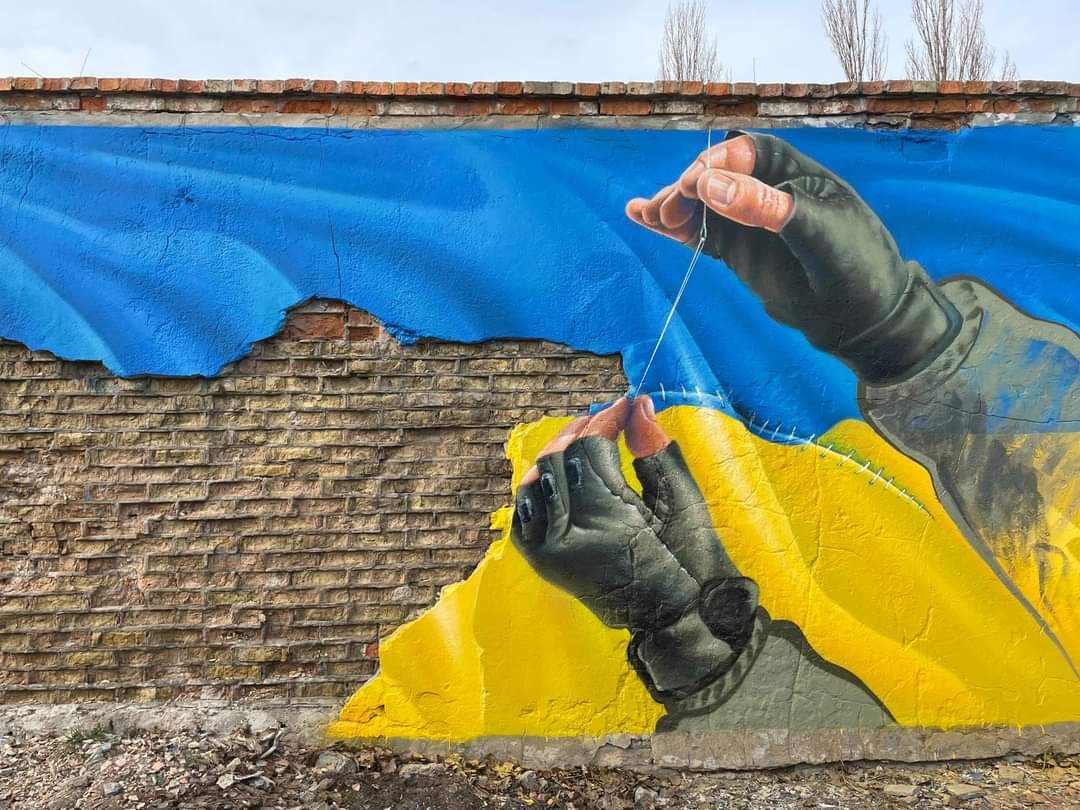 Here's President Zelenskyy's address to Ukraine from earlier this evening. Video below with English transcript after the jump: (emphasis mine)
Strong people of an unbreakable country!

Today is the 110th day of our defense. And when you say that – the 110th day – you realize what a great path we have covered. The enemy was driven out of the Zhytomyr, Kyiv, Chernihiv and Sumy regions. A large part of the Kharkiv region was liberated. In total, more than a thousand settlements have been liberated.

The invasion of the occupiers in the south of Ukraine was stopped. Yes, they still want to destroy Mykolaiv, Zaporizhzhia, and the cities of the Dnipropetrovsk region. They still have enough strength to shoot from the artillery at Zelenodolsk and Hulyaipole. Odesa remains a target for the Russian fleet…

But dozens of the attacking attempts of the Russian army have already been thwarted right there in the south. And thanks to the counteroffensive, some communities in the Kherson region have already been liberated.

In the battles in Donbas – and they will surely go down in military history as one of the most brutal battles in Europe and for Europe – the Ukrainian army and our intelligence tactically still beat the Russian military. And this is despite the significant advantage of the Russians in the amount of equipment, and especially – artillery systems.

The price of this battle for us is very high. It's just scary. And we draw the attention of our partners on a daily basis to the fact that only a sufficient number of modern artillery for Ukraine will ensure our advantage and finally the end of Russian torture of the Ukrainian Donbas.

Today it became known about the death of another child caused by the Russian shelling – right there, right in Donbas, in the Luhansk region. The boy was born in 2016. He lived in Lysychansk, in an ordinary house on Moskovska Street. This is it: a six-year-old boy on Moskovska Street is also, as it turned out, a dangerous enemy for the Russian Federation…

We are dealing with absolute evil. And we have no choice but to move on. Free our entire territory. Drive the occupiers out of all our regions. And although now the width of our front is already more than 2.5 thousand kilometers, it is felt that the strategic initiative is still ours.

We will come to all our cities, to all our villages, which do not yet have our flag on the administrative buildings. Although there are a lot of Ukrainian flags there, in people's houses, I'm sure of it. And we have already seen them when people protested against the occupiers. And we will see them again – everywhere, when we return.

We will come to Kherson. And ordinary Kherson residents will meet our army on the streets of the city. The failure of the occupiers, who tried to celebrate the so-called Russia Day, only proves that Kherson is a Ukrainian city. And Kherson residents will celebrate only Ukrainian holidays.

We will come to Melitopol. And we will return to all Melitopol residents the opportunity to live without fear. And, by the way, all the collaborators who are now threatening to take away land from farmers in Melitopol and other districts of Zaporizhzhia will most likely end up in this land themselves.

We will come to Mariupol. And we will liberate the city for the third time. It was liberated from the Nazis in 1943 by a brilliant operation. In 2014, on this day, June 13, thanks to the courage of our "Azov" and other units, Mariupol was liberated for the second time. Liberated from the militants, who at that time were not yet fully aware of what the Russian state was sending them to. And now they see it all. They see burned Mariupol. They see why the Russians came there. But we will not allow them to make this city dead. We will return it. Definitely.

It only takes enough weapons to make it happen. The partners have it. In sufficient quantities. And we work every day for the political will to give us these weapons to appear.

We will come to Enerhodar. And I want to repeat to everyone in the city who took to the streets against the Russian military, who refuses to cooperate with the occupiers and who is waiting for us today. I want to repeat that we have not forgotten about our Enerhodar for a day.

We must understand that the occupiers are keeping the occupied territory not just in an information blockade. I would call it a civilizational blockade.

They are trying to make people not just know nothing about Ukraine and how we are trying to liberate our territory. They are trying to make them stop even thinking about returning to normal life, forcing them to reconcile. In some areas, the occupiers are deliberately preventing the restoration of electricity supply. In many communities, they simply blocked communication. Our television is being turned off. They closed the exit from the occupation and simply do not even allow humanitarian corridors so that we can bring people at least basic goods and medicines.

And I ask everyone who has such an opportunity to communicate with people in the occupied south, in Donbas, in the Kharkiv region. Tell them about Ukraine. Tell them the truth. Say that there will be liberation. Say it to Kyrylivka, Henichesk, Berdyansk, Manhush. Say it to Horlivka, Donetsk, Luhansk. Say it to everyone in the Kharkiv region who is still forced to see the Russian flag on our Ukrainian land. Tell them that the Ukrainian army will definitely come.

Of course, we will liberate our Crimea as well. The flag of Ukraine will fly again over Yalta and Sudak, over Dzhankoi and Yevpatoriya. And let every Russian official who has seized precious land in Crimea remember: this is not the land where they will have peace.

There is no one today who will say exactly how long our path to victory will take. But the vast majority of people today are already aware – this is our path. This is how this war will end.

We will rebuild everything that was destroyed by the occupiers. From Volnovakha to Chortkiv. Because this is Ukraine. And it is our destiny to return and strengthen it.

I am proud of all our defenders! Eternal glory to you!

Eternal memory to everyone whose life was taken by the occupiers!

Glory to Ukraine!
Given what the Ukrainians are facing along that 2.5 thousand kilometer line of contact and engagement, given the foot dragging of EU and NATO member states like German in ensuring Ukraine is properly supplied in a timely manner, and given that there are three EU states – France, Germany, and Hungary – that are expected to vote tomorrow against the EU Commission's recommendation that Ukraine be given EU candidate status, President Zelenskyy's remarks this evening were both defiant and grimly positive.
Ukraine's MOD has posted an operational update!!!! (emphasis mine)
The operational update regarding the russian invasion on 06.00 on June 13, 2022

The one hundred tenth (110) day of the heroic resistance of the Ukrainian people to a russian military invasion continues.

In the Volyn, Polissya and Siversky directions there are without significant changes. In the Siversky direction, russian occupiers fired artillery and mortars at the positions of the Defense Forces in the area of Hrinivka, Chernihiv oblast.

In the Kharkiv direction, russian enemy units continue to focus their main efforts on conducting positional defense and preventing the further advance of our troops to the State Border of Ukraine. russian enemy carried out assault operations in the direction of Ternov – Izbytske, had partial success, established itself on its northern outskirts. He remotely mined possible routes of deployment of our units in the area of the settlement of Petrivka, 20 km east of Stary Saltiv. Conducted air reconnaissance of UAVs in the Shestakovo area.

In the Slovyansk direction, enemy units focused their efforts on storming the settlements of Dolyna and Bohorodychne, but were unsuccessful. The enemy, as part of the logistics of troops, replaced more than 100 units of damaged armored vehicles.

In the Donetsk direction, the occupying forces are focusing on offensive operations to encircle our troops in the areas of Siverodonetsk and Lysychansk, and to block logistics routes from Bakhmut. Continues measures to replenish losses. It moved more than 80 weapons and military equipment, including heavy armored vehicles and artillery systems, to the settlements of Kreminna and Starobilsk.

In the Lyman direction, the enemy did not conduct active hostilities, continued shelling the positions of our troops in the areas of the settlements of Mayaky, 10 km north of Slovyansk, and Serebryanka, 5 km northeast of Siversk.

In the Siverodonetsk direction, the enemy, with the support of artillery, carried out assault operations in the city of Siverodonetsk, had partial success, pushed our units away from the city center, and hostilities continue. It fired artillery at the positions of the Defense Forces in the areas of the settlements of Lysychansk, Siverodonetsk, and Toshkivka.

In the Bakhmut direction, our soldiers successfully repulsed the assault operations in the directions of Viktorivka – Vrubivka and Komyshuvakha – Vrubivka. The enemy resumed offensive operations near the village of Zolote. It is fixed on the border of the Roty – Myronivka. To improve the tactical position and capture the dominant heights unsuccessfully conducted assault operations in the directions Dolomitne – Kodema, Dolomitne – Novoluhansk. Conducted air reconnaissance of UAVs in the Pokrovsk area.

In the Kurakhiv direction, russian enemy launched an air strike on the positions of our troops in the Krasnohorivka area, 15 km east of Kurakhove.

In the Avdiivka, Novopavlivska and Zaporizhzhia directions, the enemy fired along the line of contact in order to prevent the transfer of reserves to other directions.

In the South Buh direction, the enemy is conducting a positional defense. The main efforts are directed at the maintenance of previously occupied territories. He carried out engineering equipment of positions in the areas of Shilova Balka and Prydniprovske settlements. In order to clarify the position of our troops, he conducted air reconnaissance of UAVs in the area of Davydiv Brid.

russian aggressor is blocking civilian shipping in the northwestern part of the Black Sea. Six Caliber naval-based cruise missile carriers are ready to use missile weapons in the Black Sea.

We believe in the Armed Forces of Ukraine! Together to victory!

Glory to Ukraine!
Luhansk Oblast Governor Serhiy Hayday has local updates regarding the battle of Sievierodonetsk:
Two bridges on the approach to #Severodonetsk have been destroyed by russian forces. The third bridge was under constant fire today.
It is old and in a critical state, trucks can't use it due to the high risk of collapse. If this route is destroyed, Severodonetsk will be cut off pic.twitter.com/FilR13VVO0

— Serhiy Hayday (@serhey_hayday) June 12, 2022
The Azot plant in #Severodonetsk is constantly shelled by the Russians. About 500 civilians, including 40 children, are sheltering there. We're trying to arrange an evacuation #UkraineRussiaWar pic.twitter.com/2KOIuJVLZY

— Serhiy Hayday (@serhey_hayday) June 13, 2022
If the Russian bombardment of the Azot facility sounds familiar, it should. This is the exact same thing they did with the Azovstal facility in Mariupol.
Here's former NAVDEVGRU Squadron Leader Chuck Pfarrer's most recent analysis and updated map of the battle of Sievierodonetsk:
SIEVERDONTESK / 2245 UTC 13 JUN / Urban fight static. RU committed to urban fight. UKR Gen'l Staff states that lines of supply are being maintained, but confirms that road bridges into the Sieverodonetsk have been blown– possibly in preparation for a tactical withdrawal. pic.twitter.com/SnDup14v83

— Chuck Pfarrer (@ChuckPfarrer) June 13, 2022
Here's today's updated assessment from Britain's MOD.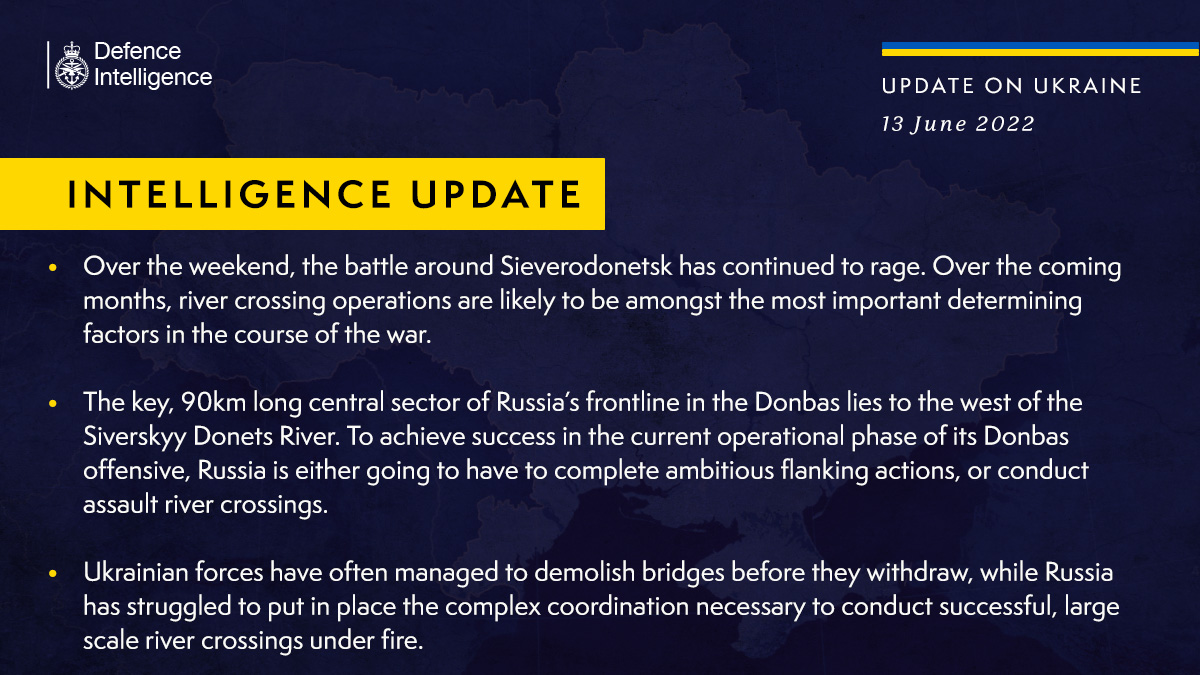 There was no updated British mapping today.
There was no DOD backgrounder today, but Secretary of Defense Austin did a press conference at the Shangri La Dialogue earlier today and he did touch on Ukraine. Here are the relevant parts:
As you know, we'll be flying tomorrow to Brussels for an important NATO defense ministerial to help pave the way for the Madrid Leaders Summit.

But my first order of business will be convening the Ukraine Defense Contact Group for the third time. That's going to be an important opportunity to gather our growing group of partners from around the world to ensure that we're providing Ukraine what Ukraine needs right now and to the — to — in order to defend against Russia's unjustified and unprovoked assault, and to look ahead to ensure that we're helping Ukraine to build and sustain robust defenses so that Ukraine will be able to defend itself in the coming months and years. We'll hear directly from Ukrainian leaders led by my good friend and counterpart, Oleksii Reznikov, and we'll work to intensify our shared efforts to meet Ukraine's priority requirements to defend itself if Russia renews its dangerous assault in the Donbas.

So thanks again for coming along with us for this important trip. And with that, I'll take your questions.

STAFF: Anton from The Economist?

Q: Mr. Secretary, thank you very much.

I wanted to pick up a point that you made in Singapore, which is that the Indo-Pacific is at the heart of your grand strategy. Now you're going to NATO. How does the U.S. balance the demands of the two regions? In other words, how do you walk and chew gum? How do you sustain that effort over time?

SEC. AUSTIN: Well, I think one of the things — one of the things that should have been apparent to — to everyone was the fact that we are walking and chewing gum at the same time. As you listen to the — the number of significant operations and — and — and training events that we were conducting with allies and partners over the past year, that's — that's impressive in and of itself. But by the same time, we've been to — we've been able to — not only to help to unify NATO; we've — we've also led the effort to rapidly rush much-needed security assistance to — to Ukraine with the help of allies and partners, and this has been very — very important to our president, President Biden, and because of the steps that he's taken, number one, we're able to unify NATO in a very meaningful way. And what I mean by that is it was the president's decision to — to share intelligence with our allies and partners, which created transparency and that built that — helped to build trust and — and has helped to keep the alliance together in a meaningful way.

It's — it's more united than I've seen it since I've been associated with NATO, and I take you back to 1975 when, you know, Lieutenant Austin first started down the — down the road there. I've been — I've been working with NATO for a long time.

So we are walking and chewing gum, and we're able to do that because the strong network of alliances — alliances and partnerships that we have around the globe. And again, NATO plays a significant part in — in our work in — in Europe there, so — next question.

STAFF: Jack, Foreign Policy?

Q: Thanks, sir.

Ukraine appears to be increasingly outgunned and outmanned in the Donbas. With the U.S., is the objective still to help Ukraine win militarily and to weaken Russia militarily?

And then head of the contact group, Ukraine's asked for a thousand more howitzers, 300 MLRS. What's the U.S. willing to provide at this point militarily?

SEC. AUSTIN: Well, first of all, the U.S. is willing to provide everything and — and to help Ukraine be successful, mindful of the fact that we have our own readiness to — to keep in mind, and — and — but not only that; we have partners from around the globe that are willing to help Ukraine in meaningful ways. We've seen — you know, we — we've contributed a substantial number of howitzers and a significant amount of 155 ammunition already, along with so many other things. But other nations have contributed 155 howitzers, as well.

And so we'll continue to work to get as much as we can there as fast as we can in order to — to help them be successful. And our focus is on making sure that we — we help them — or we — we give them what's needed to protect their sovereign territory, which is where we started and where we still are, so next question.

STAFF: We've got time for another one. Moshe from NBC?

Q: Okay, thank you so much for joining us.

Recently, French President Macron made remarks saying not to humiliate Putin for the sake of diplomacy. I was just wondering what your response to that was. Do you agree with that? And to what extent is that part of the U.S. objective? And then lastly, are you concerned at all with divisions with allies and partners in the West with how to continue supporting Ukraine going forward?

SEC. AUSTIN: Well, I — I certainly don't want to comment on President Macron's statement, so I'll leave that to President Macron to either clarify or amplify whatever statements he's made in the past.

What we're focused on, as you know, is — is what we've said all along, and that is helping Ukraine defend its sovereign territory, and it — as you watch this fight evolve, you know, I think the world has been inspired by the — by the tenacity, you know, the — the will of the Ukrainian people to — to resist and to a much greater power, a much more capable power, and — and to be effective in what they were doing. They've been effective because, number one, they had the training that we and the U.K. and Canada has been providing them since 2014, plus the security assistance that we poured into — into Ukraine early on.

And so we'll stay focused on — on doing, you know, what — what we believe we need to do to help Ukraine get what it needs to defend its — its sovereignty. And again, you know, in terms of what things look like in the future and the — and — and how things evolve and how things are settled, I think the — the — the lead voice in that — in that effort will be President Zelensky and the Ukrainian people, not the United States of America, so — Okay.
Before we move on, a few of you (some of you?) know that I'm involved with something called The War, Peace, and Justice Symposium. Several of my good friends and former colleagues are organizing it. The one who came up with the idea for the symposium, a former teammate (Seminar 12 represent!), asked if I'd run a section on culture, religion, war, peace, and justice. One of the other participants, Professor Eli McCarthy, PhD who teaches at Georgetown, was involved in a faith leader visit to Ukraine on 24 May. Tomorrow he and another participant in that visit will be doing a Zoom presentation about what they observed. Here's the description of the event:
Topic:            Ukraine Briefing

Description: The Franciscan Action Network (FAN) participated in a delegation of leaders who traveled to Kyiv in late May to express solidarity with the people of Ukraine and to pray for a just peace.

The Franciscan Monastery of the Holy Land in Washington DC will host a special hybrid event in person at the Monastery and online via this Zoom link to hear a first-hand account of the trip from two members of the delegation. Michele Dunne, FAN executive director, and Eli McCarthy, professor at Georgetown University, will discuss what they experienced and how people of faith can make a difference for peace.

After you register, you will get a Zoom link emailed to you to join the event.

Time Jun 14, 2022 07:00 PM EDT
If you're interested in watching/hearing more, here is the registration link.
Oleksii Reznikov, Ukraine's Minister of Defense, did an interview with The Economist. Here's some of it:
THE DEFENCE minister of a country under invasion doesn't have much time for reading, but Oleksii Reznikov makes a point of studying the front pages. He is concerned by what he sees. "Either the world doesn't quite understand what is happening," he says, "or it does understand, is tired, and is content with a few Ukrainians dying." When Russia attacked his country on February 24th, few expected Ukraine to survive. Heroic resistance transformed fatalism into hope, and led to promises of military support. But cracks in the Western alliance are appearing just as the war enters a bloody new phase. Ukrainian losses are now running at an average of 100-200 men a day. "We need assistance, quickly," says the minister, "because the cost of any delay is measured in Ukrainian blood."

When Russian tanks crossed Ukraine's borders in the north, south and east, the 55-year-old former lawyer had been in charge of his department for less than four months. A civilian appointment to a position usually taken by former military men, Mr Reznikov had expected largely to busy himself with bureaucratic reforms. Instead he found himself reorganising defence affairs as missiles rained down on Kyiv.

His war began with a 4am phone call from Valery Zaluzhny, the commander-in-chief of Ukraine's armed forces, and a laconic message: "It's started. Strikes on air defences and radars. Invasion." That was the signal for Mr Reznikov to kiss his wife goodbye and leave for the office. The next three weeks were spent with a core team of advisers, all armed with automatic rifles. The group moved around secret locations in the capital. "One of the most uncomfortable things was waking up each morning in a new bed."

Those tactics were part of a set of protocols developed during top-secret planning before the invasion. Publicly, the president and his defence minister played down the war threat. Privately, they prepared for the worst. Only now is Mr Reznikov able to disclose some of the details. The main trick was to declare "routine" military exercises to mirror Russian and Belarusian drills in the first weeks of February. "This was the excuse that allowed us to secretly move our military units out from their permanent bases. When the strikes came in, our guys were not all together in one place, but were ready with weapons, munitions, and scattered around the country."

The Ukrainians had other surprises up their sleeves. They hid air-defence systems and attack aircraft, replacing them with mock-ups. They enacted a new law on territorial defence to arm around 100,000 civilians in three days. Society also organised itself in ways the Russians didn't expect. But the key moment was Volodymyr Zelensky's decision to stay in Kyiv. "Everyone expected the president to run and form a government in exile. But Mr Zelensky had his own script."

Western governments came to recognise the abilities of Ukraine's leader. And with every tactical victory on the battlefield, they began to believe that his country had a chance of winning. Opposition to sending weapons began to dissipate. A conference convened by America at its Ramstein air base in Germany on April 26th appeared to endorse the principle of arming Ukraine to victory. "The West started to believe David was beating Goliath," says Mr Reznikov.

But vicious battles in eastern Ukraine show that assessment to be premature. Under a new commander Russian forces are exploiting Ukraine's inferiority in artillery, multiple-launch rocket systems and aviation. Russia is squeezing Ukraine's elite troops from a salient around the industrial town of Severodonetsk. Fighting is also hotting up on the nearby approach to Sloviansk.

If the news appears grim for both sides, it is worse for Ukraine. Returning soldiers talk of chaotic command and depleted ammunition. Inexperienced, young soldiers from volunteer units are sent to the front lines to replace fallen comrades. The minister says this is an inevitable consequence of Russia's invasion. "How else can it be? Young guys end up on the front lines, where no one wants them to be, and they die… the world needs to know about it."

Ukraine now needs Western help to stop the onslaught, and it is not coming fast enough. In some areas Russian forces have ten times the Ukrainians' firepower. Multiple-launch rocket systems are in the pipeline, due to arrive "soon… perhaps in a week, perhaps two." But Ukraine needs them in large numbers, and whether or not its allies agree to send them may depend on how Russia reacts to their deployment.

Western military chiefs have also expressed concerns that Ukraine may not be able to absorb the new hardware as fast as it would like. Mr Reznikov dismisses this: his soldiers mastered Western artillery in just two weeks, he says. The country stands ready to switch its weaponry to NATO standards within a month, he claims, rather implausibly. "As comrade Churchill said, give us the tools and we'll finish the job."

Mr Reznikov strains to be polite about cracks in the Western alliance. Fatigue is "a natural psychological reaction to stress"; politicians have "domestic issues" to worry about; leaders have the "obligation to think through consequences". But occasionally frustration shines through. If war has taught him one thing, he says, it is that Ukraine's allies speak more about human rights and freedom than defending them. "The West's bureaucracy and pragmatism turned out to be much stronger than its values," he says. For France and Germany, Ukraine is an irritating obstacle standing in the way of a comfortable life. Does he keep his emotions in check during difficult calls with counterparts in Paris and Berlin? "I'm professionally conditioned as a lawyer, so yes. But afterwards, informally, I can let out some fairly choice words."
Much more at the link!
The Wall Street Journal has also published detailed reporting on what Ukraine is facing in the Donbas campaign:
The war in Ukraine has turned into a grinding artillery contest where Russia is steadily gaining ground thanks to its overwhelming advantage in firepower. As the U.S. and allies gather Wednesday to discuss fresh military aid to Kyiv, Ukraine's fate will largely depend on how fast and in what quantities these heavy weapons arrive.

Without a broad and rapid increase in military assistance, Ukraine faces a defeat in the eastern Donbas region, Ukrainian officials warn. That would pave the way for Russia to pursue its offensive to Odessa and Kharkiv after regrouping in coming months, they say, and potentially all the way back to the capital, Kyiv, after that.

Western officials and analysts question whether Russia has the wherewithal to achieve this, even if it makes further gains in the Donbas area. They say Russia's military has been severely battered in the war, and might lack the manpower and equipment to advance beyond the Donbas region soon.

Yet Russia still enjoys a significant superiority over Ukraine in artillery and armor. Ukrainian forces estimate that they have one artillery piece per 10 to 20 Russian ones on the front lines, with each of these guns allotted only a fraction of the ammunition at the Russian gunners' disposal. As a result, every day that Western heavy-weapons supplies are delayed is measured in hundreds of Ukrainian casualties, they say.

While Kyiv was initially cagey about its losses, unwilling to dent the population's morale, Ukraine's government now acknowledges that the country's military is losing between 100 and 200 soldiers killed in action each day, with about five times that number injured daily.

"In this war, the victory will be with the side that has more and better weapons. And, if Ukraine doesn't obtain enough weapons in time, it will bleed out," said Anton Gerashchenko, an adviser to Ukraine's interior minister.

Ukrainian presidential adviser Mykhailo Podolyak published a wish list of weapons Monday that he said would help Ukraine end the war, including 1,000 howitzers, 300 multiple-launch rocket systems and 500 tanks.

"We are waiting for a decision," he wrote on Twitter.

Despite such setbacks, Moscow retains a huge advantage in armor, artillery, aircraft and missiles over Ukraine, said John Herbst, a former U.S. ambassador to Kyiv now with the Atlantic Council think tank in Washington.

"The terrain in the east favors those Russian advantages. It's open. There is no question that the Russians have made incremental gains in the last few weeks," he said.

Ukraine, unlike Russia, doesn't have the capacity to manufacture ammunition for Soviet-legacy heavy weapons that make up the bulk of its forces, and is running out of stocks, Ukrainian officials say. While artillery shells and mortars can be procured in Eastern Europe, the shortage is particularly acute for multiple-launch rocket systems such as Uragan and Smerch.

At the current rate of advance, absent a sizable increase in Western weapons deliveries, it would likely take the Russians until August or September to take all of the Donbas region, Ukrainian officials estimate. While economic sanctions have made life more difficult for Moscow, especially when it comes to securing Western technology, high oil prices mean that Mr. Putin can afford to continue the war.

Russia's current-account surplus rose to $110.3 billion in the first four months of the year from $32.1 billion in the same period last year, according to the central bank. The International Monetary Fund forecasts that Russia's economy will shrink this year by 8.5%, while Ukraine's will shrivel by 35%. Russian missile strikes have systematically targeted Ukraine's industrial facilities, oil refineries and transport infrastructure, while a Russian naval blockade has prevented most exports of Ukrainian wheat

If Russia secures the Donbas region, Mr. Putin might pause the offensive to regroup and rearm, Ukrainian officials estimate. A cease-fire that some European politicians are proposing, and that would maintain Russian control over southern Ukraine, could last several months or even years.

But that pause would be just a prelude to a fiercer assault, they say, as Mr. Putin's strategic goal—seizing Kyiv and eliminating Ukraine as a sovereign state—remains unchanged.

"They will keep going until someone stops them," said Ukraine's former defense minister, Andriy Zagorodnyuk, who advises President Zelensky's government. "Some people still think that the Russians can be stopped with talks, with concessions. No, they can only be stopped with weapons—of which we are not receiving enough. This is the crux of the problem."

After initially refraining from supplying Ukraine with Western heavy weapons out of fears about Moscow's reaction, the U.S. and allies in late April began to ship NATO-standard 155 mm artillery systems and 155 mm ammunition, with more than 100 of these guns already reaching the battlefield. Poland has also shipped hundreds of Soviet-designed T-72 tanks, while the U.S. and the U.K. are preparing the transfer of some long-range multiple-launch rocket-system, or MLRS, platforms.

Yet, amid the most intensive military conflict that Europe has witnessed since World War II, those supplies haven't been anywhere near sufficient to offset the thousands of weapons systems that Russia has poured into the Donbas front.

Ukrainian officials have been asking the U.S. and allies for Western-made MLRS platforms since the war began, but it was only this month that the Biden administration decided to send four high-mobility artillery rocket-system, or Himars, platforms and guided multiple-launch rocket-system rockets with a range exceeding 40 miles. The U.K. has agreed to supply three M270 MLRS systems with a 50-mile range.

While Washington has indicated that the four pledged Himars are just an initial tranche, the U.S. hasn't specified the time frame and scope of future deliveries. "They are giving us four pieces, but what is needed is a couple of hundred. We don't know how many more will come, when they will come, and so we cannot plan ahead—which is a problem," said Mr. Zagorodnyuk.
Much, much more at the link!
Here's Mykhailo Podylyk's wishlist:
Being straightforward – to end the war we need heavy weapons parity:

1000 howitzers caliber 155 mm;
300 MLRS;
500 tanks;
2000 armored vehicles;
1000 drones.

Contact Group of Defense Ministers meeting is held in #Brussels on June 15. We are waiting for a decision.

— Михайло Подоляк (@Podolyak_M) June 13, 2022
And here's the most recent appeal by Ukraine's Foreign Minister:
Ukraine has proven it can punch well above its weight and win important battles against all odds: Kyiv, Chernihiv, Sumy, Kharkiv. Imagine what Ukraine can do with sufficient tools. I urge partners to set a clear goal of Ukrainian victory and speed up deliveries of heavy weapons.

— Dmytro Kuleba (@DmytroKuleba) June 13, 2022
War On the Rocks has done a new episode of their podcast with Michael Korfman, who is the Research Program Director in the Russia Studies Program at the Center for Naval Analysis (CNA). Here's the link. And here's the description:
This is not an optimistic episode. Michael Kofman speculates that the war might be in its most dangerous phase. Why is that? Ukraine's casualties and shortages in munitions are beginning to show as Russia is gaining some operational advantages in the Donbass. Further, Russia's efforts to fill its manpower gaps have been partially successful without relying primarily on conscripts and conducting a large mobilization. Ryan and Mike speculate that, in the end, this war will be decided by the country that can endure the longest, in terms of their economies, logistics, materiel, and political will. And Ukraine's endurance is tied up closely with the will of the West to continue backing Ukraine with arms and other supplies in a war that could continue to drag on for months, if not years.
The Center for Naval Analysis is a Federally Funded Research and Development Center (FFRDC). The most well known is RAND. We have a regular commenter who works at one of the other FFRDCs should he wish to provide further details on what they are and what they do. Absent that, here's a master list of them.
I think that's enough for tonight.
Your daily Patron!
We have the winning entries of the draw Patron competition!
Ukraine's State Emergency Service announced the winners of children's competition of works with the famous dog-pyrotechnic Patron

The authors of these drawings were promised soft toys in the form of a famous dog https://t.co/YTj5PcO07U pic.twitter.com/ofrlLNsJ5E

— Euromaidan Press (@EuromaidanPress) June 14, 2022
All five winning entries can be seen at this article at Ukrainska Pravda.
The State Emergency Service summed up the results of the competition of children's works with the image of the famous dog-pyrotechnic Patron. Rescuers announced a drawing contest on Children's Day on June 1. Works could be submitted until June 8, and voting for the best drawings began on June 9. The winners were promised a soft toy in the form of a famous dog. "We have received an incredible number of bright and wonderful works depicting our four-legged mascot Patron," the SES said.

The organizers chose 5 winners of the competition and noted that not all participants followed the rules, so the winners were determined without taking into account the "rigged" votes.
Alright, which one of you voted multiple times????
From Patron's TikTok, here's some images of him as a puppy!
Open thread!