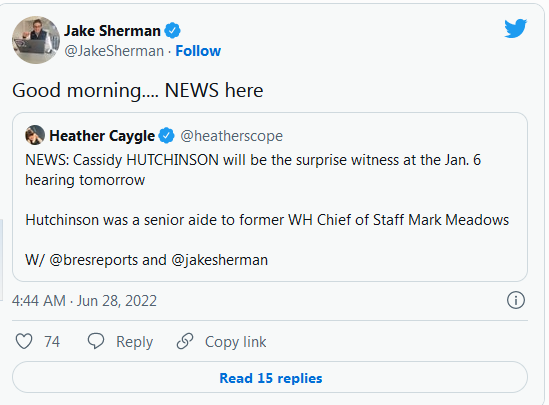 I'm not 100% sold, because Punchbowl is the answer to 'What if Politico, only even less selective?'
But they do have 'proximity' (much as roaches under the frig have proximity to the kitchen), so…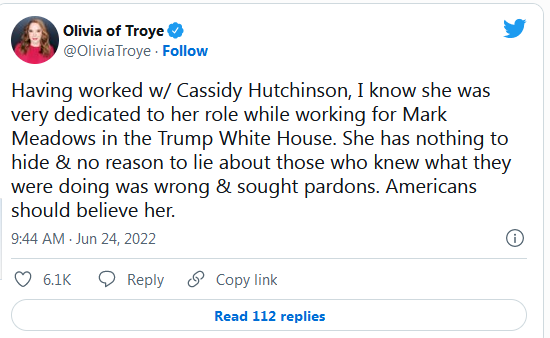 Her ex-employer, Mark Meadows, on the other hand (note dates):
"A former Republican leadership aide once told the journalists Anna Palmer and Jake Sherman that Meadows was the most dishonest person he had ever met at the Capitol, 'convicted criminals included.'" https://t.co/DFd25tIIKH

— George Conway???? (@gtconway3d) June 8, 2022
"Meadows played a double game the likes of which has rarely been seen, even in the swamps of Washington. He told both sides what they wanted to hear." yes, this comes through from his text messages https://t.co/HKlGzryvkr

— Laura Rozen (@lrozen) June 8, 2022
I'm using my front-pager privilege to repost this (slightly edited) screed from last night, since it was only top-of-page for half an hour…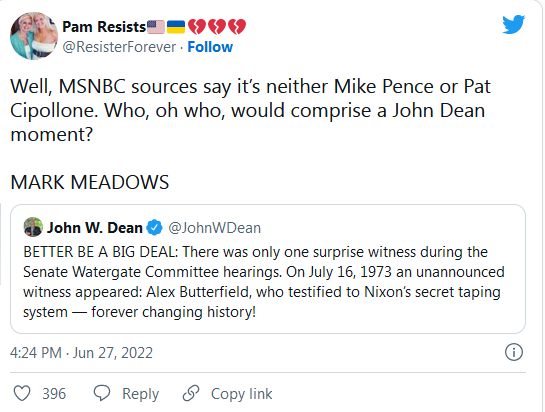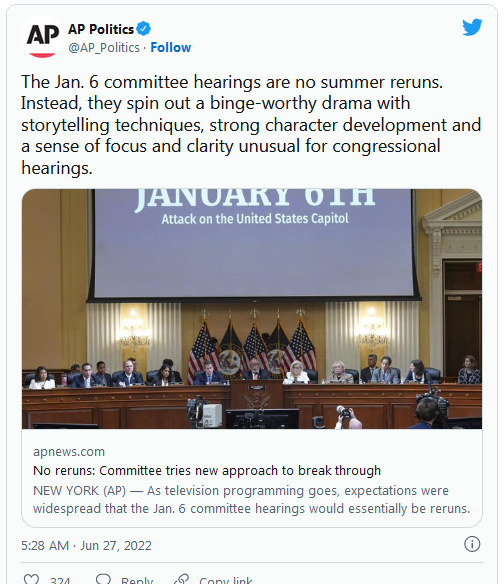 … The five sessions have revealed a storyteller's eye, with focus, clarity, an understanding of how news is digested in modern media, and strong character development — even if former President Donald Trump's allies suggest there aren't enough actors…

House Republican leader Kevin McCarthy's decision not to participate gave the committee a gift, the chance to craft hearings as a unicorn of sorts in today's political age.

The hearings are concise, no more than 2 ½ hours, each day with a specific theme. It goes like this: First, viewers are told at the outset what they're going to hear. Then they hear it. Then they are told at the end what they just heard. Usually there's a preview of what's next — a trick that likely reflects the advice of James Goldston, a former ABC News producer hired as a consultant…

"It's just focused on the witnesses and the evidence," said Democratic Rep. Adam Schiff of California, a member of the panel who also led the second Trump impeachment hearings. "We know we have a precious opportunity to get this information to the American people, and we don't want to waste a minute of it."

The committee uses clips from taped testimony like a journalist would include quotes in a story. Questioning of live witnesses doesn't wander.

Committee Chairman Rep. Bennie Thompson, D-Miss., and Republican Vice Chair Rep. Liz Cheney, R-Wyo., question witnesses alongside one other member who is in charge of each hearing…

Each day's hearing fits the overall theme — that the plot to nullify the 2020 election was multi-faceted, with the events of Jan. 6, 2021, only one part, and that many of the people surrounding Trump didn't believe his claims of election fraud.

Witness testimony gains power because it mostly comes from Republicans, Trump's former aides and allies, Jamieson said. It's one thing to have Schiff declare Trump's rigged election claims were bull, quite another to have it come from the former president's attorney general, with an Ivanka Trump endorsement…

The hearings also command the attention of journalists by consistently offering something new or unexamined, such as Thursday's revelation of congressmen who pleaded for presidential pardons, or the extent of Trump's fundraising off his false claims of fraud…
There's so much material to review!
Last week: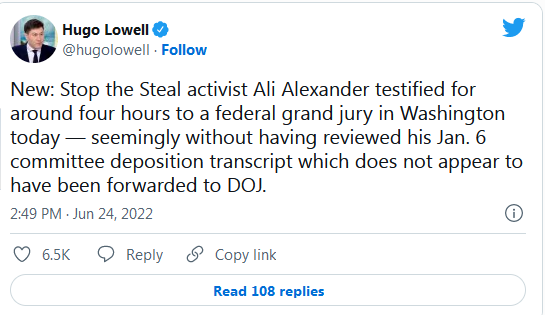 Today:
Some have speculated the surprise witness tomorrow may be Ali Alexander. He was the coordinator of Stop the Steal, and testified to a DC grand jury for hours on Friday.
If he flips a lot of Republicans are in trouble. https://t.co/GF62Rm7BoM

— Duty To Warn (@duty2warn) June 27, 2022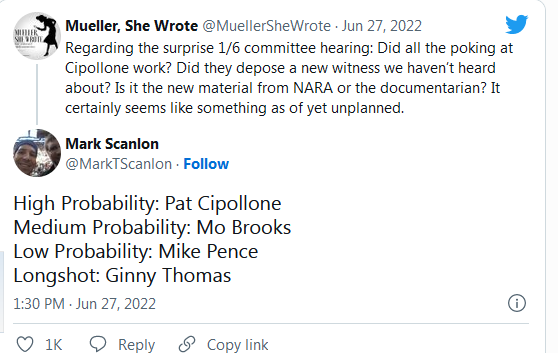 Another strong contender: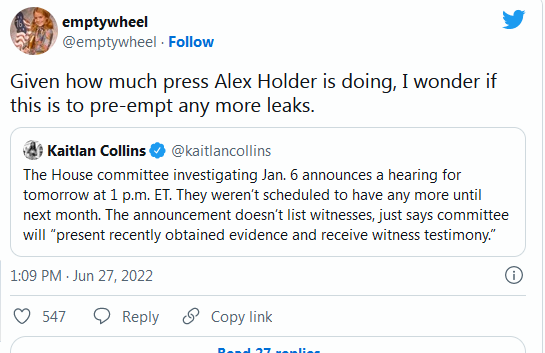 A sample — hey, those Danes have a documentary to promote! — from the Independent:
… In an interview with The Independent, Mr Holder said Trump family members — and Eric Trump in particular — were unbothered by the idea that the often violent rhetoric they and their patriarch espoused after his loss to now-president Joe Biden would inspire his supporters to act out.

"When I asked Eric about the potential danger of sort of rhetoric and the sort of the belligerence, he felt that it was … fair game in that it … was sort of the equivalent on the other side of the political discourse, or he felt that it was the right thing to do … because the election was stolen," he said.

Mr Holder said he had a foreboding feeling about the chance for violence as filming went on and the former president and his family continued to claim the 2020 election was stolen, even as courts rejected at least 60 lawsuits seeking to invalidate the results…

The filmmaker said his Trump-focused documentary, which is titled Unprecedented and will be released this summer "chronicle the events leading up to the Capitol attack" and serves also as a "fascinating insight into the Trump dynamic" that "shows a sort of Succession type vibe between the three siblings and who potentially could one day take over from their father in terms of heading that sort of Trump dynasty".
Back story: