Today, I'm going to focus on a single family. Sheletta Brundidge is a writer, comedian, and parent with kids on the spectrum.  Following her on twitter is a joy. After the Uvalde shooting, they traveled to Uvalde and delivered a thousand books to the library and gift baskets from MN. Only one of her many acts of kindness.
We were so glad to help @ShelettaIsFunny bring 1,000 books to the kids of Uvalde, Texas, for their summer reading program.💙

Read more: https://t.co/KUvAjDk5Of

— Children's Minnesota (@childrensmn) June 17, 2022
But this is what caught my eye:
Unironically one of the most wholesome stories I've seen recently pic.twitter.com/AQNEpPPMPP

— Right Wing Cope (@RightWingCope) June 9, 2022
Here are the photos in that tweet (click to embiggen):
That letter from Presiden Biden, because he is (a) a good person and (b) unbothered by incoherent rants from the … I'll stop there since this is a kindness post.
After that tweet, sales of the book (her third children's book) went through the roof, I was one of the buyers.  And it's led to some special moments including this one: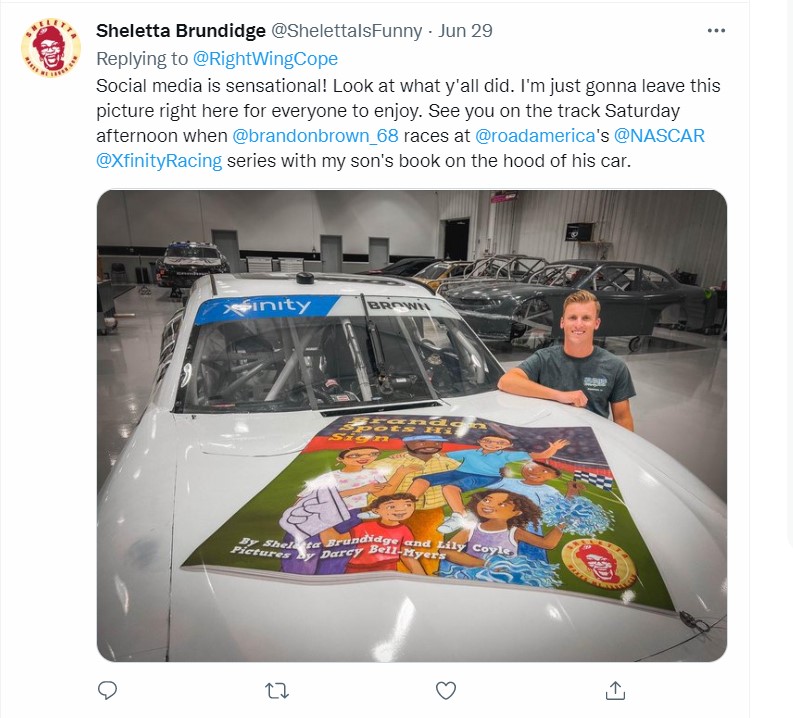 If you don't know the story, Brandon Brown's win is what started the ugly chant. He wanted to change that. This gave him the opportunity.
Brandon Brown unintentionally found himself in the middle of a political firestorm when "Let's Go Brandon" was adopted by foes of President Biden, but now the NASCAR driver hopes a child changes the narrative. https://t.co/14abCrMVEg

— USA TODAY Sports (@usatodaysports) July 4, 2022
ELKHART LAKE, Wis. (AP) — Brandon Brown wanted a way to change the narrative behind the "Let's go, Brandon" message after his first career NASCAR victory inadvertently fostered a chant that has been used to insult President Joe Biden.

Brown found that new message thanks to the family of an 8-year-old child with autism.

Brandon Brundidge of Cottage Grove, Minnesota, was on a spring-break trip to Houston in March and saw signs with the "Let's go, Brandon" slogan. Brundidge believed the signs were meant to encourage him. He consequently started trying activities he'd never attempted before, such as learning to swim and removing the training wheels from his bicycle.

His mother, Sheletta Brundidge, used that story to write a children's book titled, "Brandon Spots His Sign." Brown had the cover of Brundidge's book on the hood of his Camaro for his Xfinity Series race Saturday at Road America.

"To have this come through was like that breakthrough moment for us," Brown said. "This can be positive. This can be good. It doesn't have to be hateful or divisive."

This divisiveness had started after Brown earned his first career NASCAR victory last October.

The crowd at Talladega Superspeedway in Alabama chanted "F— Joe Biden" during the winner's post-race interview. NBC Sports reporter Kelli Stavast incorrectly told Brown the fans were chanting, "Let's go, Brandon."

From that point, "Let's go, Brandon," became a rallying cry for Biden critics, with signs bearing that message popping up all over. Brown unintentionally found himself in the middle of the firestorm that surrounded these chants.

"I've just been hopeful that I could make it a positive, I could have my name back and not have it be so divisive and scary, where it wouldn't be a political statement for my friends and family to cheer me on during a race," Brown said.

================

"I'm sorry for what you went through all of this past year," Sheletta Brundidge told Brown on Saturday. "I know it's been horrible. But I'm so glad it happened because this child would not have this breakthrough (otherwise). He still would be afraid to ride his bike without training wheels. He's literally walking up to kids and passing out this book. He would have never done that (before)."
That @brandonbrown_68 ain't do nothing but spoil my kids this weekend at @roadamerica. I had to mute my "no button" cause every time the children asked for anything or wanted to try a new experience, @mnstonee or someone from @BMSRaceTeam was just happy to make them happy. pic.twitter.com/9qW71dbT8s

— Sheletta Brundidge (@ShelettaIsFunny) July 4, 2022
And this isn't her first book to be inspired by one of her kids, her book Daniel Finds His Voice is her second children's book:
We had an #oldtownroad miracle at my house. My son Daniel has #autism and doesn't talk. We caught him humming the @LilNasX and @billyraycyrus tune the other day. Then Bless God, my baby started singing the song on his own. His therapists have started to use it in his sessions! pic.twitter.com/vtCNWeg6ax

— Sheletta Brundidge (@ShelettaIsFunny) June 4, 2019
This really highlights that there are soooo many good people out there. It brightened several of my days as the story grew.
=======================
And finally, here's your weekly critter pic. That look that says, what? what did I do to make you frown like that?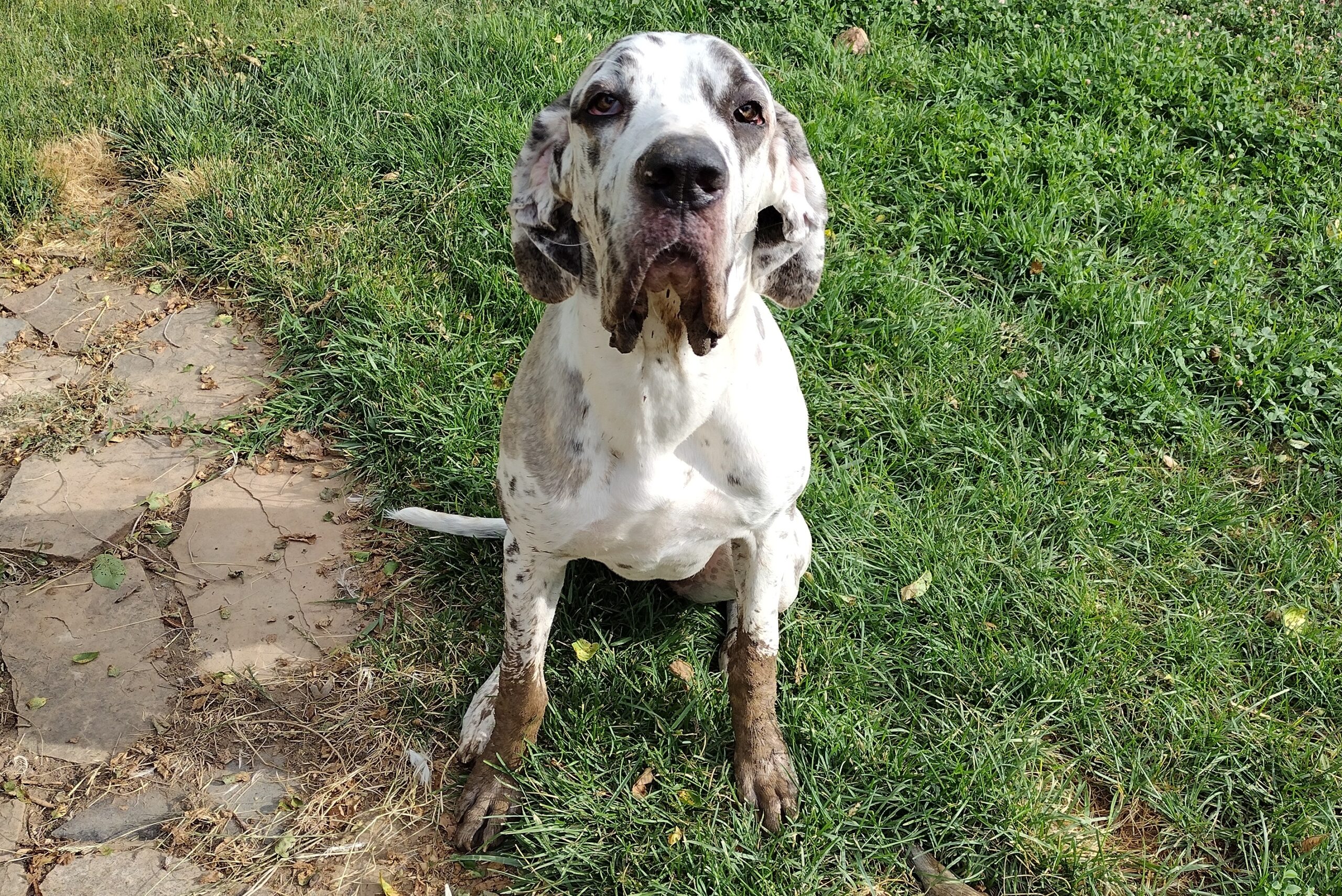 test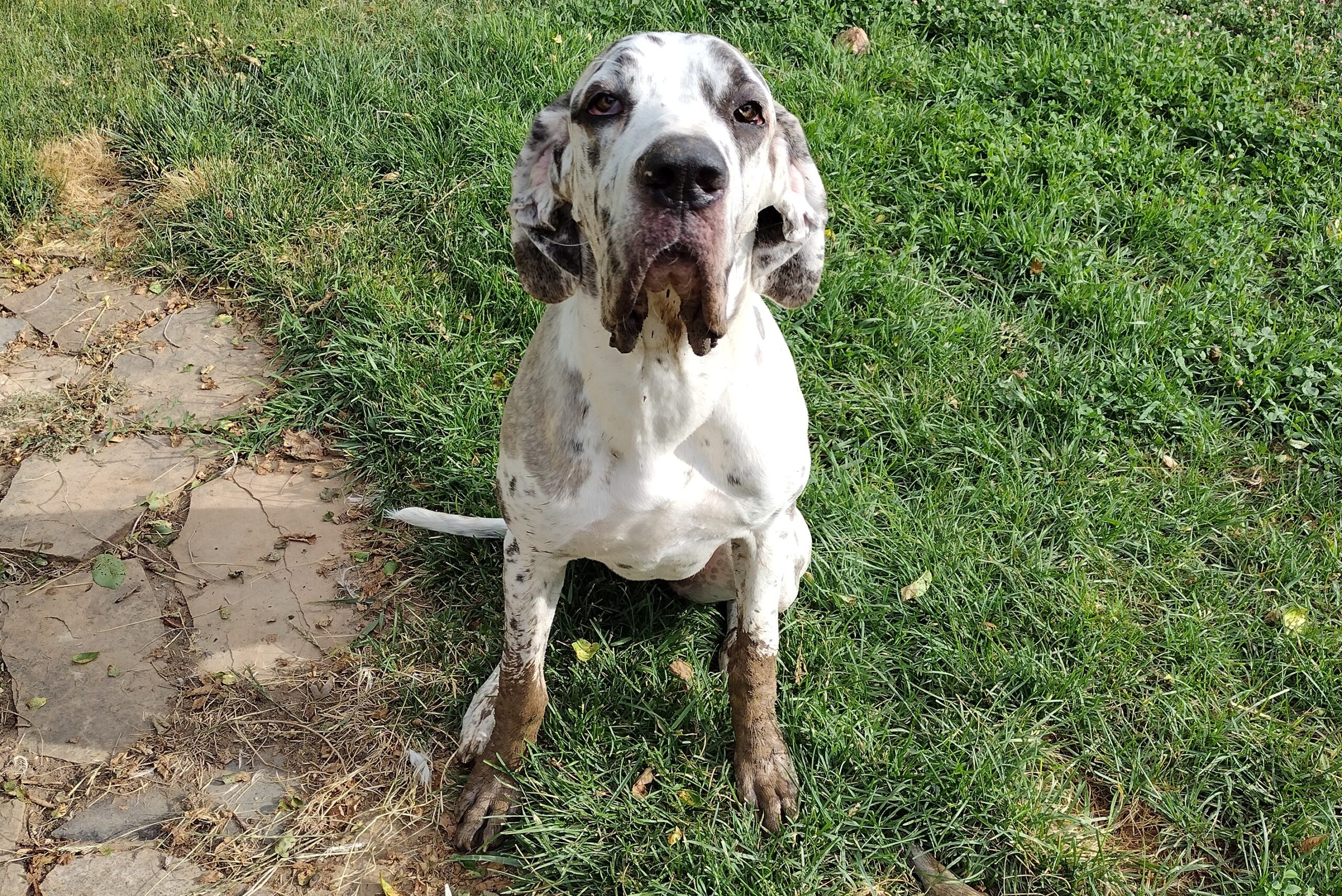 Trixie decided as I was rushing to get ready to go see a client yesterday, that she would get into some trouble. The best part? While watering the tomatoes earlier in the morning, my hose burst (it came with the house, so who knows how old it is) and I had no way to hose her off. Luckily I have a large supply of "dog towels" for just such an occasion.  She's 9 months old this week. She's such a good dog. Here are some photos of her and Scout for the occasion. 
That's it for today. Be kind. Especially to yourself.
NOTE: I am aware tonight's topic might trigger some less than kind responses. I KNOW this because I feel them and I have to work to remember a bunch of folks are trying to create good from this. I would like to remind everyone that I've created these posts to give everyone a mental health break, so please try and keep the comments in line with that. Plenty of places to rage on the blog. Let's be kind in this one spot. Thank you  xoxo