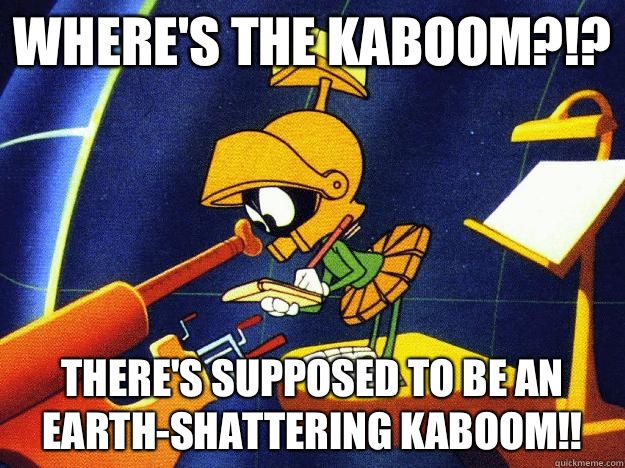 Here's President Zelenskyy's address from earlier this evening. Video below, English transcript after the jump (emphasis mine):
Ukrainians!

All our defenders!

I have been receiving reports all day long today from the city of Chasiv Yar in the Donetsk region. A rescue operation is underway there after a Russian strike at residential buildings. Two high-rise buildings were destroyed. Dozens of people are under the rubble. Six were saved. There are 15 names in the list of the dead and, unfortunately, this is not the final number.

It was a missile strike. And everyone who gives orders for such strikes, everyone who carries them out targeting our ordinary cities, residential areas, kills absolutely deliberately. After such strikes, the killers will not be able to say they did not know something or did not understand something… All those who carried out this shelling, other missile strikes, all those who hit our cities with rocket artillery, as is the case with the Kharkiv region, Zaporizhzhia, Kryvyi Rih, Siversk and Vuhledar in the Donetsk region – they will all be found.

You know, Nazi murderers are found and brought to justice even when they are 90 or 100 years old. They are caught all over the world. Of course, we don't want to wait that long. But I give this example to show that punishment is inevitable for every Russian murderer. Absolutely everyone. Just as for the Nazis. And they should not expect that their state will protect them. Russia will be the first to abandon them when political circumstances change.

Since the beginning of this invasion, Ukrainian law enforcement officers have been doing everything necessary to record the crimes of the occupiers and to collect evidence. Our partners from many countries are involved in this work. Russian terror has long crossed the line beyond which it became obvious to many in the civilized world that it is a matter of global security to punish Russia, a terrorist state, for everything it has done against Ukraine and the international legal order.

My schedule for the coming weeks includes precisely such negotiations and appeals that will contribute to the restoration of justice, to the punishment of Russian war criminals. Moreover, this activity is aimed not only at Europe and other traditional regions for the work of Ukrainian diplomacy. We will do everything so that Latin America, Asia and Africa hear the truth about Russian terror on our land as well.

In the past week, many talked about the alleged "operational pause" in the actions of the occupiers in Donbas and other parts of Ukraine. 34 airstrikes by Russian aircraft over the past day is an answer to all those who came up with this "pause". The Ukrainian army is holding on firmly, repelling attacks in various directions. But, of course, a lot still needs to be done so that Russian losses really cause such pause. Moreover, the pause not before new offensives of the occupiers, but before their retreat from our Ukrainian land. And I am grateful to all our fighters who are bringing this time closer.

It is inevitable, as is the punishment for the occupiers. But we have to hold on, we have to fight together on all fronts now – on the political, information and economic fronts, without showing weakness anywhere. We can withstand this war only together – absolutely everyone, every Ukrainian man, every Ukrainian woman.

Glory to all who protect our native state!

Glory to Ukraine!
There was no operational update posted today by Ukraine's MOD.
Here is the British MOD's assessment for today: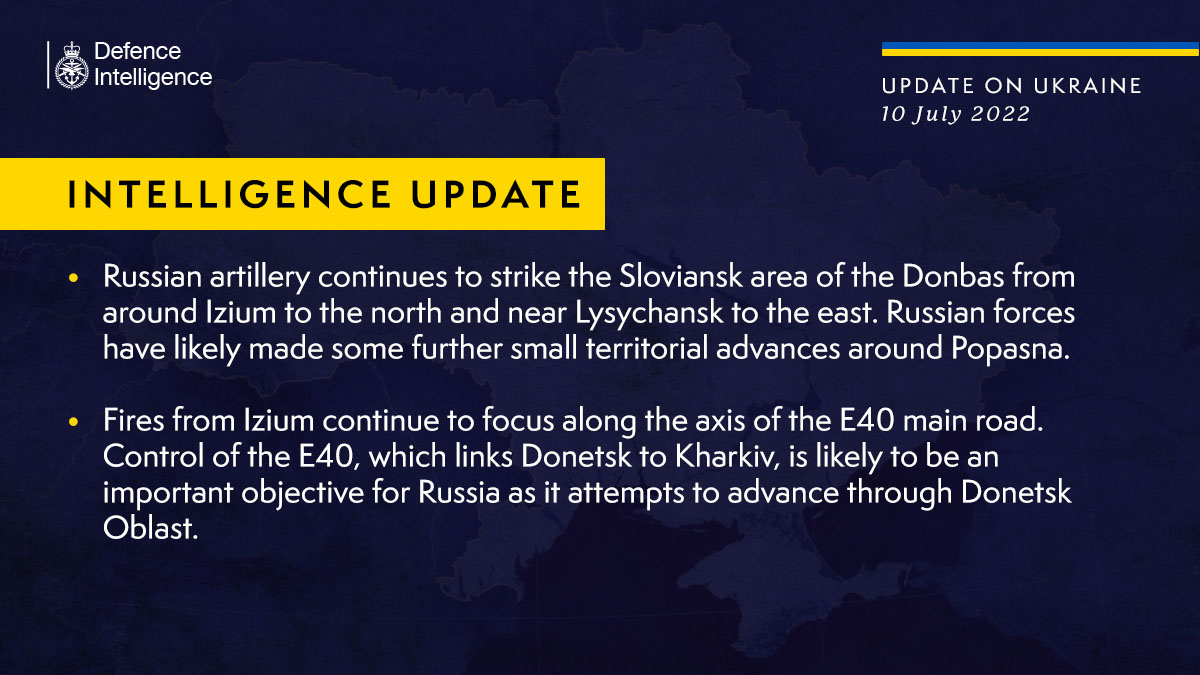 They did not post an updated map today.
Here is former NAVDEVGRU Squadron Commander Chuck Pfarrer's assessment, including an annotated map, of the battle for Kherson:
CONTACT REPORT / KHERSON / 2040 UTC 10 JUL/ RU forces occupying Kherson have faced a continuous, and escalating, campaign by partisans and UKR Special Operations Forces (SOF). UKR SIGINT again locates RU targets: UKR missile strike takes out 2 Russian HQs. pic.twitter.com/xnresHp4XC

— Chuck Pfarrer (@ChuckPfarrer) July 10, 2022
I've seen a lot of chatter on social media about Russian claims that they've destroyed all or almost all of the HIMARS that the US has provided Ukraine so far. These all appear to track back to the same accounts and sources that were claiming that Russia had destroyed all 36 of Ukraine's bayraktar drones back at the end of March. Which was NOT TRUE!!! Especially as Ukraine only had 12 bayraktars at that time. And we were getting steady reports of their being used. I'll keep monitoring this, but until or unless a reliable, independent source of reporting confirms any of these claims, they're somewhere between disinformation and agitprop.
There was some discussion in the comments last night about the effects of Ukraine's attacks on Russia's ammo depots in the areas of eastern and southern Ukraine that Russia has been occupying since 2014. We now know that Ukraine has taken out fourteen of them in the past week!
Serhiy Bratchuk, spokesman of the #Odesa regional administration, reports that three #Russian ammunition bases in different regions have been destroyed yesterday.

Thus, #Ukraine has already destroyed more than 14 Russian ammunition bases within a week.

— NEXTA (@nexta_tv) July 10, 2022
During 8 years of occupation of the eastern #Ukraine, Russia heavily militarized this territory with ammo and weaponry depots placed everywhere (like it did in eastern Europe during the Cold War). Now, #Ukraine demilitarizes its occuied land with precise strikes by HIMARS. https://t.co/JNBm14bQbs

— Viktor Kovalenko (@MrKovalenko) July 10, 2022
I expect we'll start to see the downstream effects of these Ukrainian operations in about ten days to two weeks. I also expect we'll see more of them go kaboom.
The Kyiv Independent's Illia Ponomarenko report by Twitter thread about Ukraine's attrition of Russian armor:
…T-80BVMs, or T-90Ms.
Ukraine says Russia has lost 1,641 (and counting) tanks, the U.S. says "over 1,000". @Oryx has already confirmed 857. So this means Russia has lost between 25% (a very conservative estimate) and 50% (an optimistic estimate) in its springtime cringe-krieg…

— Illia Ponomarenko 🇺🇦 (@IAPonomarenko) July 10, 2022
…and the battle of Donbas. The lower-bound estimate of the lost tanks is still the size of the tank corps of Britain, Germany, Italy, and France

combined. Yep, that's the world's second military power definitely winning its 72-hour special military operation against…

…a bunch of junkies and neo-Nazis, for sure. The day is 137. Next: how many more does it have in store? The answer is dark: probably over 17,000. Military Balance says Russia had 7,000 old T-72s, 3,000 old T-80s, and even 200 T-90s.

But there's even more: databases from several years ago say it has some 2,800 T-64As/Bs, 2,500 T-62s, and even 2,800 legacy T-55s. Yes, the Soviet Union manufactured unbelievable, ridiculous amounts of hardware to just keep its insane defense production system running.

So we're screwed and hopeless? In reality, a large share of those 17,000 tanks exist just on paper or have been collecting dust and rust for decades. Just google any of those endless cemeteries of hundreds of rusty tanks kept in the open.

Poor maintenance (or the absence of it), negligence, and devil-may-care attitude is a common story. Even in the Soviet era, corruption in the military was widespread — POLs, components, and equipment were sold off in the black market under the counter.

Newer tank types such as T-72s and T-80s were plundered especially hard, as their electronic components and other stuff are in demand. This is in many ways why we need we see Russians re-activating old T-62s and T-63Ms as older types were of less interest to embezzlement.

Ask anyone who has served in a Soviet or post-Soviet military. Besides, there is this thing called "cannibalization" where you dismantle components for like three tanks to put the fourth tank in order.

Russians are now demothballing tanks and other vehicles to set off their losses. They are preparing a new striking fist against Ukraine, and we must be ready. But Russia is very far from being the ultimate unwinnable death army they want to pretend to be.

After all, it's not tanks that do the fight — it's the people organized, trained, supplied, and motivated as a military force.
Marine vet and current doctoral student Rob Lee, who has done yeoman's work tracking everything pertaining to Russian and Ukrainian material, equipment, and operations in mega threads on his Twitter account, informs us that both the Russian military and the Russian private military company commonly referred to as the Wagner Group are recruiting military veterans who are currently serving sentences in Russian prisons.
Russian prisoners with combat experience are reportedly being taken out of prisons in Nizhny Novgorod and Mordovia to fight in Ukraine.https://t.co/OXgZBezHeE

— Rob Lee (@RALee85) July 8, 2022
Wagner is also reportedly recruiting prisoners. They are reportedly offered amnesty, 6 month contracts of 200k rubles a month, and 5 million ruble compensation to their families if they are killed. 3/https://t.co/FbToAvCVNr

— Rob Lee (@RALee85) July 8, 2022
That's enough for tonight.
Your daily Patron!
I just wish that @BostonDynamics would produce more #spotdogs and be able to sell me one. I call him Gregory, and we'll be a great team. He can work with sappers easily and make our work safer. Oh, I dream about our adventures🥰 #Robots #Patron #DogPatron pic.twitter.com/cfEy07NIQp

— Patron (@PatronDsns) July 10, 2022
And a video from Patron's official TikTok:
Open thread!