"How can I propose the worst possible idea, but also still keep getting funding for my institution from both American and Russian Oligarchs?" https://t.co/Z3tVuZvm2z

— onomatopoeia (@cotedesure) July 25, 2022
It's all very well having 'Time's "The 100 Most Influential People in the World Today", 2004' and multiple 'Foreign Policy's list of "Top 100 Global Thinkers"' hits on one's LinkedIn profile — one does not stay in demand as an Aspen-level Thought Leader(tm) without an ongoing supply of press notices, preferably laudatory. How to market a well-honed talent for expressing that All Is for the Best in This Best of All Possible Worlds in this new age of virality?

Bad choice, Professor Pinker!
If nukes are a militarily useless, ineffective deterrent, how about instead of demilitarizing *the entire continent of Europe to appease a mad dictator*, NATO just fucking invades Russia, burns Moscow to the ground, and forces a surrender? https://t.co/fjAMQxokM8

— Copesint Central (@copesint) July 25, 2022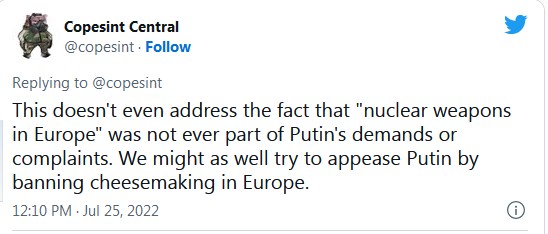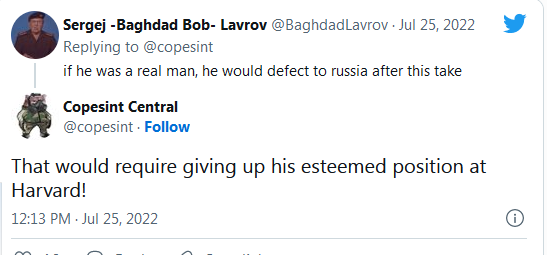 One would like to believe that Pinker is aware that both France and the UK are nuclear powers and that both are members of NATO, and one would like to believe that he meant "US" as was noted in the linked article.

But I'm not sure I'd bet on that.

— Robert Farley (@drfarls) July 25, 2022
Also, it's not up to NATO to make deals on Ukraine's behalf. The issue is RUSSIA'S WAR OF AGGRESSION, not NATO's nukes. Why help the Russians change the subject and make it about NATO?! That's just flat out diplomatic idiocy. /3

— Tom Nichols (@RadioFreeTom) July 25, 2022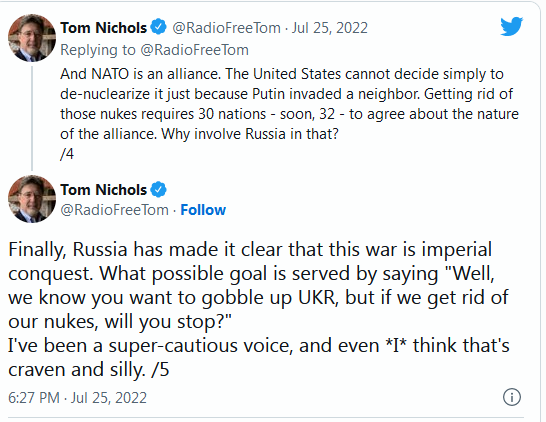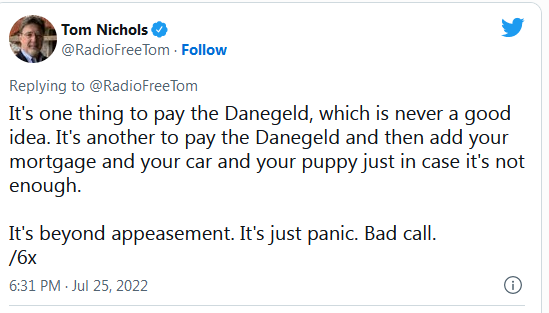 But, if you must, seriously (from an actual foreign relations expert)…
Pinker's proposal is based on three assumptions:

1) Putin's invasion was about NATO nukes.

2) Nukes haven't deterred.

3) Giving Putin a "win" is costless

All three are flawed. A short 🧵. https://t.co/Bv84sBRaHk

— Paul Poast (@ProfPaulPoast) July 26, 2022