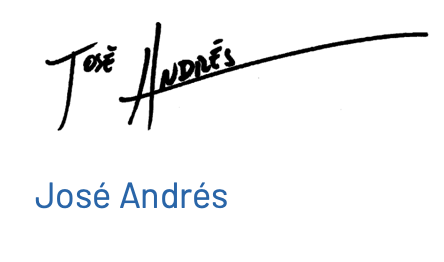 One million meals a day.  It seems impossible, but it's not.  It's just amazing.
Dear friends,

It's been 173 days since Russia escalated attacks on Ukraine… 173 days that families, children, the elderly, have lived under constant bombing of their homes, at train stations, just walking down the street.

World Central Kitchen arrived within 24 hours of the invasion of Ukraine at Medyka, a busy border crossing into Poland. We saw Ukrainians fleeing home in fear for their lives, coming with just a bag of clothes and making the journey through the middle of the night in cold, freezing temperatures of February.

Quickly our team realized we needed to support not only families leaving the country in search of safety, but also those who remained in Ukraine. Many incredibly brave people have stayed to support, while many cannot leave–it's difficult for seniors, people with disabilities, or those who don't own cars or have the means to escape, so World Central Kitchen committed to standing next to Ukrainians in the fight to feed the hungry. Before I even entered the country, we started to build a network of chefs and restaurants working tirelessly to feed their communities.

I am so proud and humbled at what our response in Ukraine has become… thousands of Ukrainians feeding Ukrainians everyday. Almost 140 million meals served so far! And I am so proud of YOU, World Central Kitchen supporters who have given so much to fuel this effort.

With this, I must be honest to everyone who has made our response in Ukraine possible. As warm months turn into winter, the situation in Ukraine is going to get very difficult. Damaged infrastructure has left communities with no heat, no access to food, and in need of our support… and there are very few humanitarian aid organizations left here on the ground. Serving 1 million meals a day, every day is expensive, and so if you are able, I am asking for your support to help us continue cooking.

We must continue to stand with and be here for the brave people of Ukraine, not only for their freedom but for freedom around the world. And from the bottom of my heart, thank you for all you have done so far… I have seen in my time here the impact this work is having on families, mothers, children, and I am so grateful.

José Andrés
We can walk and chew gum at the same time, right?
You can give Chef José at the thermometer below.  If you want to donate only to Chef Jose, be sure to adjust the split BEFORE you add your dollar amount.