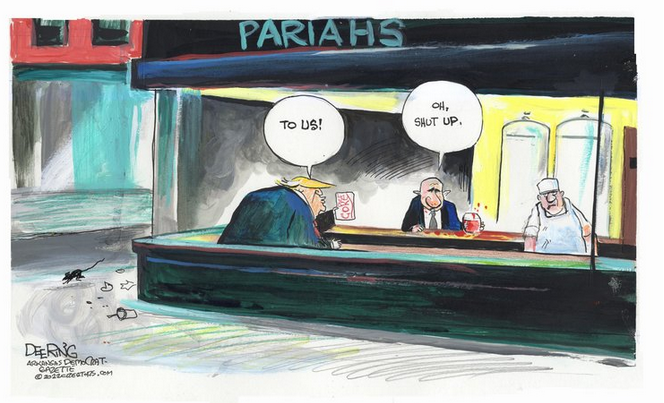 Imagine being jailed for 15 years for arms dealing, and when you get out, while your country is embroiled in a major war, your first move is to do an interview complaining about too many genders. American culture wars absolutely undefeated export, the modern day Hollywood. https://t.co/O9tEDABPfH

— Quantian (@quantian1) December 10, 2022
Estonian version of the Chernova kalina, the Ukrainian war march, presented by a whole lot of folk musicians. It was presented on the Ukrainian 1st Channel today. Well done!https://t.co/kB859SSWj0

— Eerik N Kross (@EerikNKross) December 1, 2022
Another factor: Russia is losing the war and Russians don't like that.

— Julia Ioffe (@juliaioffe) November 30, 2022
And several have ties to Russian or Russian-allied intelligence &/or propaganda operations. Remember, Stone communicated w Assange, & few days ago Musk seemed to be supporting Assange & Snowden

I don't think it's hyperbole to say Russia is trying to use Musk to use Twitter https://t.co/Qc6U0ymqSs

— Dana Houle (@DanaHoule) December 7, 2022
"If you want to understand what Russia has done here, come to Ukraine and you will see this with your own eyes," Mr. Zelensky said. "After that, you will tell us how to end this war, who started and when we can end it."

— Julia Ioffe (@juliaioffe) December 1, 2022
This guy did, per the Washington Post — "David Letterman on his surprise Ukraine trip and Zelensky interview". Worth reading the whole thing!:
In late October, David Letterman, who, in a previous television incarnation, considered a Taco Bell drive-through sufficiently adventurous for a remote segment, flew to Warsaw, hopped into a van for a five-hour drive to the Polish border with Ukraine, and caught an overnight train to Kyiv. And then, in an active subway station 250 feet below the embattled capital, the 75-year-old late-night legend sat with President Volodymyr Zelensky for a special episode of his Netflix show, "My Next Guest Needs No Introduction." The program goes online Monday and Letterman, in a Zoom this week from his home, talked about why he decided to go to a war zone for an episode, certainly a departure for an interview program that has featured George Clooney, Lizzo and Kevin Durant in recent years. (This interview has been edited for space and clarity.)

Q: Dave, so very simply, what makes you decide Ukraine is a good idea for the show?

A: Forget the show. Forget me. This is a good idea, period. It seems like we've had six to eight years of people talking like we were visiting another planet. And then suddenly Russia attacks Ukraine and we meet Volodymyr Zelensky and he's saying things and behaving in a way we have not seen manifested by humans in quite a long time. The first time I saw him, he said, "This may be the last time you, my countrymen, maybe the last time you see me alive." And then he says, "I don't need a ride, I need ammunition." Right away you're reminded of what you know about Winston Churchill fending off Hitler…

Q: Let's go back to Ukraine. There is a striking point where you're walking around a town square and observing these displayed pictures of people who have perished. And it's heartbreaking to see regular people who have died. And I can't help but think about 9/11 and those boards that were up around New York City with messages and photos. There's a kind of trauma that sets in these situations. And the question becomes how much do you confront it and how much do you ignore it? I imagine that is something you were thinking about during this time.

A: You're visiting the home of these people. And this is the condition their home is in. So you take on that, you realize because people are coming and going about their lives, walking around through this plaza, and it comes over you. Your connection to 9/11 is exactly the same. In the early days of that, you could not walk anywhere toward that area and not feel the heaviness, and that's the way it was in Kyiv. But they weren't letting it crush them.

Zelensky said it the other day. He said, I'm not brave, I'm responsible. And that's an excellent way of putting what he and people are doing. We're not laughing about this. We're taking care of business and we're prevailing, for heaven's sakes. And smart people have explained to me that, in fact, they will win this, they will win this and winning this is going to be … the transition of them winning this will have such a global impact. If they don't win, it'll be more of the same crap. So we're on the doorstep here of monumental change. Am I talking too much?
No more specifically she said "I survived Stalin, whore/bitch, I will survive Putin. He can go fuck himself, bitch"

I love our babushky. https://t.co/nwRjRX8V07

— Dr. AnnaPirate????? MD (@AnnaPartisanka) December 1, 2022
Learned a new word here:
Lots of malding men who've never seen war mad at a soldier for dancing while being a woman. https://t.co/O3nQyRUaq5

— Democratic Party Wolf Warrior ?? (@EvidenceBaseShi) December 6, 2022
I am begging these people to go on youtube and look up "dancing soldiers". It is literally one of the only things we can do in the field to stay sane and yeah if course we recorded it because that shit is hilarious. https://t.co/TxNankCyDC

— Very Tired Ryan (@Spark898) December 6, 2022
I talked with Julia recently, and this is in line with her prediction that Russia's elites are getting worried that they're going to face consequences for their advocacy of war crimes.

Also, why is Solovyov dressing like Blofeld https://t.co/s7bpPuD8MQ

— Tom Nichols (@RadioFreeTom) November 29, 2022
You know, at the Hague you can't use "it was just TV" as an excuse https://t.co/IYuKTtn1KK

— Tom Nichols (@RadioFreeTom) November 30, 2022
Russian middle schoolers are made to paint their faces, dress up as soldiers and make greeting cards in honor of the racoon stolen by Russian occupiers from the Kherson zoo.
One of those times when I have absolutely nothing to add… https://t.co/OrDtI0Iin6

— Slava Malamud ???? (@SlavaMalamud) December 9, 2022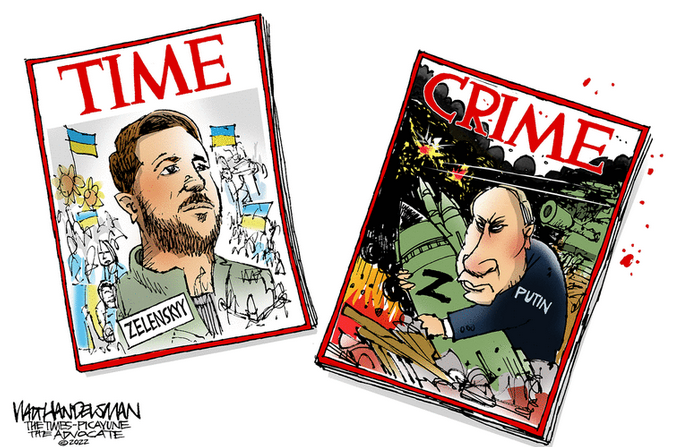 (Walt Handelsman via GoComics.com)