OSCAR is a new-ish health insurance company (active since 2014) that overwhelmingly sells policies on the ACA individual marketplace.  It has sold a lot of policies and lost even more money.  It IPO'ed in March 2021.  Since then, the stock price has declined by roughly 90%.  Its strategy through 2022 has been to price low and buy membership to hopefully achieve scale.  At some point their self-proclaimed awesome special sauce of member engagement leading to member reported intermediate outcomes mixed with regular claims and purchased data blended in a huge vat of logistic regressions would do something and profit would eventually result.
There have been several other insurers with this concept.  Bright blew up.  Friday pulled out of Texas because the regulators told them to do so.  It is a hard bet to play.  OSCAR has a better capital cushion than Bright and Friday.
But it also has nervous regulators.  Nervous regulators are very cautious regulators.  Florida's regulators have an institutional scar of watching insurers blow up so they get very titchy when there is any doubt about an insurer's condition.  Those regulators in Florida have taken action: (h/t Jenny Chumbley)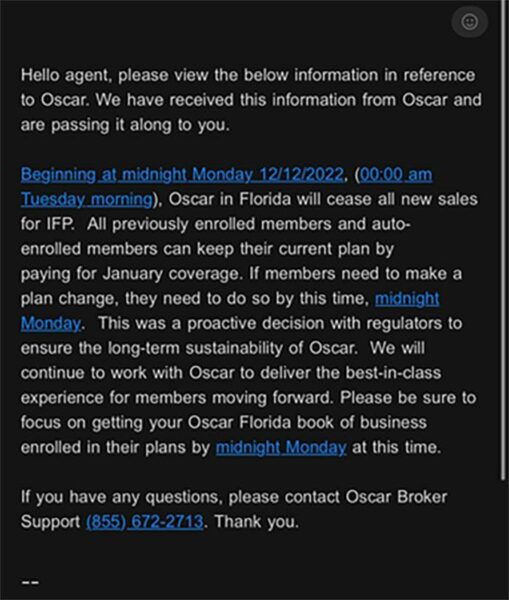 What does this mean in Florida?
For consumers who are already OSCAR customers or who are being automatically re-enrolled into OSCAR, it does not mean a lot.
For people who want to buy OSCAR, there is 15 hours to do so.
What does this mean outside of Florida?
Not much except for the nerds and finance folks….
More generally, it means that regulators are looking at the enrollment numbers for OSCAR in Florida and looking at the capital cushion/reserve situation for OSCAR in Florida and are getting worried that if OSCAR is pricing at a loss (and they likely aren't pricing at a large profit margin) there might not be enough reserves to cover all losses if OSCAR continues to sell in the busiest 3 days of the Open Enrollment Period (REMINDER — CHOOSE YOUR PLAN BY 11:59PM DECEMBER 15 (THURSDAY))
Enrollment in the last several days of the January 1st deadline period (right now) tends to be healthier and younger and cheaper.  Usually that would be a good thing.  However, it also means that these enrollees generate massive risk adjustment payable obligations.  For some insurers, that is fine.  However, OSCAR has a strategy that leans heavily into paying out massive risk adjustment, so if they pick up an even healthier cohort than the rest of their book of business, their incremental risk adjustment pay-outs are higher.  Now if some of those incrementally really health late enrollees go elsewhere, OSCAR's risk profile gets a little closer to the state average and their pay-out obligations likely decrease.
Pulling back a step, I wonder if some of this is a second order result of Bright blowing up?  If I am estimating the automatic re-enrollment crosswalks correctly, OSCAR is getting a whole lot of the healthier than average membership from Bright in SE Florida (Miami-Dade, Broward, Palm Beach Counties etc).