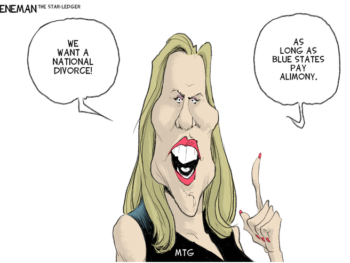 I am a patriot, which is why I intend to drag conservatives into the 21st century whether they like it or not https://t.co/Xm90feLQ0s

— chatham harrison is tending his garden (@chathamharrison) February 20, 2023
Many, many people have pointed out that this idea was field-tested in the 1860s, and failed miserably. Others have made clear that 'I want to keep everything the same in my current nice life, but I don't want to do all the dreary onerous stuff required for that' isn't much of a plan. But MTG seems to be voicing (pitching) a somewhat more specific complaint: Not only are people allowed live their lives in ways she doesn't approve, but she can't block those people from visibility any longer!…
… Greene, who has been touting the idea since 2021 when she wanted to halt "brainwashed" Californians from moving to states like Florida, is gaining new attention for the concept, now that she has become a close ally of House Speaker Kevin McCarthy and a member of the House Homeland Security Committee…

"Everyone I talk to says this. From the sick and disgusting woke culture issues shoved down our throats to the Democrat's traitorous America Last policies, we are done."

"The last thing I ever want to see in America is a civil war," she told Sean Hannity. "No one wants that — at least everyone I know would never want that — but it's going that direction, and we have to do something about it."

On conservative commentator Charlie Kirk's show on Tuesday, Greene laid out another part of her proposal: allowing red states to block Democrats from voting if they came from a blue state.

"Red states can choose in how they allow people to vote in their states," Greene said. "What I think would be something that some red states could propose is: well, okay, if Democrat voters choose to flee these blue states where they cannot tolerate the living conditions, they don't want their children taught these horrible things, and they really change their mind on the types of policies that they support, well once they move to a red state, guess what, maybe you don't get to vote for five years."….
Yes, but also the dynamic is like Jews, or "witches," in that hillbillies are afraid the queers will steal &/or corrupt their children. The actual Enemy in question is always secondary to that abiding anxiety https://t.co/XSHP0Jc0zW

— chatham harrison is tending his garden (@chathamharrison) February 22, 2023
The fear / resentment of The City luring innocent young rural folk into its clutches is probably as old as the concept of cities. But in America, there was a definite uptick in such ressentiment during the prelude to the Civil War — elitist / immigrant / weakly 'Northerners' forcing their depraved habits on fine Southern keepers of the Jeffersonian tradition. There was a another wave of 'These wily city folk must be resisted at all costs' public media sentiment during the First Gilded Age, when postwar economic and technological changes made it both easier and more common for ambitious young rural inhabitants to move away from 'home' and remake themselves.
MTG sounds a lot like the small-town civic leaders Mark Twain and Finley Peter Dunne mocked… and she's got additional sources of frustration. It's not only practically impossible to home-school the offspring sufficiently strictly that they won't eventually discover TikTok and Black / LGBTQ+ Twitter, but the Ones Who Get Away no longer disappear into a cloud of rumor and gossip; the Bad Girl, the Sissy Boy, the troublemakers are all over social media, utterly failing to understand the good Christianist values of shame and secrecy. And even inside the suburban boundaries, Those People are forcing their oppressive 'tolerance' and 'inclusivity' on those — like MTG — who consider themselves entitled to set the standards of decent behavior. One hastily-uttered slur, one thoughtless assessment of a newcomer's social status, and suddenly you're the one being judged!
If you really want to understand the roots of rage in the red states, think about how much time people in those states spending think about cities and blue states. Now considcer how little time anyone in those places spends thinking about what goes on in, say, rural Alabama. /1 https://t.co/NmJUmxxccy

— Tom Nichols (@RadioFreeTom) February 20, 2023

Conservative curmudgeon who grew up in a working-class urban environment:
In part, as I explain in my last book, it's because people now have an *awareness* of how other people live, and the dominant culture in America is rapidly becoming a coastal entertainment/ politics /etc culture. This isn't about money, it's about *resentment* /2

People on what is now called "the right" are obsessed with how people live in other places, and they are *furious* that no one cares how *they* live and basically would ignore them if they'd just leave other people alone (and respect their rights as Americans). /3

And so Blue culture reporters go and trek to the East Jesus Pancake House to let people vent about lib'ruls and all that crap, when what America needs are buses taking people for walking tours of Boston and Chicago and yes, even San Francisco. (At least know what you hate). /4

We now live remarkably similar lives, rich and working class, North and South, Heartland and Coasts. But this is not about living or money, it's about *attention and respect*, and Red Staters are insanely angry that winning everything in 2016 produced none. In fact… /5

The past seven or eight years have produced the *opposite*, a kind of confirmation among many Americans that, as my pal @SECupp once said, the Forgotten Man was forgotten *for a reason*

lt wasn't supposed to be like this. Libs were supposed to be owned and contrite. /6

It's not about "tradition" or any of that hooey; most of these people couldn't explain any of that stuff for five seconds. It's about the sense that the dominant culture (and sure, there is one) just doesn't like or care about them very much./7
And, yeah, also:
Every single state that voted for Donald Trump in 2020 receives more federal dollars than it contributes. Every. Single. Goddam. One. Fund. Their. State. Budgets. With. Money. Paid. By. Blue. State. Taxpayers. https://t.co/zPQVVrPk61

— Jeff Timmer (@jefftimmer) February 23, 2023