Remember the days when TBogg used to refer to Erick Erickson's still-very-downmarket CPAC shindigs as 'Tragic: the Gathering'?
Murphy the Trickster God willing, it may yet return to its natural status as a grooming site for young ultra-conservative lobbyists and podcasters. Many people are saying!
GOP stars flee CPAC: DeSantis, McCarthy, Pence, McConnell, Youngkin all staying away. https://t.co/1wPoaKHZlk

— Jonathan Allen (@jonallendc) February 27, 2023
Nobody with actual hopes for higher office wants to risk being in camera range if (when) the CPAC audience start shouting the 14 words, or one of the keynotes speakers sets fire to a cross…
Many of the Republican Party's marquee players — including Florida Gov. Ron DeSantis, former Vice President Mike Pence and the top GOP leaders in Congress — will skip this week's Conservative Political Action Conference in Maryland, dealing a significant blow to the annual gathering's stature.

The abandonment of CPAC, which runs from Wednesday through Saturday, comes as its chairman, Matt Schlapp, defends himself against a lawsuit alleging that he fondled a male aide to then-Senate candidate Herschel Walker in Georgia in October, without the aide's consent…

Despite the mass exodus, the party's most dominant figure — former President Donald Trump — plans to speak at the conference late Saturday afternoon, according to his spokesman, Steven Cheung.

None of the politicians declining to attend have cited the allegations as the reason for their absence, but several Republicans who spoke on the condition of anonymity said it is a factor in the broader movement away from the conference…

There is a sense among some Republicans that the conference was becoming more of a chore in recent years, said a veteran GOP operative who is not attending this year and asked to remain anonymous to speak candidly.

"Someone said to me, 'We all wanted an excuse not to go, and Schlapp gave it to us,'" the operative said.
DeSantis, who has been in demand across the country as he appears to be gearing up for a potential 2024 presidential campaign launch, will be in Texas for GOP dinners in Houston and Dallas, as well as in California.

The list of luminaries skipping CPAC is long and prestigious: Republican National Committee Chairwoman Ronna McDaniel, House Speaker Kevin McCarthy of California, Senate Minority Leader Mitch McConnell of Kentucky and Virginia Gov. Glenn Youngkin are among them.

A person familiar with the plans of McDaniel, who has spoken at CPAC before, declined to elaborate on the reason for her absence this year. In the past, the RNC has also been listed as a sponsor of CPAC; this year, it is not.

McConnell, notably, has not attended the event in recent years. The crowd booed him in 2021, when former President Donald Trump took a dig at him in his CPAC speech.

McCarthy will be out of town, an aide said…

Former U.N. Ambassador Nikki Haley, who recently launched her presidential 2024 bid, still plans to attend, an aide confirmed. Other speakers on the agenda include Sen. Ted Cruz of Texas, former Arizona gubernatorial candidate Kari Lake and Rep. Elise Stefanik of New York.

The conservative Club for Growth will hold its annual donor retreat in Florida this week at the same time. DeSantis, Pence, Haley and others are scheduled to speak at that event; Trump is not.
(Remember, the Club for Growth is for people who have money. CPAC is for people who want that money.)
Republican politicians are aren't avoiding CPAC because of fear of @mschlapp's schlong, its fear of being photographed with card carrying nazis, the new base of the modern Republican Party.

— Rachel Bitecofer 📈🔭🇺🇲🇺🇦 (@RachelBitecofer) February 28, 2023
The Washington Post (gift link) has a long retrospective on Matt Schlapp's career, if you have the stomach for it — "As CPAC's head faces sexual assault claim, other leadership concerns emerge":
For nearly a decade, Matt Schlapp has captained the blockbuster Conservative Political Action Conference, bringing together influential figures on the right and establishing himself as a key voice in former president Donald Trump's movement. Those powerful allies rushed to his defense when Schlapp was anonymously accused in early January of sexual misconduct by a GOP campaign aide…

But as Schlapp rebuffs the allegation by a former staffer from Herschel Walker's Senate campaign in Georgia, who says Schlapp groped him during an Atlanta trip last fall, dozens of current and former employees and board members interviewed by The Washington Post described a wider range of complaints about the longtime Republican power broker and CPAC's culture under his leadership…

With CPAC readying to welcome Trump back to its flagship annual gathering in D.C. this week, Schlapp is facing multiple challenges, including the exodus of more than half of its staff since 2021, according to the current and former employees and board members. Some expressed concern that Schlapp has given an inexperienced contractor too much influence. One former employee notified the U.S. Equal Employment Opportunity Commission last month of plans to sue over claims that she was fired in retaliation for complaining about a co-worker's sexist and racist comments.

"The culture was toxic," said the former communication director, Regina Bratton, in an interview. "From my perspective, he acted like a bully."

The current turmoil comes as CPAC grapples with corporate backlash over its embrace of the far right and concerns about a potentially lackluster turnout this year as Trump's political future appears uncertain. The Fox Nation streaming service is not returning as a sponsor, and Florida Gov. Ron DeSantis, an ascendant figure in the Republican Party and Trump's emerging rival in the 2024 campaign, is skipping it…

As CPAC's flagship event in the Washington area kicks off Wednesday, ticket sales are lagging from past years, prompting price cuts, giveaways and a special rate offered to congressional staff, according to people familiar with the event's inner workings who spoke on the condition of anonymity to discuss confidential information. Many high rollers who have in the past bought the conference's biggest premium packages have not registered this time.

This year's theme is "Protecting America Now," warning of the threats posed by open borders, crime, inflation and the radical left. In recent interviews with conservative outlets, Schlapp has threatened to bar unfriendly media. The lineup will feature some of the most incendiary figures on the far right, including Rep. Marjorie Taylor Greene (R-Ga.), former Brazilian president Jair Bolsonaro, whose supporters stormed government buildings after he lost reelection in 2022, and Arizona Republican Kari Lake, who refused to concede her defeat in the 2022 governor's race.

Schlapp has turned CPAC into a global brand, with events last year in two states and six countries. With his lobbying income declining after Trump left office, Schlapp received a $150,000 payment in 2021 for "business services," and he started receiving annual compensation of $600,000 in mid-2022, according to tax documents and people familiar with the organization's finances. The organization's chairman is traditionally an unpaid volunteer. Schlapp's wife, former Trump White House aide Mercedes Schlapp, is also on the payroll and received $175,500 for "strategic communications" in 2021, tax records show.

"CPAC used to feel like you were part of something that really mattered and what conservatism means," said Ross Hemminger, who worked for Schlapp when he first became ACU chairman. "It's gotten so nutty. … It's a pep rally for Trumpism, with Schlapp as captain of the cheer squad."…
CPAC rolls on, but the Schlapp scandal has kept some people away this year. Trump aides reject idea it is smaller or less significant than it was, as he's poised to make one of his few appearances since declaring his campaign https://t.co/SjVdko2OL7

— Maggie Haberman (@maggieNYT) March 1, 2023
Mar-A-Largo's court reporter, Ms. Haberman, verifies the accusation:
For decades, the Conservative Political Action Conference occupied a center ring in Republican politics.

In 1974, Ronald Reagan used the inaugural event to unveil his brand of optimistic conservatism, describing a "city on the hill" to the conservative activists. In 2010, libertarian supporters of Ron Paul lifted their candidate to victory at the event's presidential straw poll, an early harbinger of the Tea Party upheaval that would soon shake the party. And in 2011, a Manhattan businessman walked onto the stage to the tune of "For the Love of Money," declared himself an opponent of abortion and began a yearslong takeover of the Republican Party.

That businessman, Donald J. Trump, will be back at the four-day conservative gathering known as CPAC this week near Washington. He'll be joined by a long list of right-wing media provocateurs, culture-war activists and a smattering of senators. Missing from the agenda: many of the Republicans seen as the future of the party.

When Mr. Trump became leader of the Republican Party, he remade the conference in his political image. Now, as the party's voters, donors and officials consider a future that may not include Mr. Trump as their leader, some Republicans say the decades-old CPAC gathering has increasingly become more like a sideshow than a featured act, one that seems made almost exclusively for conservative media…

Since Mr. Trump became the leader of the Republican Party, the confab has become less focused on traditionally conservative issues and intraparty debate. Past CPAC events featured a series of panels amounting to a recitation of the cultural grievances that animated the party during the Trump administration. Despite underperforming in the midterms last year, there is little time scheduled for soul-searching over why Republicans have struggled in the last three election cycles — and how to change that trajectory in 2024. The answers to those questions, in the minds of senior Republicans, often lead to Mr. Trump…
"The people that lose. Insurrectionists, weirdos, and freaks. Mr. Pillow's coming, too." Joe Scarborough rips CPAC to shreds. (Video: MSNBC) pic.twitter.com/Sj8ja6xZRM

— Mike Sington (@MikeSington) February 28, 2023
Also, per the Post Millenial, ex-Project Veritas employee JO'KeefeIII:
CPAC founder Matt Schlapp has announced on Monday that Project Veritas founder James O'Keefe, who was ousted after what appeared to be a Board of Directors coup last week, will be speaking at this week's CPAC in Washington, DC.

Schlapp was speaking to War Room's Steve Bannon, when he made the announcement, "James is gonna come," he said…

"I've been talking with James, James is going to come! So a War Room exclusive, if you want to come root on not only all of us who get the sharp end of the stick and the horns from the left, but James O'Keefe is really getting it.

"And I think we all need to be there for James and I think everyone's gonna want to hear what he has to say."…
Not least among those listeners, the IRS. Maybe the FBI?
Unretouched photo from last year's CPAC: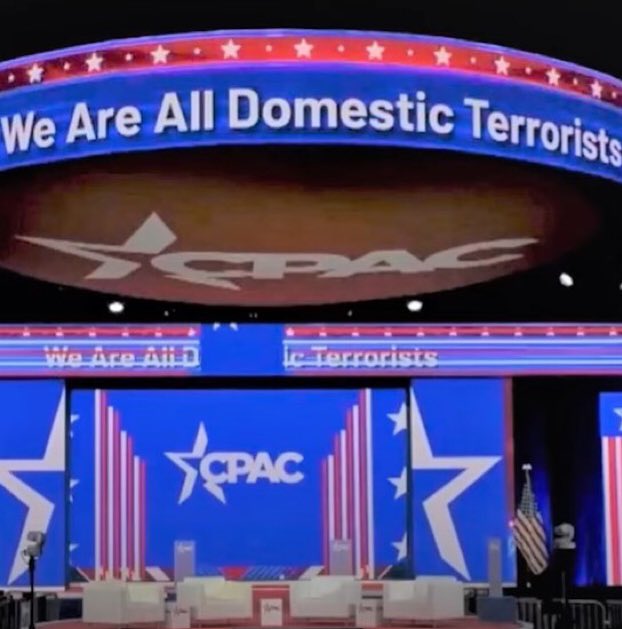 What are the odds some 'prankster' (traditionalist) will find the old stash and start handing these out again?
Little flashback for y'all.

Some glorious troll handed these flags out at CPAC in 2017. People waved them around for hours.

But back then, the organizers realized after a few hours what these were, and that it looked REALLY bad, and ran around confiscating them. pic.twitter.com/eV2tSmUQxM

— Al Peṭṭerson (@eyelessgame) February 24, 2023
And the Great GOP Bifurcation continues. On one hand, the MAGA loyalists and Reich-wing lifers; on the other, right-wing politicos who still believe there's a career to made by winking at 'both sides' voters who just want "bipartisanship" (defined as 'political choices that won't inconvenience me, even as far as causing actual facts to cross my purview'). As ever, rooting for injuries!