Is it just me, or does this not seem like a photo for our time?
Not just in Tennessee, but everywhere in this country.  White man with the power and position and all the trappings.  Arms folded, standing his ground against, well, everything.  Looking like he has a cob stuck up his behind.
Wait, what?  Who's this guy?  He has no right to be here!  He doesn't know his place!  He has no right to challenge me!  They must be stopped!  WHO DO YOU THINK YOU ARE?
They think we are photo bombing their nice little lives, their nice little white power structure, their status quo.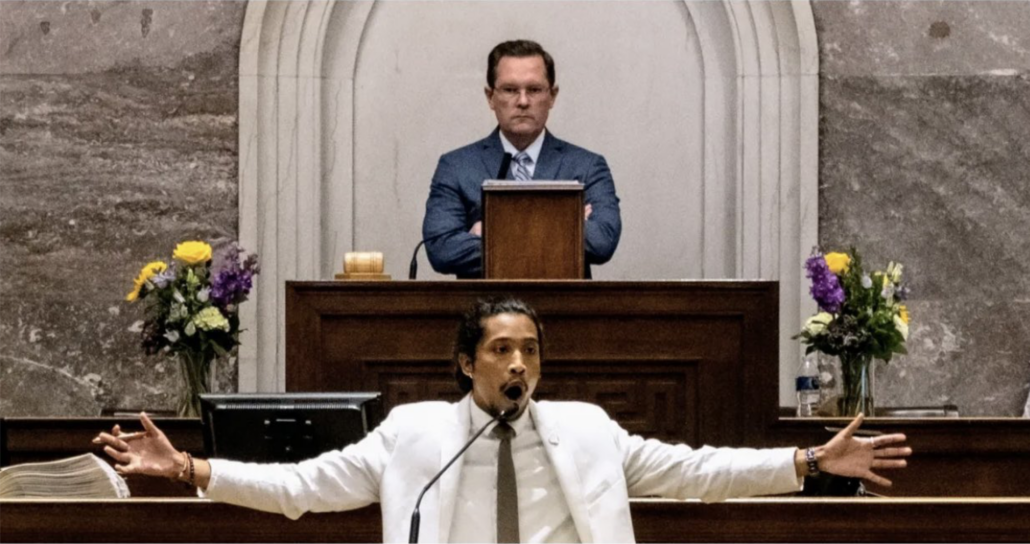 All of us.  Black.  Female.  Gay.  Different.  Open to people who are different.  We are a huge threat.
Hopefully the iconic photo for our next phase is the white guy in the suit, with the folded arms and the angry look, lying on the ground near the podium, throwing a literal temper tantrum with arms and legs flailing, like a child in the grocery store.
And, hopefully, the one after that will be the adults (Democrats and sane people) walking him out of the store.   If one of you guys have the skills to put that guy on the ground, flailing in a temper tantrum, in front of the podium, in a photo, video or animation, I will be forever grateful.
Wow. What a photo. pic.twitter.com/6w7TBB7j8d

— Keith Edwards (@keithedwards) April 13, 2023
Open thread.