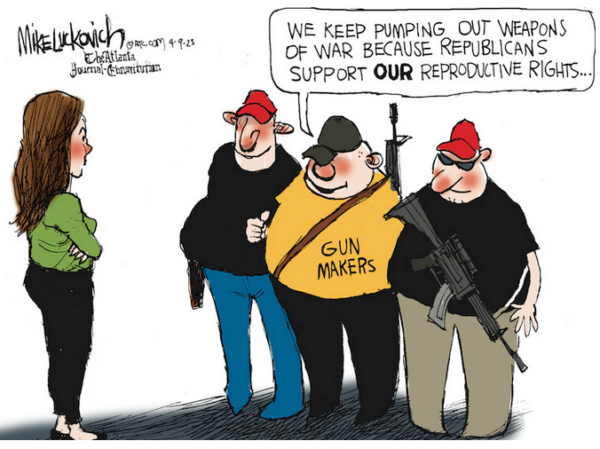 Protesters gathered in front of the convention center this morning in response to the NRA meeting. The "Body Count" protest honored the lives of children lost to gun violence.

Over 1600 names were called of those lost, while protestors laid down as a demonstration. pic.twitter.com/BJHJz7drb4

— WRTV Indianapolis (@wrtv) April 15, 2023
Kristi Noem says the NRA isn't just a bunch of old white guys.

CSPAN cuts to NRA audience made up of old white guys. pic.twitter.com/UGfjmB7WjA

— Heidi (@HeidiOCanada) April 14, 2023

To be fair, there are also a couple of young white guys, and at least one young woman (probably there to make sure Granpa doesn't wander off and get lost).

Gov. Kristi Noem (R-SD), addressing the NRA-ILA Leadership Forum, says her nearly 2-year-old granddaughter "already has a shotgun, and she already has a rifle." pic.twitter.com/d7V4Kslmo3

— The Recount (@therecount) April 14, 2023

The kid also, I suspect, 'owns' at least one Bible (the other essential token of clan membership), and she's never left unsupervised around that either.
Wayne LaPierre says at the NRA event that "gun hating politicians should never go to bed unafraid of what this association and all of our millions of members can do to their political careers" ?? pic.twitter.com/UzQSHJkZU4

— Aaron Rupar (@atrupar) April 14, 2023
Predictably, a GOP casting call took place.
nightmare rotation pic.twitter.com/w0iUQrNsXC

— Aaron Rupar (@atrupar) April 14, 2023
DeSantis is doing a video message to the NRA forum instead of being there in person. Low energy. pic.twitter.com/mfXe2SZ1jG

— Aaron Rupar (@atrupar) April 14, 2023
Chris Sununu's jabs at Trump (who he does not name) at the NRA forum are being met with complete silence pic.twitter.com/uaYeQvOBYz

— Aaron Rupar (@atrupar) April 14, 2023
this is apparently an applause line at the NRA forum pic.twitter.com/i1701TMmVy

— Aaron Rupar (@atrupar) April 14, 2023
unvarnished fascism pic.twitter.com/nM843T7DKH

— Aaron Rupar (@atrupar) April 14, 2023
Been a while since I listened to Dolly's version of the Woodie Guthrie classic…