On the Road is a weekday feature spotlighting reader photo submissions.
From the exotic to the familiar, whether you're traveling or in your own backyard, we would love to see the world through your eyes.
Uncle Ebeneezer
In the Fall of 2019 we had a trip all lined up, planned and booked to visit the Yucatan Peninsula and more specifically, the capital city of Merida, Mexico but unfortunately the health of our beloved doggy Juniper (who you can see on the Balloon Juice Pet Calendar) was starting to go South so we ended up having to cancel, knowing that we would be unable to enjoy a week away and would be constantly worrying about her.  Then a little thing called Covid happened which basically killed our desire to do any long flights for the next couple years.  We finally decided that 2023 would be the time to finally pull the trigger on our Mexico trip and timed it to coincide with my wife's birthday.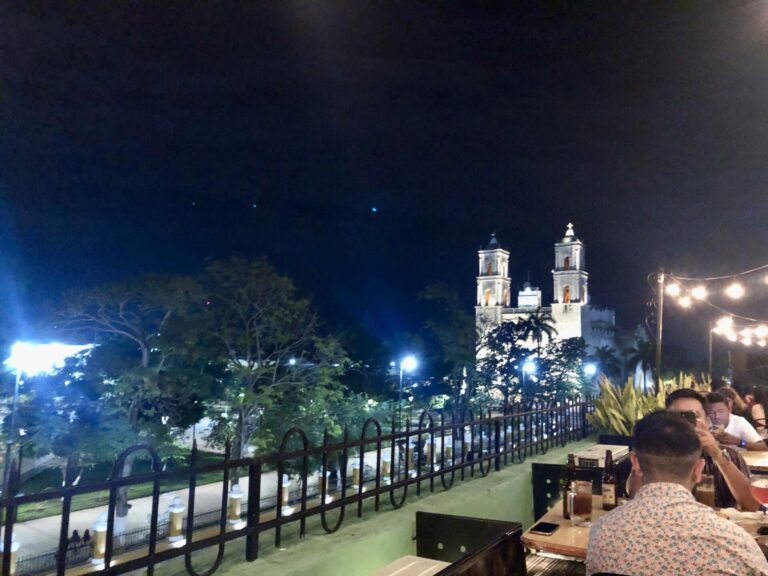 Valladolid, Mexico
January 7, 2023
— Travel Nightmare You May Want to Skip —  After a lengthy but pretty easy flight we landed in Cancun and that's where the headaches began.  After waiting FOREVER in a crowded line in the airport, we got scammed into paying way more than we should have on drivers insurance for our rental car (Hertz).  Then we waited for an hour in a very hot, very muggy parking lot with five billion other people, all waiting to get our cars and nobody having any idea what the hell was going on.  It was especially frustrating because it was already 9 pm and we still had a 2 hour drive to Valladolid.  We had been told that we could get pesos at the airport through a bank that is connected to our own bank in the US, without charge, but the ATM's at the airport (at least the ones that we passed) were all out of order.  We were also told by the guy at the Hertz counter that the toll roads would take US dollars (they don't).  Once we finally got our car we drove around Cancun for almost an hour trying to find someplace with an ATM where we could get pesos, because our cell phone maps were giving us completely useless directions.  The ATM's didn't have pesos.  Once we finally got to the toll road, they refused to let us on because we didn't have pesos.  We had to wait for a car behind us to make change for our US dollars which was really frustrating since we still hadn't eaten dinner, were exhausted and had a long drive ahead of us.  The toll road (180) was also under major construction so that the entire, 90 mile drive was through a maze of concrete barriers with the speed limit repeatedly dropping down to about 40 mph almost every other mile.  It was one of the most exhausting drives I have ever done in my life and we were both on our last nerves until we finally arrived in Valladolid at almost midnight. It was like Mexico was telling us "Bienvenidos, and GFYS, Colonizers!" lol — End of Travel Nightmare —
Once we finally arrived in Valladolid our spirits immediately lifted.  The man working the front desk at our hotel was super nice and told us we could easily get something to eat at the main central plaza.  I wanted some grub and a drink on a rooftop bar.  Mexico has stunning plazas, usually highlighted by gorgeous cathedrals so for this whole trip I was kind of obsessed with the idea of us chilling in such a luxurious and (for us) exotic environ.  Exhausted and starving, we finally got to one with a view overlooking the plaza and the San Servacio Church.  Sadly, I just learned that the church was built with the stones from a large Mayan temple that used to stand in the center of the plaza but was destroyed by Spanish conquerors :(  Unfortunately we also learned (multiple times on this trip) that rooftop bars kind of suck.  Sure, the views are spectacular, but the food and drinks are very pricey and not particularly good.  We had some tacos that were just OK and a beer and then went back to our hotel to crash.  We had a very long guided tour the next day that was going to pick us up early so we wouldn't even have a chance to eat breakfast.  All we had was Trader Joe's scones that we had brought from home, that had been mashed up from being in our luggage.  We were so burnt out from the travel and challenges that we both went to sleep hoping the next day would be better.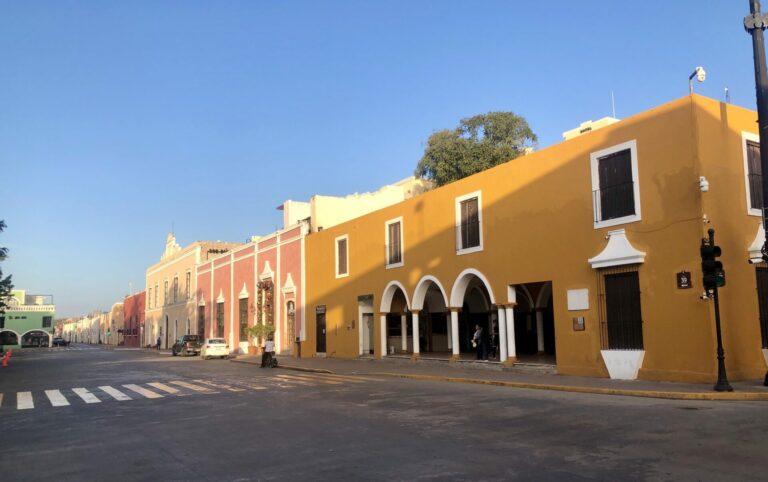 Valladolid, Mexico
January 8, 2023
Our first morning in Valladolid, I had to get up to walk to an ATM to get more cash before the bus arrived for our long day tour.  I was immediately struck by the incredible and vibrant beauty of the colonial architecture in the city of Valladolid.  Everywhere you look it's just color, color and more color.  And it's a fairly small city with only 48K people and a very walkable center.  If we ever go back to the Yucatan we definitely will want to spend more time in Valladolid.  It's a much more mellow city than Merida, though they both have there charm and features.  The next two posts will detail our sight-seeing trip, but for the rest of this one, here are some more pix of Valladolid.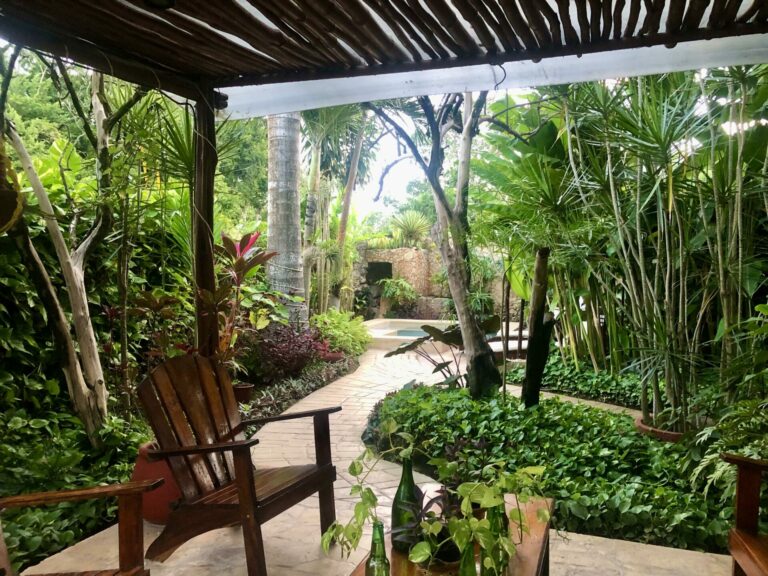 Valladolid, Mexico
January 9, 2023
Our hotel in Valladolid was La Casa Tia Micha, a lovely little boutique hotel just spitting distance to the central plaza.  I didn't get any pictures of the rooms (we stayed in the Superior Room, naturally) but the courtyard and outdoor patio restaurant was really lovely.  In the morning all you could hear was the sounds of the jungle just on the other side of the hotel fence.  Aside from the handful of beautiful cities, the Yucatan is still predominantly jungle in every direction.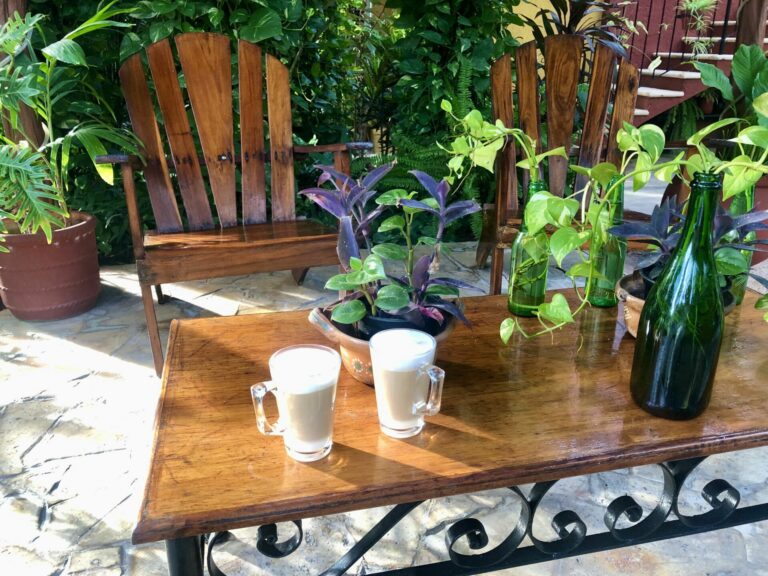 Valladolid, Mexico
January 10, 2023
After another very long day on a sight-seeing tour the next morning we finally got to enjoy some coffees and breakfast in the lovely outdoor space at our hotel.  The coffees were YUMMY!!!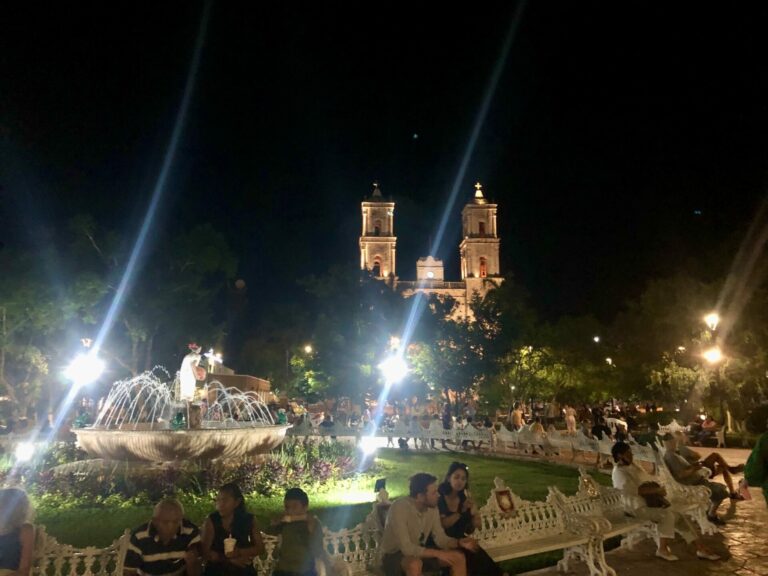 Valladolid, Mexico
January 9, 2023
On our second night in Valladolid, after an amazing day of seeing temples and cenotes and exotic animals (next couple posts) we finally had the opportunity to explore the city in the evening.  While the color of the colonial architecture is stunning by day, things really get moving at night when it starts to cool off a bit.  At the center of Valladolid is the Parque Principal Francisco Canton-Rosado which has lots of benches, street vendors selling churros, marquesitas and other delicious offerings.  At the center of the park is the fountain of "La Mestiza", an homage to the Yucatec women.  It's a really lovely park, especially at night.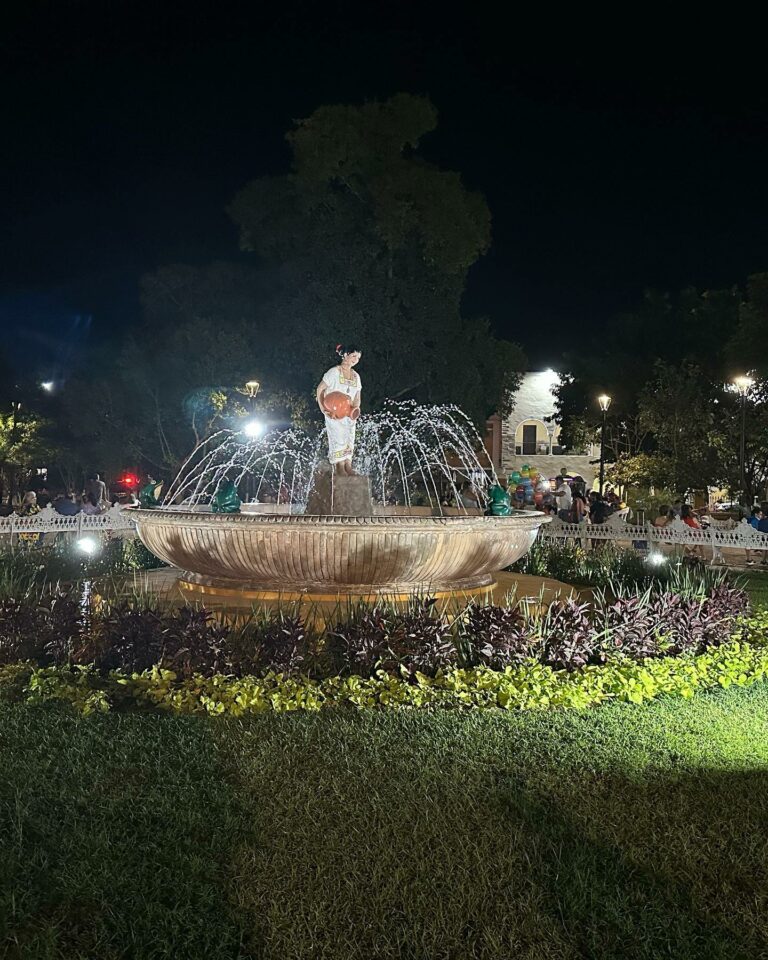 Valladolid, Mexico
January 9, 2023
"La Mestiza" doing her thing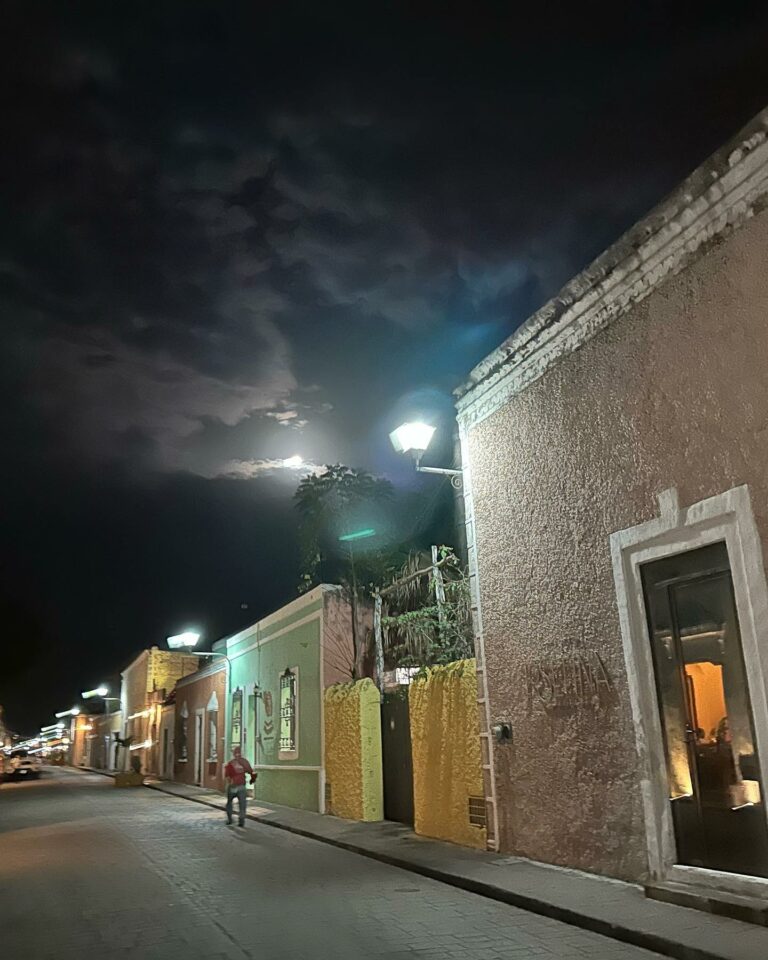 Valladolid, Mexico
January 9, 2023
Just South West of the park Valladolid has a road called La Calz de Los Frailes which is only open to foot-traffic (no cars).  It has numerous restaurants and shops, all with beautiful, colorful exteriors.  At night, it is a most enchanting place to stroll.  We headed almost to the end to a craft brewery for dinner and some local beers.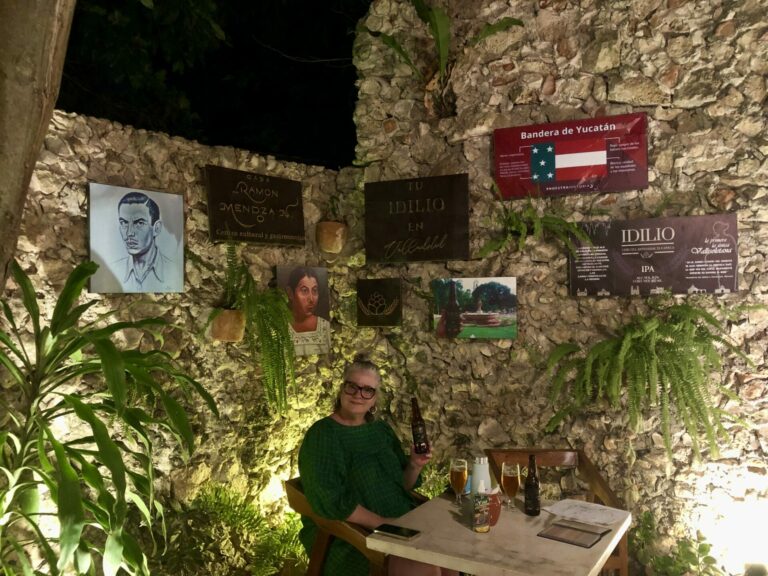 Valladolid, Mexico
January 9, 2023
Idilio Brewery was lovely and the beer was very good.  They didn't have a ton of beers but what they had was solid.  The food was also good and the atmosphere very nice.  But you definitely had to use the bug spray provided at the tables because even at night, the jungle sends its' mosquitoes.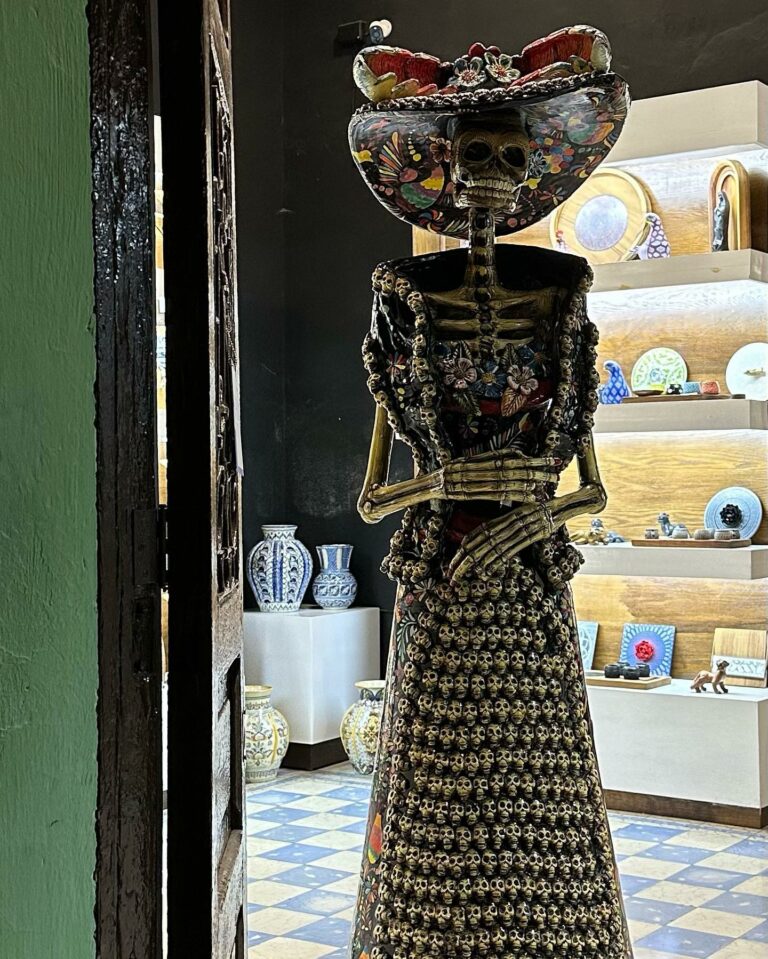 Valladolid, Mexico
January 9, 2023
After a decent dinner and some IPA's, we walked back towards our hotel.  In one of the shops this lovely Catrina bid us farewell before we would head out to Merida the next morning.  All in all, we absolutely loved Valladolid.  If you make a trip to the Yucatan it is a really great little city to visit.