On the Road is a weekday feature spotlighting reader photo submissions.
From the exotic to the familiar, whether you're traveling or in your own backyard, we would love to see the world through your eyes.
Dagaetch
In 2015 I took a break from real life and traveled for 6 months!
I started my adventures in Southeast Asia, specifically Thailand. While I have no regrets about starting there, and I ate extremely well, I had not yet adjusted to a 'road' mentality, and spent time more in cities going to tourist stops. I'd love to get back to Thailand some day and explore the country more. I also took a boat tour down the Mekong River into Laos.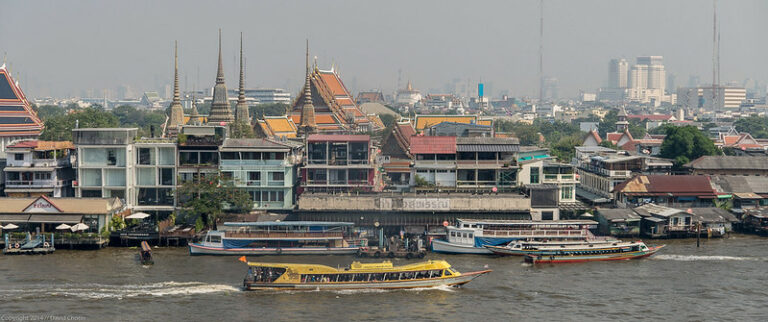 Bangkok, Thailand
My trip began in Bangkok. I was absolutely doing standard tourist stuff to start – guided boat tour, check out the temples, etc. I did get to dip my toes into the street food experience (yum), eased into walking many miles a day, and just adjusted to being halfway around the world in a very non-Western culture. Bangkok worked very well for that, it's an incredibly tourist friendly city that is easy to manage but also feels very different. A good starting point for a trip like this – but I also want to go back to experience it with a more practiced approach.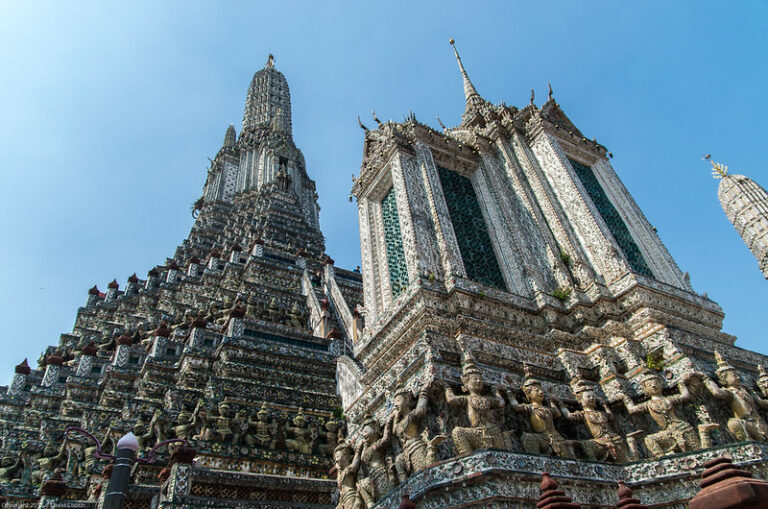 Bangkok, Thailand
I took a ferry across the Chao Phraya River (fare was 3 baht, or about 10 cents) to the Wat Arun complex, or Temple of Dawn. It's a giant tower that you can climb about half way up. The stairs, however, are deceptively tall. Each step is about 10 inches high, and there isn't much depth. I kept a very firm grip on the handrail and tried not to think about it. The temples were very impressive, and I enjoyed seeing monks visiting from other places taking tourist pictures.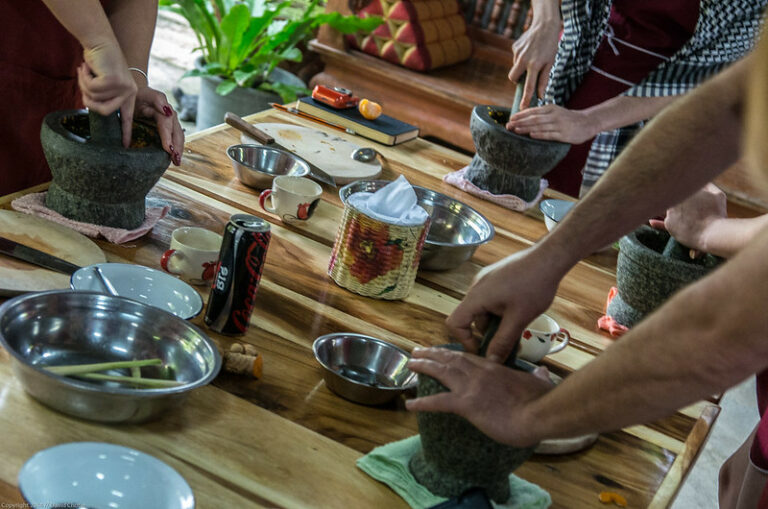 Chiang Mai, Thailand
I enjoy cooking and love Thai food, so it made perfect sense to take a cooking class! I was in Chiang Mai and went to Sammy's Organic Cooking, which was a multi-hour course at a beautiful farm (where Sammy was very proud of his outdoor toilet, as one is.) Sammy picked up the participants in town and took us all to the market, sharing brief lessons about ingredients and techniques. We then headed to his farm outside of town and spent a wonderful day making curry paste from scratch, Tom Kha Gai (coconut soup with chicken), Pad Thai, papaya salad, and mango with sticky rice. I ate every bite and had no regrets.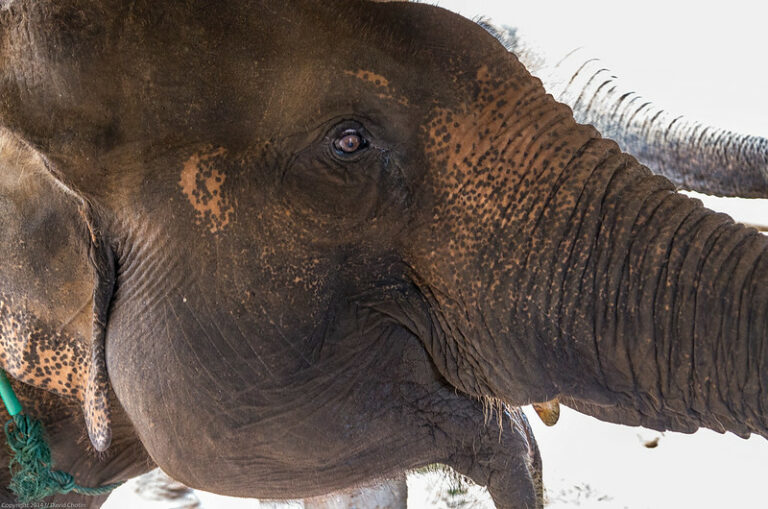 Ran-Tong Elephant Centre, Chiang Mai, Thailand
I made a friend! This is Mae Eloo (pronounced meh-E-loo), who was living at a camp for rescued elephants. She was about 40 years old, weighed 3.5 tons, and looooved bananas. I took a day trip to learn more and get a chance to play. We did ride the elephants – I thought I had done my research to make sure it wasn't bad, and it was bareback riding so there wasn't any kind of seat to cause her pain or lasting harm, but upon further reflection I probably shouldn't have. Ah well. Mae Eloo got a bit of revenge when we walked her into a pond for her bath and she immediately started rolling over, had to quickly dismount and got very wet!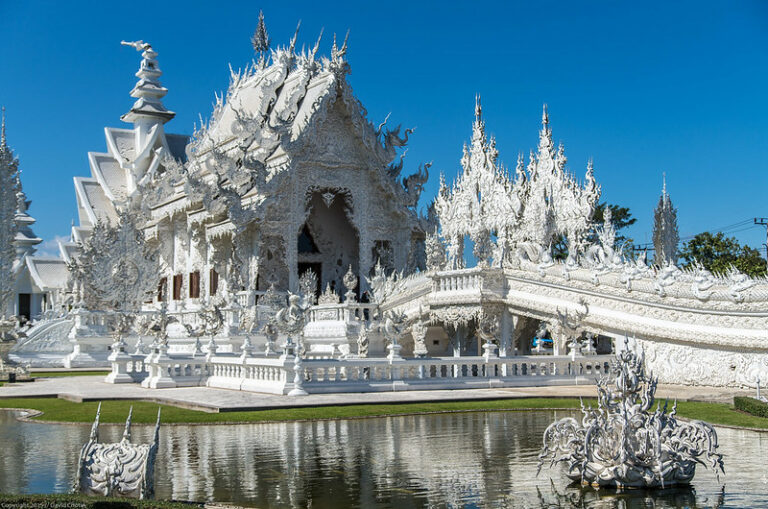 Chiang Rai, Thailand
Chiang Rai was very different from Bangkok or Chiang Mai; a more industrial town, it seemed to me? I didn't get to see all that much of it, as it's more spread out and a little harder to walk around. The only major sight I went to was the White Temple, which is…different. It's relatively new (started in the early 90's) and expected to take another 70-80 years to be completed as originally planned. The imagery is surreal – parking cones with skull heads, a garden of statuary hands grasping, trees with heads hanging in them. I think the theory is that, in order to achieve enlightenment, one must pass through a figurative Hell or something. Mostly, it was just strange.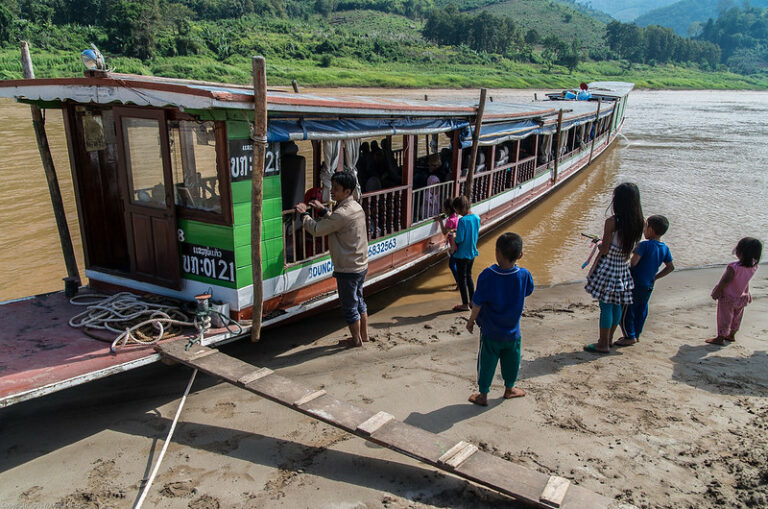 Mekong River, Thailand
After Thailand, I wanted to visit Laos, and rather than fly everywhere I decided to take a boat trip down the Mekong River. (You can drive as well, but I was warned that the road was terrible and it was unpleasant.) Speed boats are considered an excellent adventure if you have a death wish and a very strong stomach. I have neither so chose to take the slow boat, which takes two days including an overnight stop. The boat was surprisingly comfortable and came with a tour guide who shared information occasionally and was a big help getting you through customs at both ends.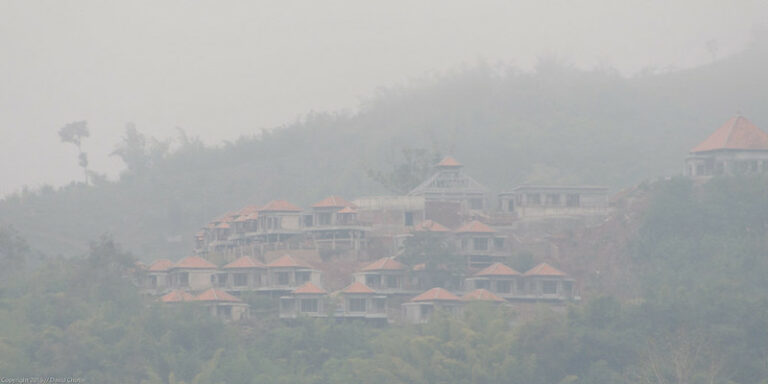 Mekong River, Laos
The river trip was actually delightful. I made some good friends, we learned a bit about local ecology (dams upriver in China had changed the river drastically over recent decades), and got a couple of opportunities to stop and wander on shore, including one brief village visit. The overnight stop was pleasant and we had good weather, so a very positive experience overall.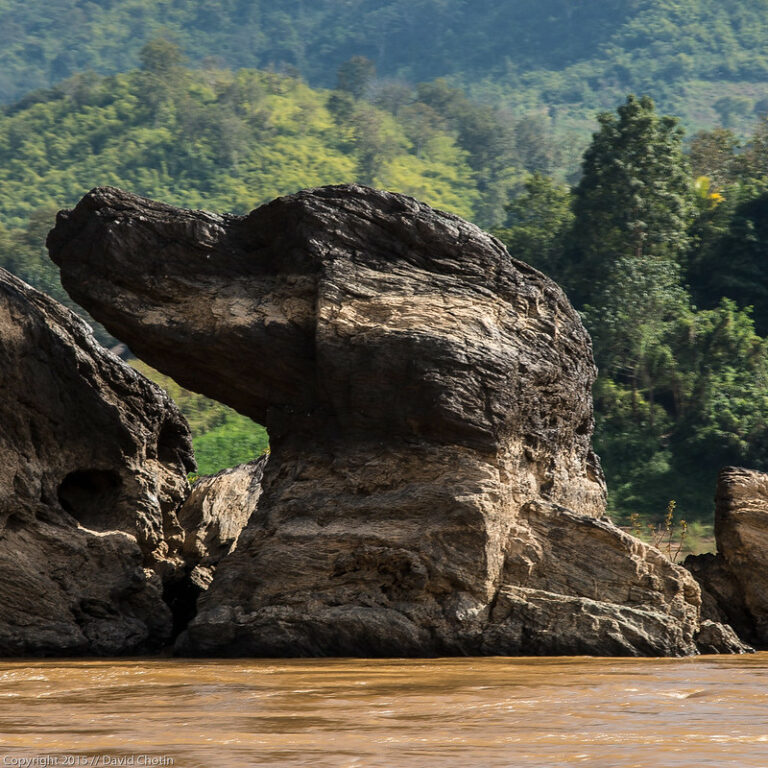 Mekong River, Laos
It's a rock. That looks like a dog. For some reason I figured the jackals would appreciate this :).
Luang Prabang, Laos
I hadn't really heard of this city before I began planning my trip, but it was a wonderful place. The relaxed pace and feel, the lack of crowds and 'pressure' (hawkers and the like) compared to Thailand and later Vietnam, and the delicious French influenced food all made it place where I felt completely at ease and comfortable. I wandered a lot, stopped at some local temples and other destinations, and generally had a delightful time.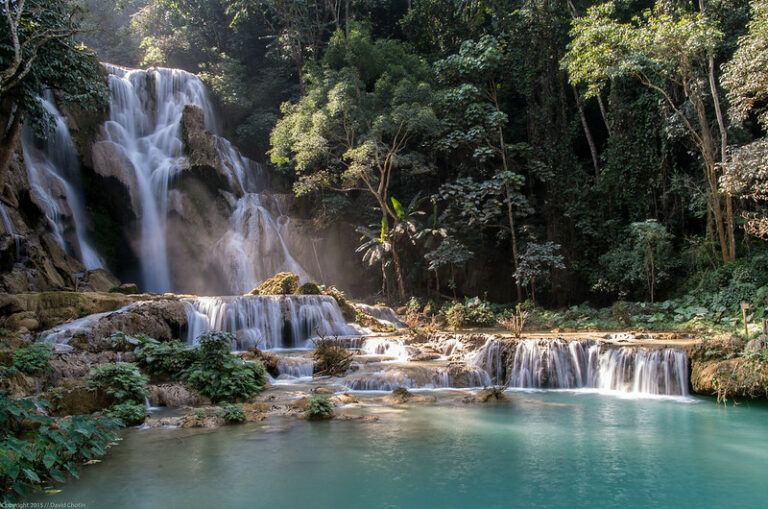 Kuang Si Falls, Luang Prabang, Laos
Outside of the city are the Kuang Si Waterfalls, which is a whole complex. There are many different levels of waterfalls, including this one which I absolutely loved. There was also an Asiatic bear rescue center in the area, where the bears had free rein and the humans stayed in a small protected area.