The promise of America is that we're all created equal and deserve to be treated equally.

While we've never fully lived up to that promise, we've never fully walked away either.

And on the best days – enough of us have the guts and the hearts to stand up for the best in us. pic.twitter.com/L2i8jieK4d

— President Biden (@POTUS) June 14, 2023
If there *is* a Friday Doc Dump, I'm not sure the weakest among us will survive!
heavens no, not a breach of the flag code https://t.co/NBD8os6qo8

— flglmn (@flglmn) June 11, 2023
The right hand doesn't know what the far right hand is doing. https://t.co/JyxQlwwhaz

— Matthew Sheffield (@mattsheffield) June 14, 2023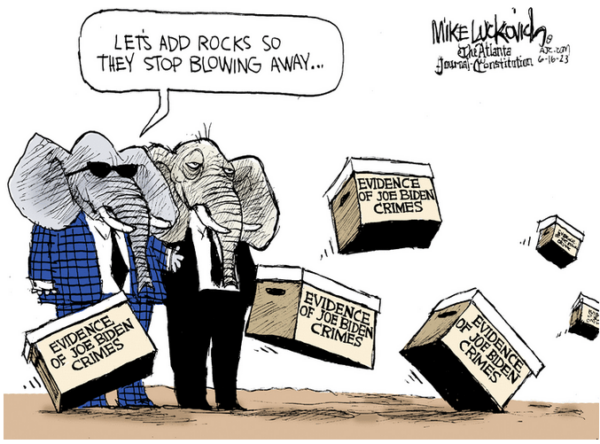 Today, President Biden blocked Congressional Republicans from repealing sensible standards that will prevent 3,000 premature deaths, 6,700 hospital and emergency room visits, and 18,000 asthma attack cases.

President Biden won't let Congressional Republicans take us backwards. pic.twitter.com/AkilSpD93n

— Abdullah Hasan (@AHasan46) June 15, 2023
.@VP Harris Rallies Black Voters, Warning of Threats from Extremistshttps://t.co/oSsMJH5o9x

— David Darmofal (@david_darmofal) June 14, 2023
CONFIRMED: Nusrat Choudhury to be a US District Judge for the Eastern District of New York!

She's an ACLU Legal Director and I was proud to recommend her to @POTUS.

She makes history as the first Bangladeshi American and first Muslim American woman to serve as a federal judge. pic.twitter.com/Mnpcgacljf

— Chuck Schumer (@SenSchumer) June 15, 2023
GOP: Biden is boring, low energy, near death.

Also GOP: Biden is like Tony Soprano combined with James Bond, running an international family crime syndicate so deviously and well that we can't even find evidence!

— Seamus Blackley (@SeamusBlackley) June 16, 2023
once again the biggest dividing line in our culture is whether or not you think your children are your property https://t.co/8SQH8LdsYa

— your himbo boyfriend (@swolecialism) June 15, 2023