My father was a great dad; a quiet, gentle, kind man who supported me and trusted me in all things.
When he died, instead of sending a big display of flowers, my godmother sent a single boutonnière for his lapel, with a card that said only "For a true gentleman."
I know everyone is not that lucky, and many of us who were that lucky no longer have our dads today. My dad died 28 years ago, and I still miss him.  The year my dad died, a big billboard for Father's Day that I passed every day said "Everyone has a father!"  When I passed it the first time I yelled "No they do not!"  And I cursed that sign until they took it down.
I remember that first year after both of my parents were gone – I would be in a restaurant and see people my age sharing a meal and a nice conversation with their parents and would wish I could tell them how lucky they were, and remind them to appreciate them no matter how annoying they might be at times!
We owned a neighborhood bar, which we called the tavern, and we lived upstairs so I knew all the customers from a very early age.  I was daddy's girl, and I used to hang out with my dad in the little workshop we had downstairs.   He was always working on some project, and he had a million little inventions.  As I type this post, my neighbor is running his saw, working on some project, and I can smell the wood from here, and it's taking me back in time.
My dad wasn't perfect, of course.  What mattered is that I loved him unconditionally, and he felt the same way about me.
My dad was quite dapper, and as kids, we 3 girls thought of him like Cary Grant.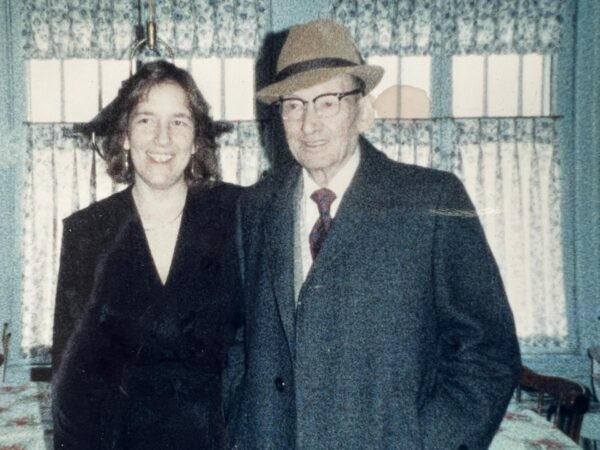 My dad was quiet, maybe because when you tend bar all day long you get enough of people and conversation. :-)  But he wasn't wimpy!  The year after my mom died, I broached the subject of my dad possibly meeting someone and getting married again, trying to let him know that I was good with whatever he wanted.  He turned to me and said "What would I want do to that for?  I finally get to do whatever I want!"
Okay, then.
Alison Rose lost her father this year, and I am sure she is not alone in that.  Of course, some people have never known their dads, some have father figures that are 10x better than their biological parent, some are surely ultra MAGA, which has to be hard.  In my group at the University, we used to say that you could put 10 IT people in a room together, and you would get 11 different opinions.  I imagine the same is true of people and their dads.  Put a million people in a room and they surely have had a million+ different experiences with their parents.
Anyway, feel free to share about your dads, whether it's love or gratitude or rage and disappointment, or even indifference.
Or not!  As always, open thread, so talk about soccer or whatever you want.