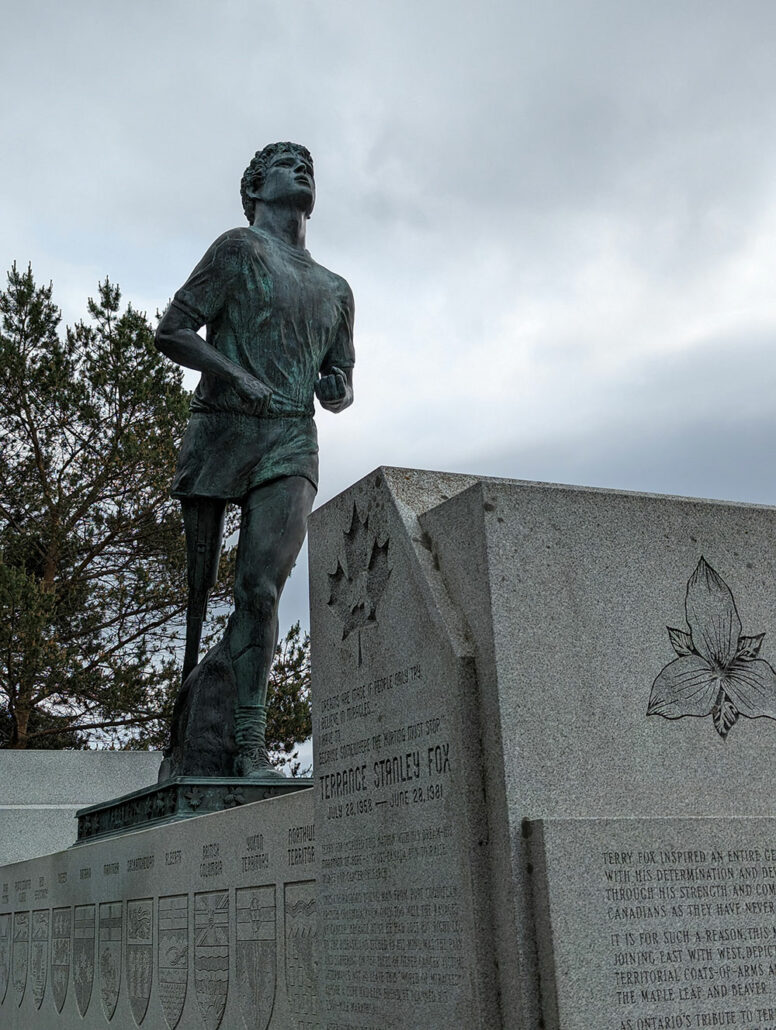 Since I haven't written a word here in months I thought I'd check in quickly just to say that I'm alive and well. We cleaned out and sold our house of 25 years during the time I've been away, which involved a pretty major downsizing. Anyone who's gone through that experience will tell you that it is a real pain in the ass, and we were fully occupied for months.
Now, we're traveling from Rochester to the Dakotas via Canada through western Ontario. The picture above is the Terry Fox statue which is on a hill just east of Thunder Bay. Terry had to stop his run across Canada a few miles east of the statue due to a recurrence of the cancer that had already taken his leg. I struggle to imagine a figure in recent US history that is as widely loved and respected as Terry Fox.
Unfortunately, Canada has its set of MAGAts — the ones here tend to sport stickers on their cars that say "Fuck Trudeau" along with stylized maple leaves giving Justin the finger. Since he's a widely beloved icon, some of the asshole right-wingers who occupied Ottawa had to deface Terry Fox's statue there with anti-vax propaganda. Fuck them.
Aside from those few exceptions, Canada remains the welcoming place it always has been. Thunder Bay Pride was yesterday, so we went to a drag show last night. It was, well, about what you'd expect for a drag show in a small town which only started crowing a "Miss Thunder Bay" a few years ago.
Finally, it's not just the fires up here — winter wasn't cold enough to kill off the black flies and mosquitoes so they're the worst that people have experienced in years.