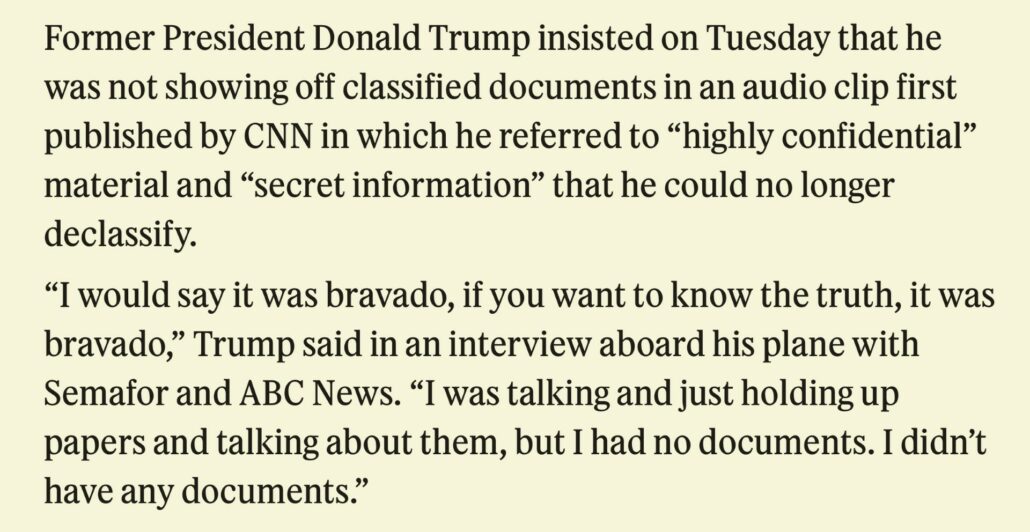 Scene: sixth grade classroom, student in front of the class giving a book report
Tommy, a student, seemingly reading from a sheaf of notebook paper: So then, um, they took a slingshot and killed the mockingbird with a rock. The end.
Teacher: Tommy! That's not what happened in the book! You told me you read To Kill a Mockingbird and were ready to give your report! Isn't that the book report right there in your hand?
Tommy, displaying notebook paper covered with crudely drawn dicks: No book report. I had no book report. That was bravado, if you want to know the truth.
THE END
Alexandra Petri, master satirist at WaPo, had a field day with Trump's real-time crime narration. Check out the industrial-strength mockery she applied to it from a product-placement angle here.
Open thread!
PS: Here's a gift link to a NYT article that follows up on four humans Ron DeSantis illegally trafficked to Martha's Vineyard. Most of the group the governor's minions lured onto planes with lies and then dumped scattered to other parts of the country, but four stayed on the island.