How screwed is Ron DeSantis right now? According to a NYT/Siena poll, this screwed: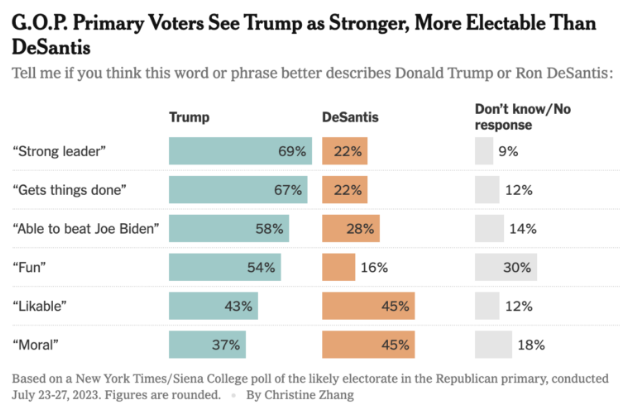 Once heralded by the NYP as "DeFuture," DeSantis gets 17% in the recent poll to Trump's 54%. He's shedding Repub support faster than his campaign can lay off Nazi meme-mavens.
The "gets things done" rating must really rankle Rancid DeMeatball, whose entire pitch is "competent fascist." Still, there are things I do not understand, such as how Repubs find DeSantis — rigid, weird, peevish dickhead DeSantis! — more "likeable" than Trump.
I mean, I hate Hair Furor's guts too and would immediately flee any venue he entered unless he was wheeled onstage while ball-gagged and in stocks and I was provided a basket of rotting produce to hurl. Still, I'm almost offended on his behalf. I'm also puzzled as to why polled Repubs rate Trump more likely to beat Biden, given that Biden already kicked Trump's orange ass once.
Oh well. The usual caveats apply — it's early, anything can happen, blah blah blah. But this poll is pretty humiliating for DeFailure. Good.
Open thread.