On the Road is a weekday feature spotlighting reader photo submissions.
From the exotic to the familiar, whether you're traveling or in your own backyard, we would love to see the world through your eyes.
We have had so many wonderful OTR posts lately!
If you have been thinking about submitting a post or a series to OTR, this would be a great time.  We have had quite a backlog for awhile, with some posts taking 2 months to be published after submission.  Right now, we have 2 weeks of posts in the queue, so if you submit something this week, you should be seeing it published quite soon!
Here's the schedule for this week: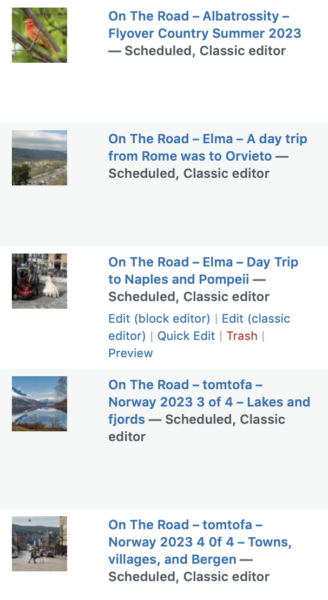 Albatrossity
It was good to go through my Tanzania images again, not only to find some shots I had not previously processed, but also just to relive the trip and recall those days (and nights) in some gorgeous and wild places. But now we are back in Kansas, as Dorothy did not say to Toto, for some more spring migrants and summer residents of Flyover Country. I will be in southeastern Arizona by the time you read this, and hope to have lots of images to share from there as well.