On the Road is a weekday feature spotlighting reader photo submissions.
From the exotic to the familiar, whether you're traveling or in your own backyard, we would love to see the world through your eyes.
Happy Monday, everybody!
You'll see from the schedule for the week that we are picking up on arrieve's trip to Peru – if you want to take a look at the first 3 posts from the series before Wednesday, click here.  Or you can wait until Wednesday morning when Part 4 appears, and click on the "Peru" tag that's just under the title.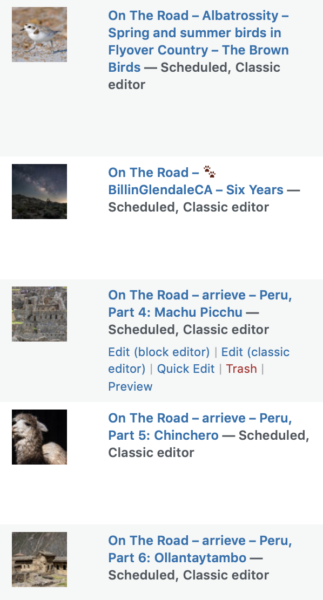 Albatrossity
We'll have another week of Flyover Country birds, so that I can sort through and process images from my recent road trip to southeastern Arizona. As I am writing this, it has been less than 24 hours since I returned from that trip, and I have processed a few images so far, but it will take a while more to do that thoroughly. So those will have to wait a week. But the wait will be worth it, I promise! Especially if you like hummingbirds.
Last week's Flyover Country birds were quite colorful; this week's batch are less so. But Brown Is Beautiful too!